We all live on a budget right and I am one of those people that I only pay for programs or games that I absolutely must have and can't find a freeware alternative to.  I didn't even pay for my Microsoft Windows 7 64 bit Ultimate, I won it in a contest.  Same thing for my Office 2010 I won it at a CA World trade show.
But for those who can't win the main brand products for free, here are 10 fantastic windows freeware applications (well 9 programs & 1 game) which will get you buy without any purchase cost or licensing fee.
#1 – Google Docs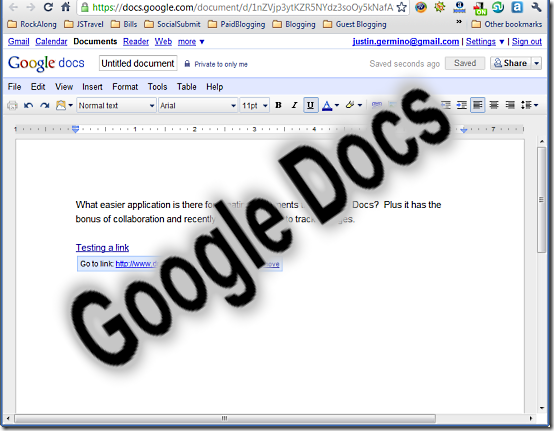 It's true, I was using Open Office until I met Google Docs and the latest version includes revision history and change tracking.  Google Docs is fantastic for allowing collaboration where many people can write and edit the same doc in real time.  If you are a home user there is virtually no reason you have to have Microsoft Office anymore.  This will give you a spreadsheet, word program, form creator for websites or to send out surveys via email, and presentation for Powerpoint like projects.  It won't have all of the complicated formula or features of Access & some of the advanced options and add-ins of Excel, but this should get the casual user by just fine.  The Drawing application though is far too limited, it won't come close to replacing Visio unless you have the ability to add hundreds of template shapes as well as grid lines and such.  It can do some visual diagram type stuff, but can't replace Visio for corporate architecture diagrams.
---
#2 – Paint.NET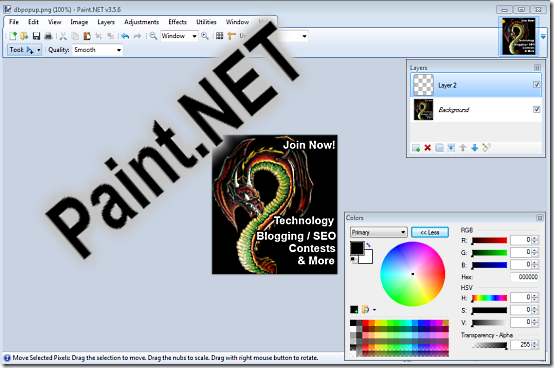 I use Paint.NET as my default paint program on Windows, I don't use GIMP, Photoshop or any other image editor.  Paint.NET has enough power for anyone with basic graphic artist needs, it can touch up photo's, create logo's, handle layers, has a ton of plugin packs for extra effects.  It is completely written with Microsoft .NET so is a flexible framework and anybody can develop modules for it.  It doesn't have some of the graphic effect features of Photoshop and even GIMP has some more advanced tools but Paint.NET is simple and has an easier to use interface if you are coming from Corel Painter or don't have much experience with a graphic editing program.  I wrote several reviews on Paint.NET including Paint Dot Net Add On packs.
---
#3 – FCleaner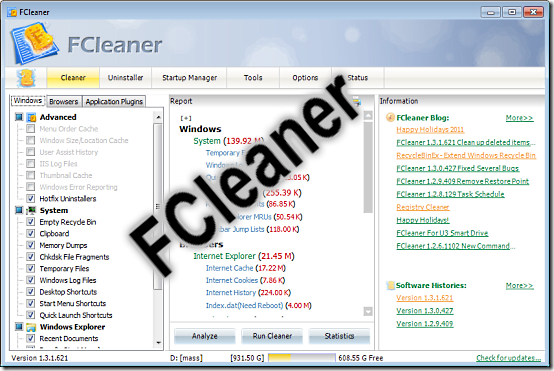 I needed a program that could clean my startup programs, uninstall programs and clean out my system of all cache and temporary files.  FCleaner is by far the best program I have found that does all of this.  It even supports cleaning out FireFox and Chrome cache and temporary files.  This is one of my must have tools and I have been using it for 3+ years for keeping my Windows PC running smoothly.
---
#4 – Microsoft Security Essentials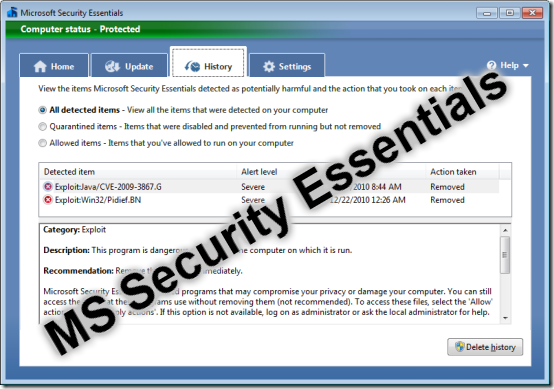 Though MS Security Essentials was number 3 in the top 5 freeware antivirus programs because it failed to detect as much Malware as Avast or Avira it is my favorite antivirus program because of its simplicity and speed.  Need to scan a specific file just right click and scan it, it can also scan the full computer without slowing down your gaming or other activities.  I use the MagicJack and Avira would interfere with call quality when it kicked off a scan, but Security Essentials is very efficient and consumes less memory.
---
#5 – Google Picasa 3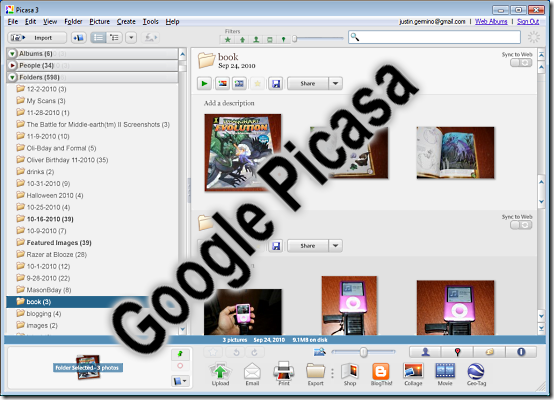 My favorite photo album program, Picasa is fast and lets you browse and sort through your photo's very quickly.  With face recognition it can group your photo's based on facial pattern matching which is pretty accurate.  Identify one photo as a person and it will automatically categorize all other face patterns that match.  Picasa also has some pretty useful basic edits like rotate, crop, red eye removal and more.  It can easily export or email photo's and uploads seamlessly to PicasaWeb, though I wish it supported Flickr as well.  Picasa is however falling behind and needs to have a way to directly share the photo with Twitter or Facebook which is lacking and requires you to export the photo first and then upload manually.
---
#6 – SyncBack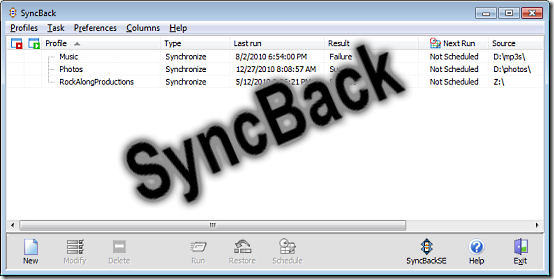 If you are a multi computer household or have an external drive via network or USB then you need an easy to use program that will backup and/or sync files between your PC and your storage device or other PC's.  Syncback gets the job done, a sync is where it will go through and update all files that "changed" or were updated, this is also a 2 way sync so say you and your wife had separate computers and both took photo's, you would sync her photo's from her PC and yours from your PC into the same locations.  This sync ability is what makes me prefer this program over typical "backup" programs as I keep music and photo's in sync with other computers in my household for redundancy and to make sure everyone has access to the same files if one PC is offline.  There is a paid version but I just use the Freeware Syncback program and it meets all my backup needs.
---
#7 – Tweetdeck Twitter Client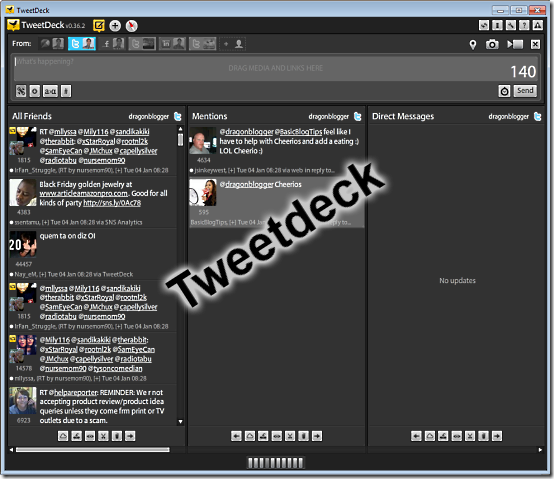 There are many free Twitter clients but few are as feature rich as Tweetdeck, this program lets you manage multiple profiles, create custom columns, searches, find trends and makes updating your Twitter or other Social Media accounts a breeze with its integration with Facebook, LinkedIn, Buzz and more.  Hootsuite is my favorite Twitter web application, but Tweetdeck is my favorite desktop application for managing twitter accounts and makes it easier to join and be part of conversations.
---
#8 – Google Chrome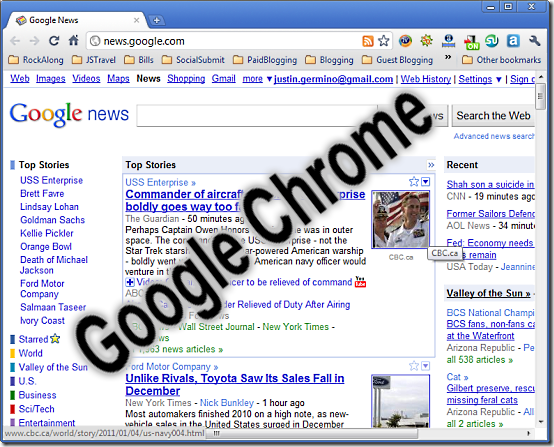 Okay every great freeware list should include the top browser and Google Chrome takes the top spot lately, it has over 10k extensions to provide nearly all the functionality of Firefox, plus is faster in almost every way.  Google continues to leap ahead of the competition by releasing updates and features more frequently for Chrome than any other browser online it would seem.
---
#9 – Foxit Reader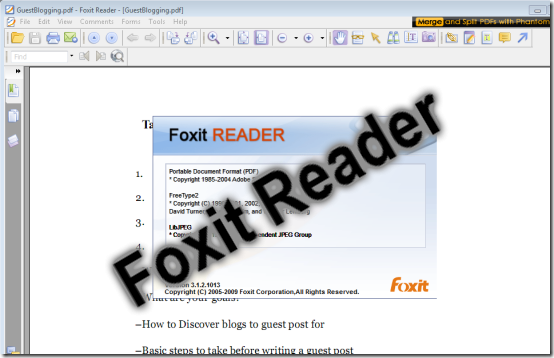 PDF files are the standard for online documents and guides, yet Adobe itself has one of the worst PDF reader applications in that it consumes the most RAM, is slow and requires a startup service just to help the application load in a timely fashion.  Foxit Reader is a much lighter weight and faster PDF reader program that has plugins for all major browsers as well.  Foxit is the only PDF reader program I use on Windows s I was too frustrated by Adobe PDF Reader and its loading performance.
---
#10 – Runes of Magic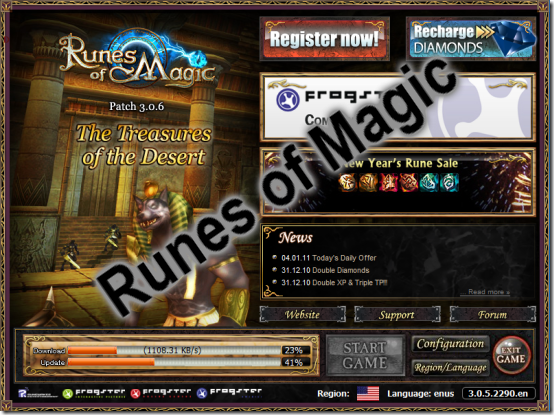 Okay, so #10 wasn't actually a program but is a game.  Runes of Magic is one of the best MMORPG games on the web and is very comparable to World of Warcraft except that it is completely FREE!  Get a whole bunch of friends, sign up and starting doing unlimited online gaming together without any of the monthly hosting fee's.  The game has so many lands, quests and is adding new content all the time.  The world is huge and I have played on and off for over a year and there is just constant new content added, this is by far one of the best free MMO games online and those who like the WoW series but not the cost should seriously consider it.
In Summary
There are so many good freeware programs out there on the web, and I use many but the above list is my top 10 that I recommend.  If you want to know any other types of freeware, or are looking for freeware that does something you need let me know I know many off the top of my head.  The bottom line is Windows users can find out what Linux users already know and that there is a ton of free and open source applications on the web that can save you time and money.  Imagine this: The only cost of your computer was the hardware itself, no software costs at all!
-Dragon Blogger
I have been obsessed with computers, tech, gadgets and games since the early 1980's having grown up on the Commodore 64 and Amiga computers.
By day I work in the IT Security Industry and have been in IT for over 20 years. On my spare time I am a Vlogger, Blogger, Streamer, Gadget Reviewer, affiliate marketer, influencer and entertainer. I am also an avid movie fan, TV Show fan, Anime fan, video game fan and fan of trying anything and everything new.