If you are an online firm but your company is not having a mobile app yet, then this is the time you get designed a mobile app for your company. You are already late because the trend has already moved to mobile apps and every company is having a mobile app of their own in order to promote their business at much higher level.
Smart phones and tabs are like the living cells for today's generation. They live on these devices. They can sacrifice a meal but they won't sacrifice their mobile phones for a single minute. Now imagine when the whole world is busy with their smart phones, and then why not target them on their devices only. This is the reason why mobile apps are gaining popularity at such a rapid speed.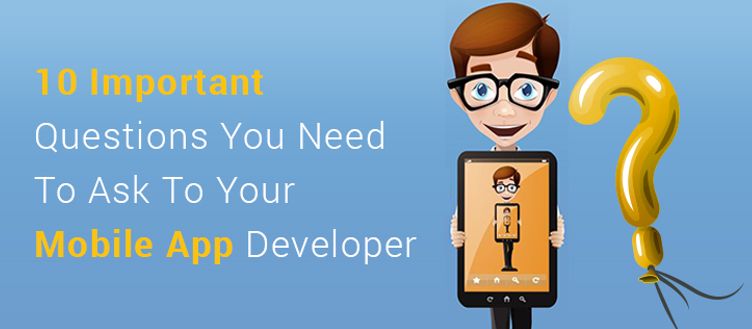 So Hire a Mobile App Developer now for designing your mobile apps. But make sure to ask following questions to him/her before you assign any project to them.
Q1: Show Me Some Of Your Previous Apps So That I Could Get An Idea About Your Designing.
If your mobile app developer is well qualified he/she will be very eager to show you their work. Ask them for their previous applications and analyse them on the basis of those apps if they will be able to design mobile app for you or not. So this way you can decide if he/she is good enough for designing your mobile app or not.
Q2: Can You Provide Me With The List Of Your Previous And Present Clients?
Well you are a person who wants to get designed a wonderful mobile app and you cannot take risk with that. If your mobile app developer is genuine and have satisfied clients working with him, he will definitely give you the contact details about his previous and present clients. You can always contact them for assurance of their good work. Once you are assured of their work, hire them for their services.
Q3: Which Smart Phone Are You Using?
Well this question will tell you about their intelligence and knowledge. When you ask a developer what kind of apps does he develop and his answer says that he is good at designing iPhone apps then check if he is having an iPhone in his hands because if he is good with iPhone apps then he must be playing with the apps he has developed till date.
Q4: How Will You Design My Application To Get Maximum Profits?
If the only aim of your mobile app is to generate revenue then your developer should know how to design applications that are especially designed for generating revenues.
If you are choosing a free app, make sure that the candidate has to be well versed in how to integrate the in-app purchases, mobile display ads and the paid subscription services.
Q5: How We Are Going To Communicate During The App Development Process?
The quality of your application depends on how well you communicate with each other. When you are unable to express what you are actually wondering about your app, how you want it to be then how come your mobile app developer will be able to design what you are wishing for? The best is to communicate well throughout the process and get a good quality mobile app designed in your hands.
Q6: What type of special features can you provide to my app?
Ask him her about what unique features or what distinct he can provide to your application? Only if your application is highly innovative and rare of all, it will be able to grab your consumer's attention. So your mobile app developer has to provide your mobile app with some highly pioneering features in order to make you sure that yes he is the right choice for your project.
Q7: Who Will Own This Mobile App Ultimately?
Well at last you have to confirm that who is going to be the owner of this mobile app? It would be better to sign an agreement before the things get fussy. With your mutual understanding and friendship you decide who is going to take the ownership of the mobile app.
Q8: How You Are Going To Test My Mobile App?
Generally the application is tested on the same phone as that of the platform on which you have created the application. The developer has to provide you with a thorough explanation of how he is going to conduct and extensive beta test on the application designed without having any glitches.
Q9: Are You Going To Submit This Application To The Mobile Store?
Ask him that if he is going to submit your application to any mobile store or not? It is important to submit your applications on a mobile store because only then you can market your app and ask the world to download it and know your business more. This will indirectly help you in increasing your revenues.
Q10: What Are Your Fee Structure And How Do You Accept Payments?
Ask them how will they like to get paid for their work? Would they like to be paid in divisions, or they want to get the complete payment in one time only. Ask them with which they are comfortable and also with which you are comfortable. Decide as per your convenience and transfer the funds.
Well this is a list of few important questions that you need to ask your Mobile app developer before you confirm him as your project person. If you think that you got all the answers satisfactorily hire him immediately.
About the Author:
Katie Stanfield is a very enthusiastic mobile app developer who has been working with one of the leading Mobile Apps Development Company in India. I am glued with this company from the past 4 years and I enjoy my work. My juniors are so curious about development that they keep on asking various questions that make me curious about development and allow me to find various unknown things about development. You can follow me on Twitter and can catch me on Facebook.
This is the Dragon Blogger Guest Bloggers account for author's who want to submit articles and only have credit in the post instead of having to manage their own WordPress profile.