Powerbank is your mobile battery bank. The power capacity of the powerbank would decide how many times you can charge your smartphone with it. Higher battery capacity would usually mean costlier powerbank but here are the powerbank brands that offer more 10000mAh battery capacity at highly affordable price.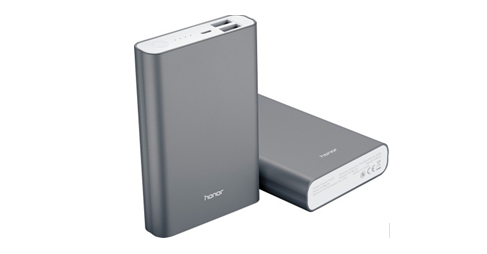 OnePlus Powerbank – 10000mAh
This powerbank has sufficient battery capacity to charge multiple devices efficiently and the manufacturer has taken the full advantage of this by offering dual USB to charge two devices at the same time. This will do the job of two powerbanks. The available colors are sandstone black and silver white and The Price of This Power Bank is 16.028 US Dollar.
Asus Zenpower Powerbank – 10050mAh
Asus Zenpower from Asus is high on power but compact in design. This powerbank comes in light design and is very small in size that would make it convenient to be carried  and The Price of This Power Bank is 16.028 US Dollar.
Huawei Honor AP007 Powerbank – 13000mAh
The powerbank with 13000mAh battery capacity is quite powerful to charge the smartphones and tablets available in today's time. You can charge your gadget multiple times by using this powerful powerbank. There is another advantage of using this powerbank and that is dual USB port provided in this powerbank. You can charge two gadgets at a time. The capacity of this powerbank is enough to charge iPhone 6 four times when fully charged and The Price of This Power Bank is 20.420 US Dollar.
ADCOM Powerbank – 20000mAh
The battery capacity of this powerbank is much higher compared to the standard banks available in the market. The charging time required for this powerbank would be higher but once charged, you can enjoy unlimited charging. You will find this powerbank on all online stores and The Price of This Power Bank is 23.319 US Dollar.
Xiaomi Mi Powerbank – 10400mAh
It is again very powerful powerbank option offered by the renowned smartphone manufacturer. Xiaomi is surely not the first one to introduce powerbank in India but the company has made a mark with its compact and trendy design backed by powerful performance. You can get this powerbank under Rs.1000 on many online portals. The price put up by this company has set up the tough benchmark for the competitors. Check out for other models from Xiaomi on Latestone.com and The Price of This Power Bank is 14.319 US Dollar.
PNY BE-740 Powerbank – 10400mAh
It has the capacity same as Xiaomi but is very compact due to the special cylindrical design. The key features that grab the attention of the users are the in-built torch light and power indicator. The power indicator would let the user know that how much power is left in this powerbank. The Li-ion battery offered in this device would offer utmost performance and The Price of This Power Bank is 14.319 US Dollar.
Vox USB Jumbo Powerbank – 16000mAh
As the name suggests, Vox USB Jumbo powerbank comes with 16000mAh battery capacity capable of charging all types of devices. Just like the capacity, the body of this powerbank is also bulky. It weighs 400 grams and would add to your luggage weight considerably. It ensures the performance and backup but you will have to be fine with the weight then it is one of the powerbanks available in the market The Price of This Power Bank is 23.337 US Dollar
Adata PT100 Powerbank – 10000mAh
You have dual USB ports in this powerbank as well. It has trendy design and cool colors. The LED torch light provided at one end of the powerbank would serve dual purpose of charging along with 4 lighting options. The light can be controlled at the press of a button and The Price of This Power Bank is 16.028 US Dollar.
Boat BPR100 Powerbank – 10000mAh
One more member to the 10000mAh capacity powerbanks is Boat BPR100 that comes with LCD display showing the amount of power left. Like all other high capacity powerbanks, this is also equipped with two USB ports for simultaneous charging of two devices. The main attraction of this powerbank is its LCD display that gives you the exact idea of when your powerbank requires charging and The Price of This Power Bank is 16.028 US Dollar.
Intex IT-PB10K Powerbank – 10000mAh
The 10000mAh powerbank is offered in blue and white colors. It has only one USB port that would charge one device at a time. It also has torch to get the light when required and The Price of This Power Bank is 16.028 US Dollar.
Above 10 powerbanks are having high battery capacity and are priced below Rs.1500 that make them a great thing to own. You can find them on Latestone.com and other online portals for competitive pricing and guaranteed quality.
Latestone.com is the reputed e-tailer known for bringing the latest Mobile Accessories models from all major manufacturers at best discounts. Company has fully operational office and warehouse maintained to make timely deliveries across nation