We are influencers and brand affiliates.  This post contains affiliate links, most which go to Amazon and are Geo-Affiliate links to nearest Amazon store.
On social media, where visual competition is very fierce, no one wants to use poor-quality photos and videos to attract users. It's not profitable. On the contrary, to achieve Instagram marketing goals, businesses need super high-quality content that increases audience engagement.
Visually quality content increases the chances of attracting new followers, customers, and even business partners, boosting sales and generating profits. Below are popular tools that will help you to create quality and attractive content on Instagram.
1. Canva
Canva offers templates and layouts for designing illustrations, photos, and visual materials. This service ranks among the top online graphic design tools due to its user-friendly interface.
The application has many built-in filters for photo processing. In Canva, anybody can easily create infographics, as it is a visual drag-and-drop online editor. It is easy to create graphics and illustrations in Canva, as it is aimed at both casual users and design professionals.
This cross-platform graphic design service offers a free trial and premium subscription to access stock photos, icons, illustrations, layouts, frames, pre-made elements, templates, vector images, fonts, and other design tools.
2. Pablo

Pablo is a well-known design tool for creating and publishing beautiful, positive photos on social media. This free online service gives access to a large database of photos, filters, quotes, and 25 original fonts.
The app was developed by Buffer, a popular platform for managing social media accounts and publications. Therefore, this tool is ideal for companies, organizations, and marketing professionals that want to create beautiful and socially adapted images.
3. Online Video Converter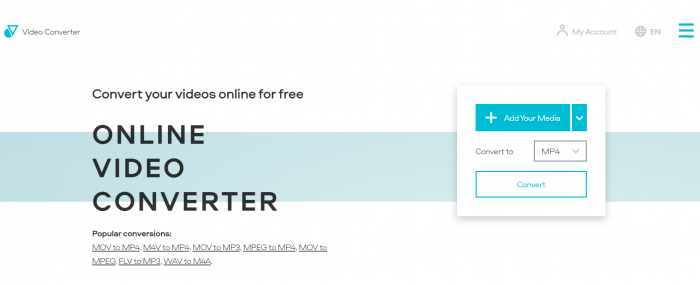 Online video converter – service for editing video and audio. This video converter works with a large number of video and audio formats. It has one of the richest functionalities. Online video converter supports over 40 formats and 2000 possible conversions.
You can compress video and audio (use a compressor), i.e., change video quality (1080p, 720p, 480p, 360p, 240p) and audio quality (320 kbps, 256 kbps, 224 kbps, 192 kbps, 160 kbps, 128 kbps, 96 kbps, 64 kbps). With this converter, you can trim a video segment by time. You can also add video and audio files from/to Dropbox and Google Drive.
4. GIPHY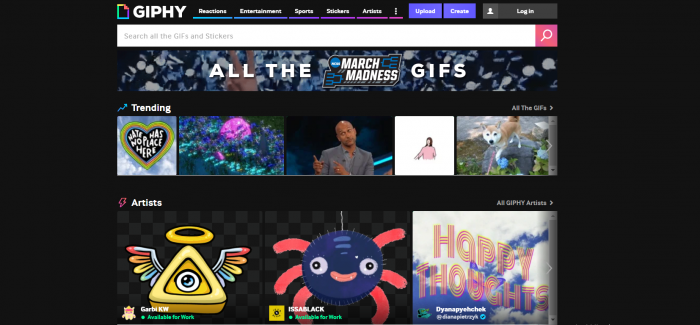 GIPHY is dedicated to providing a fun and safe way to search, create, and share the best GIFs on the internet. Both in marketing emails and customer service comments, GIF images immediately grab attention, thereby increasing audience engagement. Gifs always generate interest and tell a lot about the brand that uses them.
With the Giphy service, you can engage subscribers more effectively by using different GIF images. But it takes a special knack to publish GIF images on Instagram, so Giphy offers users its solution.
5. Postoplan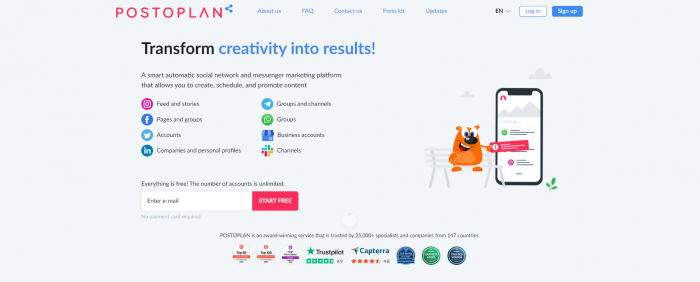 Postoplan is a social media and messenger marketing system. In it, you can regularly and massively do delayed content posting. The best thing about the POSTOPLAN platform is the ability to respond to comments and messages left on Facebook business pages in a single interface. For Instagram business accounts POSTOPLAN uses an official API.
POSTOPLAN offers more than 700 ideas for content that will be useful to any business. Using POSTOPLAN, any business can increase the number and quality of contacts with audiences in different messengers and social networks. By the way, this service supports not only Instagram but also LinkedIn, WhatsApp, Twitter, and other social networks.
6. Snapseed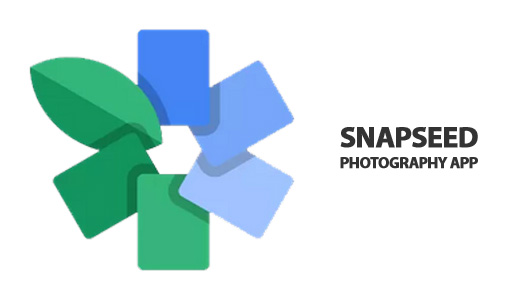 Snapseed is one of the most downloadable photo editing apps available for iPhone and Android. It is extremely clear and easy to use, which has led to its high popularity. As well as the standard editing features such as brightness, cropping, and contrast, Snapseed is also famous for its additional features.
With Snapseed, you can do almost everything you want with a photo. It is one of the coolest and trickiest photo editing apps on the web. By the way, it supports loading and working with RAW format.
7. VSCO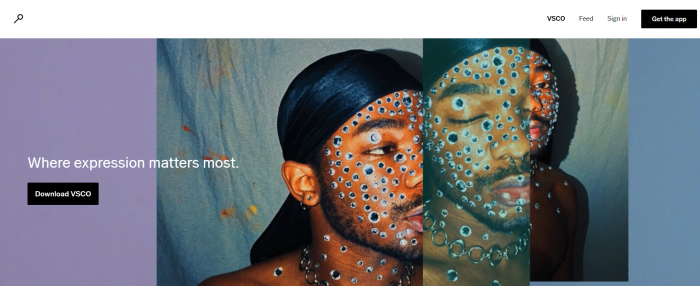 VSCO is an app used to creatively improve the quality of photos. VSCO competes with many different photo apps in different directions. There are a hundred different styles on the VSCO page. The choice of style depends entirely on your page concept.
VSCO's most important feature is the availability of presets. A preset is a way of saving editing settings, allowing you to easily apply the same settings to multiple photos. These settings include things like: exposure, contrast, glare, shadows, and more that you can change on a photo. Essentially, all of these settings determine how a photo looks.
8. Over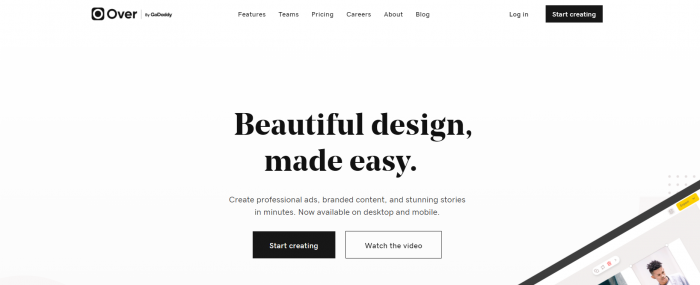 Over is positioning itself as a branding app for creating logos, flyers, posters, etc. You can add text and artwork as well as elements from a large collection of graphics and customizable fonts that will immediately grab the attention of your audience. This visual content creation application has long been popular among those who are called "content creators".
Having studied the main functions, we wanted to put this tool next to Canva and compare it. But our opinion is that Canva is more suitable for serious content and companies that will not apply hype, youth trends, and bright colors in building communications through Instagram. Over by GoDaddy looks more youthful.
9. Plotaverse

Plotaverse – a service that helps to animate photos. If the previous applications have a more pragmatic purpose, Plotaverse is worth spending time on if you want to make a picture unusual and creative. The main task of the application is to animate static pictures.
The application has its limitations. It works best for pictures with elements (waterfalls/rain/river/sea/lake) or objects with repeating patterns that can loop and disappear in a way that deceives the eye (such as rising clouds). When you apply the Plotaverse tool, the water will move, and the clouds will fly.
You can use the Plotaverse to:
Animate an image with a simple touch and make the photo "live".
Select an area you want to keep static.
Adjust the brightness, contrast, hue, and saturation of the image.
Export the material to Gif, MP4, or animated PNG.
Control the speed of the animation in real-time.
10. Magisto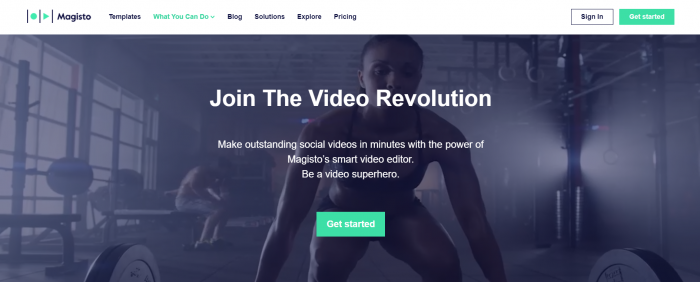 Magisto is a video editor that will make it easy to create professional-looking video content, even regardless of your skill level. Once you've uploaded your videos and chosen a theme, you can start editing scenes and adding logos, captions, and voice-overs.
Conclusion
To be successful on Instagram, you need to improve your graphic design skills and create eye-catching visual content. Users might forgive clunky or funny pictures in Instagram stories, but your profile images need to be inspiring and creative and stand out to catch the attention of your customers.
If you're not drawn to design and have never worked with Adobe Photoshop, don't worry. Above are easy-to-use services and applications that don't require advanced knowledge.
We are influencers and brand affiliates.  This post contains affiliate links, most which go to Amazon and are Geo-Affiliate links to nearest Amazon store.
I am interested in all things technology, especially automation, robotics and tech that helps change how society will live in the future.