Twitter is one of the effective medium for attracting a large number of visitors to your blog or website. Of course it's not piece of cake to build such a response from your Twitter network and one has to increase Twitter followers and interact with them in a sophisticated fashion. These 10 ways will help you to increase your Twitter followers but ultimately it's in your hands on how you choose to interact with your followers to maintain a two way relationship with them.
Automatic/Paid Ways to Increase Twitter Followers
Twiends

Twiends is well-known for its unique functionality. One has to follow other twiend users having particular amount of seeds. These seeds will help you to increase twitter followers. Generally, featured twiend users are available on right sidebar which vows to give you maximum seeds. If you want more seeds, you can easily buy number packages which are ranging from $9.95 to $249.95.
HitFollow

HitFollow can increase twitter followers at the rate of 100 per day. That might seem low to some of you and if that is the case then you can just buy Pro VIP pack for $65. Free members are allowed to get 1000 followers in one month.
Automatic followers won't be much interactive with your tweets but will definitely increase twitter followers count. You can also consider some of gigs which offers to increase twitter followers in reasonable rates (up to $5).
You could also buy batches of Twitter followers, but this generally yields low quality followers that do nothing but fluff up numbers.  You can look at a Gig like this for example, but remember you take a risk when purchasing gig's like this and don't expect to be impressed with real users or quality followers that are interested in your brand.
Manual Ways to Increase Twitter Followers
Manual ways will ensure active two way participation with your followers. In fact, these followers will be more interactive than the ones you will get from automatic ways since they either more directly chose to follow you. These steps are more time consuming to detail out but are pretty effective and highly recommended.
Informative Twitter Bio
People look at your Bio more curiously and will only follow you if they find it sweet and attractive. Include keywords on which your blog is focused to make it short and sweet.  Include your Site URL as well and making a few of those keywords hashtags can't hurt.
Twitter Profile Background
Twitter allows you to add custom background to your twitter profile. Make use of this feature to display all sort of information which you feel would be appealing and catch the minds of your twitter followers. Don't be in hurry to add some low pixelated image. That will make a bad impression on your followers and come off unprofessional. Ideally, 1024×768 resolution is perfect to accommodate most monitor sizes.  Include key information like website, contact email and or brand name and logo's to leave a lasting impression.
Active Involvement on Twitter
Your followers would expect your active involvement in twitter conversations. Join in such conversations and interact with your followers effectively. Following them would be even better and will leave good impression in their mind, but follow them and converse with them about topics they are talking about.  Look for hashtags, organize your followers into Twitter lists based on their common keywords/interests and network often.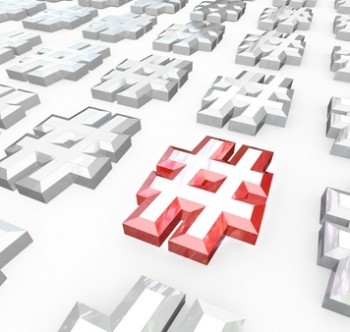 Use of Hash Tags on Twitter
A hash tag is another awesome feature provided by twitter. Using them in your regular tweets along with your keywords will definitely increase twitter followers. People often make use of twitter search to find relevant tweets and these hash tags will be key factor in getting your tweets in search results of twitter.  You can use Twitter Search to find people conversing on trends and follow them directly, or use tools like Tweetchat to join conversations on popular topics.
Recent Tweets On Your Blog
There are number widgets available to place recent tweets on your blog/website. You can try official twitter widget for the same. The general idea behind this is very simple, when user visits your site from other referral sites or search engine, they won't understand that your blog has twitter profile. A good placement of such a widget will notify them about your recent tweets. If the user finds them useful then he/she will certainly follow you right from that widget.
Time Zones
Check your analytics report and find out which country is on top in driving good amount of traffic. You need to adjust your tweets according to their time zone or schedule your tweets to go out a 2nd time at a later time period to help catch the most attention from your followers. If you are able to do so, schedule your tweets accordingly with tools like Dlvr.it, Gremln, Futuretweets, Twuffer, Timely.is or Hootsuite.
Host/Co-Host a Contest
This is one of the best ways to increase Twitter followers. This will also help you to get more Facebook fanpage likes or carry out any other particular tasks. Co-hosting such contests might not only allow you to increase Twitter followers. Rafflecopter would be excellent way to start running contests on your blog or search for Rafflecopter contests on Google and network with other bloggers offering to Sponsor or Microsponsor and jump in on their contests.
Tweet Often
You should take care of your social presence on Twitter as well as other social networks. Tweeting very often might seem boring, but do decide on certain time intervals and try to tweet in that time period. A minimum of two tweets per day should be good way to interact with your followers. You don't always need to tweet about articles though and in fact should make many of your tweets manual and not include any links at all. You can ask your followers certain questions or puzzles to attract their attention or simply tweet some of your favorite quotes, phrases or tips.
At the end, it depends on you! How you interact and keep your followers engaged with your tweets, will often help determine how quickly your Twitter following will grow.
A young and passionate blogger who loves writing about Android and Geeky Stuff.