It has been a long and hard two years blogging but I have finally reach the 1,000 unique visits a day club.  I created this illusory goal for myself to reach my first major milestone for my flagship blog, this was to get to 1,000 unique visits a day and hold it consistently for several days in a row without "StumbleUpon" spikes being the driving factor.
I reached that milestone in the middle of August, and have held over 1,000 unique visits per day for 5 out of the last 7 days, with my other days being slightly under in the high 980+ range.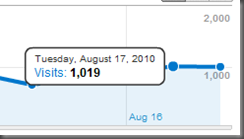 When blogging it is essential to set goals and create objectives and actions you plan to take to work toward those goals.  Creating items that you can measure will help you see progression and since visitors to your site are so easily tracked with Google Analytics or other alternative to Google Analytics, visitors are a metric I can measure and follow every day.
I know this traffic is small compared to many sites but it is a landmark compared to others who are still struggling with 50-100 unique visits per day.  I had gotten stuck in a rut a little over a year ago where my site had only 250 visits per day and wouldn't go up for a few months.  I had another plateau in the very early part of 2010 where my site would be stuck at about 500 unique visitors per day without budging. 
I experimented with different articles, keywords, article submission sites and in the last two months I partnered with MGID.com traffic exchange program which helped and now accounts for about 5% of my site traffic, bringing me around 1100 visits per month or so.
Don't be afraid to experiment and try new things, comment, guest post, promote like hell on Twitter, Facebook, Posterous and every other social media or article site you can submit to.  When blogging remember that you can never be spread too thin, the more you exist online (by showing up in various search engines) the more you will be found.
My blog gets over 60% of its traffic from Google Search engines, this is down from 75% because of experimenting with MGID and other referral networks to bring in more referral traffic.  Note, I actually haven't reduce my number of visitors from Google Searches, the number is consistently higher, I just added more referral traffic sources as well.
Here are my top 10 traffic sources for DragonBlogger.com for the past 30 days: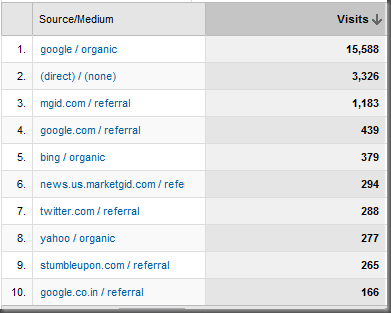 You can clearly see that other than MGID, most of my referral traffic brings in less than 300 visits per month, but they all add up.  Having about 10-20 social media sites and article submission sites working together can add up to thousands of visits per month combined.
Bottom Line:
Never stop trying and experimenting with new social media sites, article submission directories and be sure to take the time to Optimize Blog SEO to ensure you maximize your traffic from organic searches.
-Dragon Blogger