One of the best features of modern browsers is that they support add-ons, or what's referred to in the world of Google Chrome as an extension. They are basically power-ups for your browser, kind of like equipping items to make a character stronger or wiser.
I've gone through heaps of extensions over the past couple months, highlighting three that stand out the most for productivity, twitter, and bloggers. This time, we'll be looking at three awesome extensions created by the Google Developer team.
Highlight to Search
The Highlight to Search extension is incredibly useful. When you do a web search through Google, or your search engine of choice, you always have to type out the query. Sometimes you have to copy and paste particular selections, such as words you're unsure how to spell. With this extension, you can simply highlight a portion of text on any webpage and run a search for that phrase with one click.
We'll knock out two birds with one stone, by showing how to use it and how to catch mice as it seems to be that time of year.
Normally, we Google "how to catch a mouse" and click on the very first non-ad result. In this case, it's a typical wikihow. This shows us how to DIY, but what if we want to take the next step and find the actual traps. Instead of going back to the search engine for a new query, we can simply highlight it like so: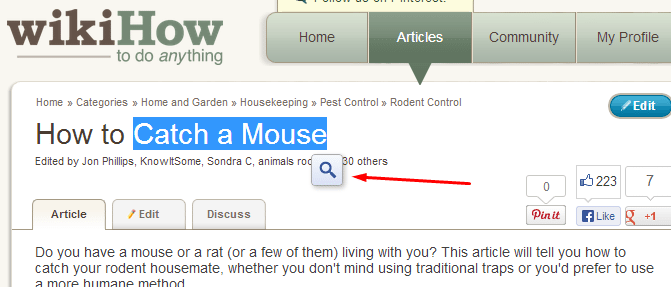 Then, we simply click the magnify icon and click on the most relevant search query:

Ultimately, this gets us to our desired end goal: a mouse trap.
Voila, we have seamlessly arrived at our goal, without having to navigate away to open a new tab or browser window.
We can also edit the query right in this search box. It's like having the Google search bar appear on command, wherever your mouse (not the ones want to catch) is. Additionally, the extension options are very simple:
We can always open new tab o show search results (toggle on/off)
We can enable the extension in HTTPS pages (toggle on/off)
We can show magnifying glass button below the selected text (toggle on/off)
The real advantage of this extension is that browsing feels more seamless – the more you used to highlighting search queries. Less typing, more browsing.
Download Highlight to Search here.
Search by Image
The Search by Image extension is pretty straightforward. As the name implies, it allows you to perform a web search using an image instead of text or keywords. With the extension installed and active all you have to do is right click on an image to access the appropriate option. It completely eliminates the need to copy an image URL or download the image and then upload it to Google Image Search.
The extension adds a new option to the context menu when right clicking on images in Chrome, labeled "search image on Google".
For this example, we'll take a look at a common graphic design strategy. By finding image patterns we can create seemingly life-like backgrounds for websites. The trick is to think outside of the box. Instead of searching for "background patterns" try searching for "blinds" or "table cloths". In this instance, I ran a search for pool covers, and half way down the page we find four different patterns: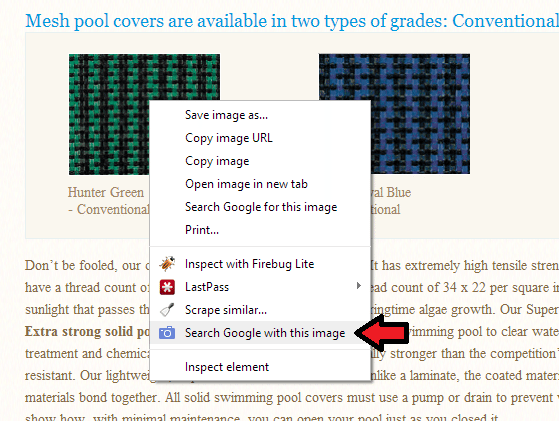 After clicking on the extension button, we arrive at the following SERP: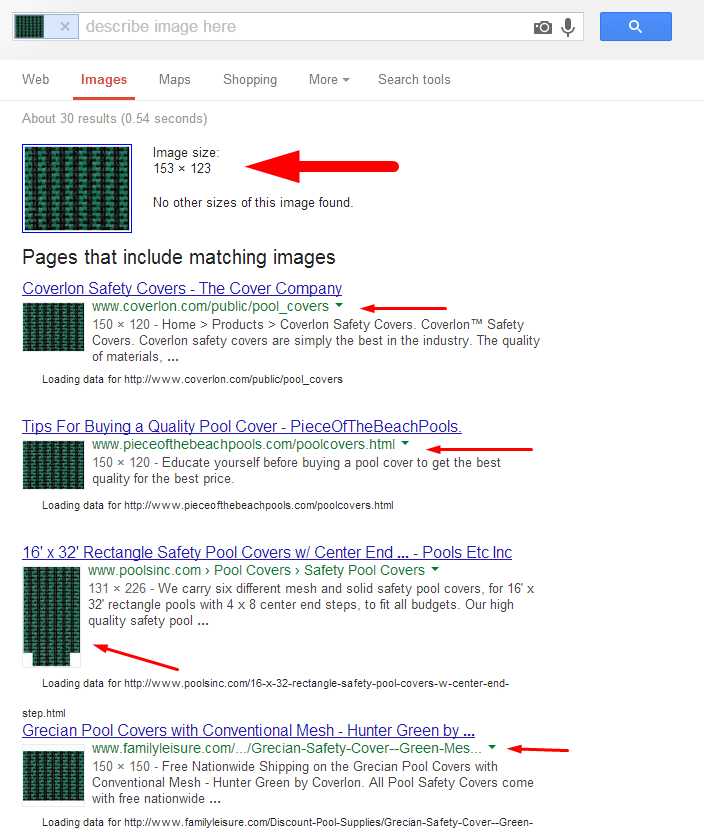 As you can see, the SERP provides incredibly resourceful information, such as the image size, the original image, and all instances where this image was used.
This is remarkably helpful to bloggers and journalists who need to track down the true source of an image. Interestingly enough, this can be used for social network tracing, fighting virtual identity theft, and many other practical applications.
Download Search by Image here.
Speed Tracer
The Google dev team loves stats, as you may have recently come across the stats for geeks button.
The Speed Tracer extension was clearly designed with web developers in mind. It tracks the speed of web apps and then spits out a performance score. It simply lives in your bookmarks toolbar as a green little turtle-clock image:

Overall, it grades web applications in terms of speed and usability. After a score has been offered, you can use the tool to pinpoint problem areas that might be causing issues for end users.
For my personal blog, this is what a standard report looked like for a few minutes: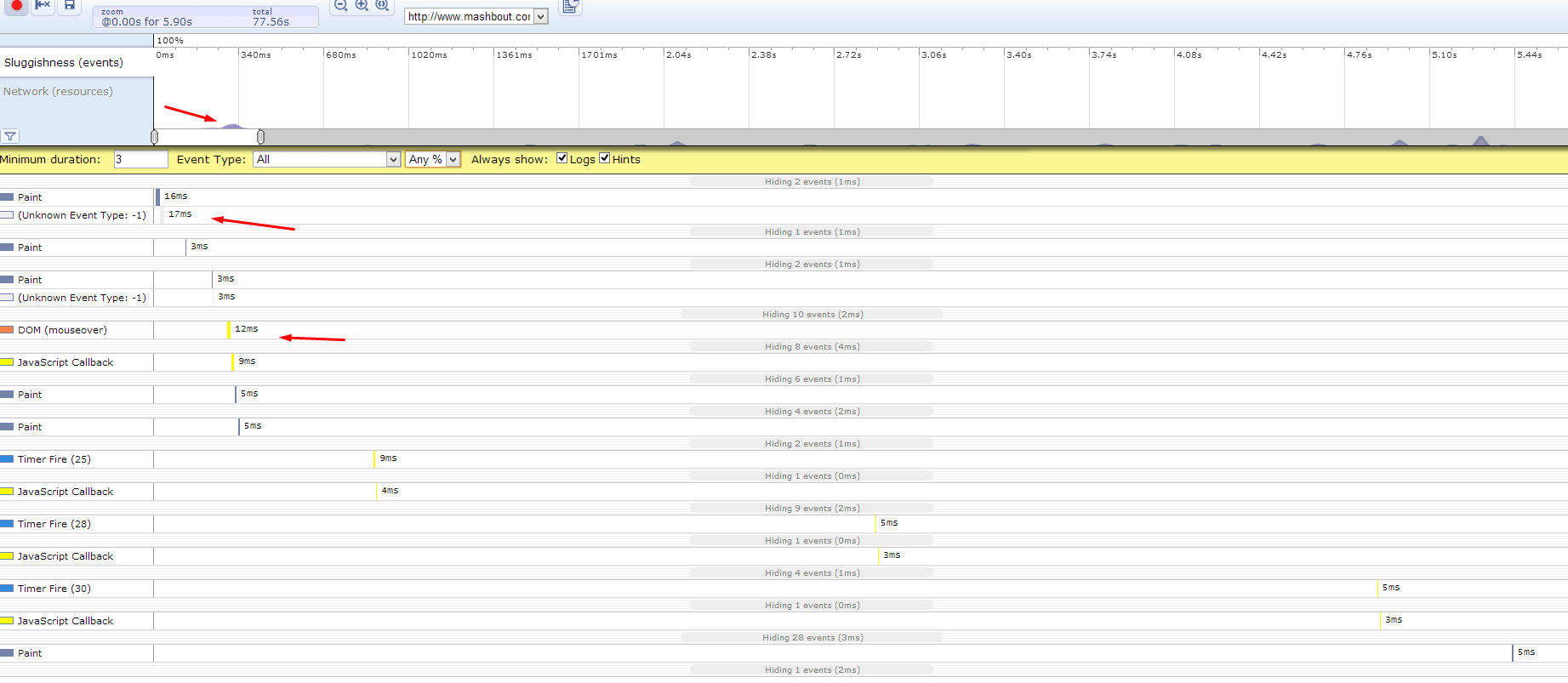 You can find tiny hiccups as well:

And monitor your "janitorial" tasks:
Although these were insignificant, this is mainly to show how clean the interface is and how resourceful the extension is.
As the official description says, it can accurately analyze JavaScript parsing and execution, layout, CSS style recalculation and selector matching, DOM event handling, network resource loading, timer fires, XMLHttpRequest callbacks, and more.
That being said, it's a vital tool for modern web developers, especially if you're having a hard time optimizing your own web applications. Casual users could even take advantage of the performance ratings to decide if a web app is worth their time or not.
Download Speed Tracer here.
All Extensions Here were Designed by the Official Google Team
Even though it's pretty obvious, it's worth noting that all three extensions were produced by the official Google development team. That means you can be absolutely sure that all add-ons will perform as advertised, safe to install, and receive routine bug fixes.
Written by Jesse Aaron. Jesse is a professional blogger with a passion for homebrewing. He writes on a variety of topics on his blog Mashbout