There's nothing content marketers love more than a good tool or utility to help increase efficiency. Perhaps that is why there are so many out there, too many to be honest – the chrome extension market is fairly bloated. Fortunately, the community review/rating system is helpful in determining whether an extension will be promising or not before trying it out.
We're going to review three Chrome extensions that are designed to enhance photos, essentially improving content marketing efforts.
Pic Monkey
This remarkable extension allows you to open images on any webpage in the Pic Monkey environment for editing. Opening an image is quick and painless, and there are plenty of editing options to take an image and make it truly unique.
It works like this: While browsing a webpage you click the Pic Monkey icon, which then opens all the images displayed on the current page in a side menu. To show the full breadth, I navigated to an page with a lot of product images:

The example above is for a list of exhibit booths that provide us with two really cool options:
As a content marketer, we can snag any of the booth examples and tweak them, add on to them, use them in a meme for social media, a blog post, etc.
As an informational shopper, we can just look at the product images instead of sifting through descriptions.
Sticking with this example, I selected the first booth image, which opens up the Pic Monkey editor: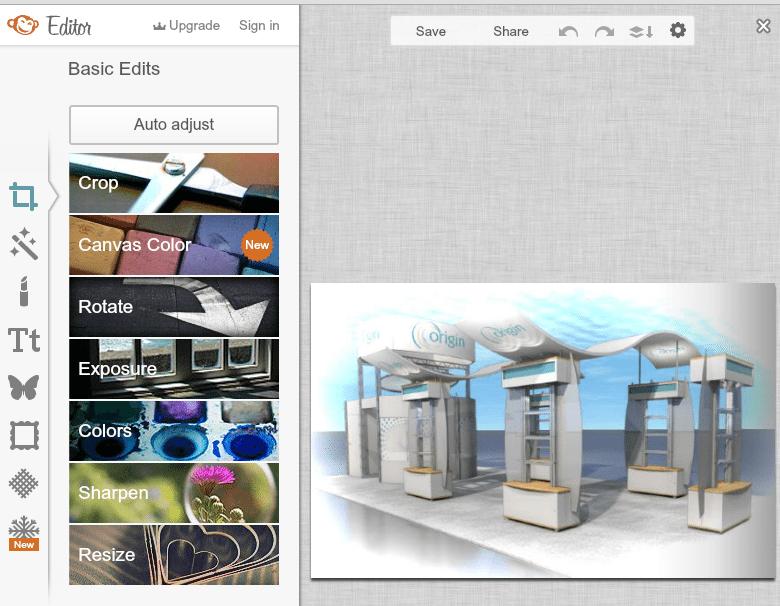 You can choose the image you want to edit from the menu and perform all kinds of edits, basic or advanced. With Pic Monkey you can crop, rotate and stretch images, or enhance the images with special effects, frames and more. This isn't just some Instagram knock-off; it's a full-fledged, point and click customization rivaling most paid options. Check this out: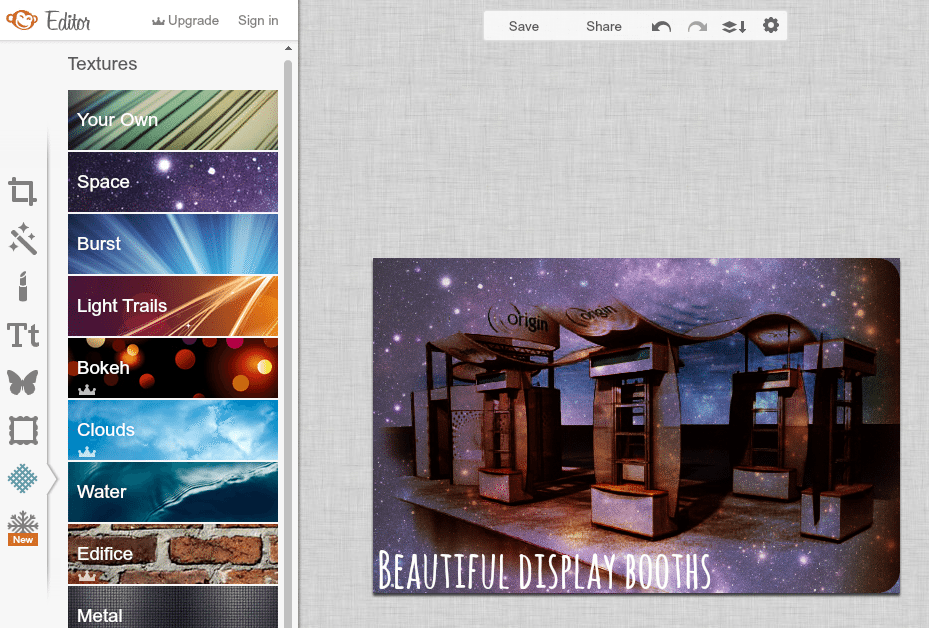 This took about one minute. In just 60 seconds we can improve images this much: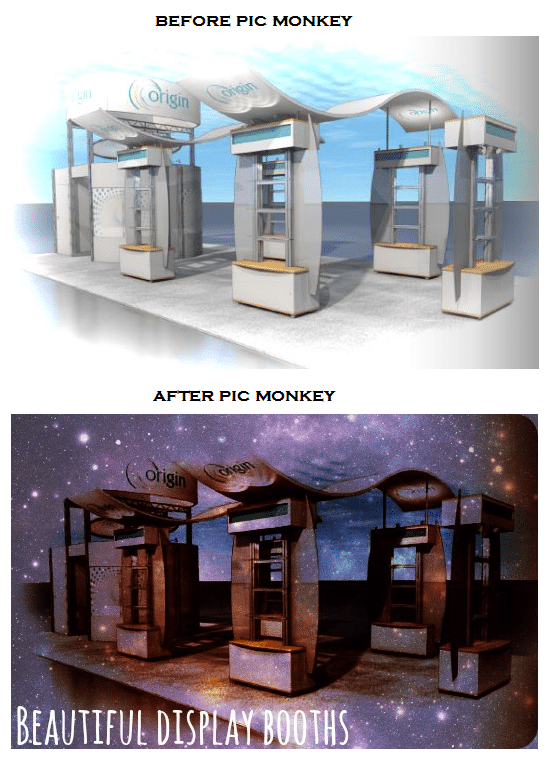 When you're busy trying to put together content, you tend to spend a lot of time hunting down relevant imagery. With Pic Monkey, you can cut a lot of that out by pulling images directly from the source and editing them as necessary. Alternatively, we can use creative commons images and tweak  them as necessary.
You can get Pic Monkey here.
Hover Free
Hover Zoom was an excellent extension, but it went the "evil" route as the developers started taking advantage of some pretty intrusive permissions. Enraged users feel that the company has been tracking and collecting too much personal information from them. Hover Free uses the same functionality – identical to be exact. The only exception is that Hover Free doesn't require the same permissions, making it much safer to use on a consistent basis.
As for the extension and functionality, it enlarges the thumbnails of an image on mouseover. This essentially takes any low resolution or small image and enlarges them to a convenient size. With most image thumbnails, you have to click on them first to see them enlarged, which opens the file in a new browser window or tab. Hover Free opens the image natively in the current browser window, making the process that much faster. It works great in thumbnail galleries like Google Images (example search for 'kittens' below):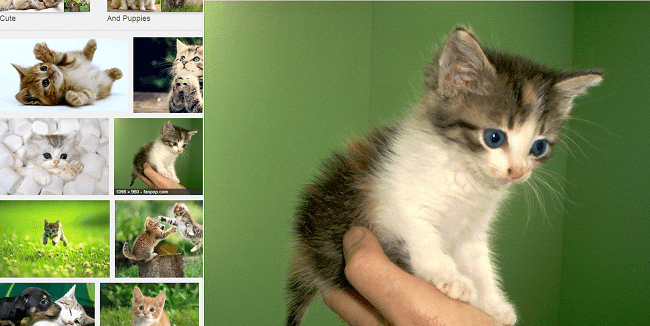 It performs well and works exactly as advertised.
Content marketers sift through mind-numbing amounts of images on a daily basis. This is a subtle yet noticeable extension making the image-sourcing process faster, thus a more efficient worker. Plus, it removes the frustrating situations where we need to squint a centimeter from our screen on tiny pictures that won't maximize.
You can get Hover Free here.
WebCamera360
WebCamera360 takes a cue from the mobile app Camera 360, allowing you to modify, enhance and edit pictures directly from your browser. It works similar to the Adobe Premiere Elements environment in that the editing features are pretty easy to make use of. One of the most important features of WebCamera360 is that the editing features can help you brighten up any images or photos you might have, making them much more vibrant – and even surreal.
Differing from PicMonkey, you have to manually upload images by clicking on the WebCamera360 button in the extensions bar. For this example I uploaded Dragon Blogger's logo: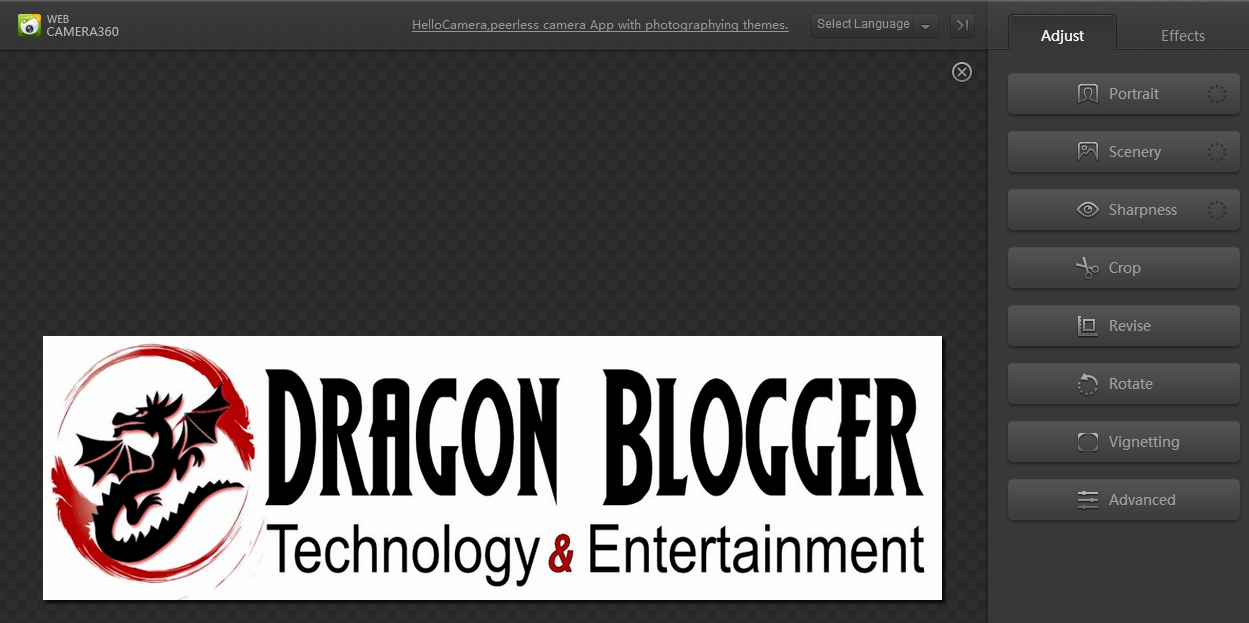 The tools and tweaks available are definitely better suited for high resolution image of scenery, people, objects, etc. I don't think WebCamera360 was meant for logos of this nature, but nevertheless, this shows what you can do with a little text: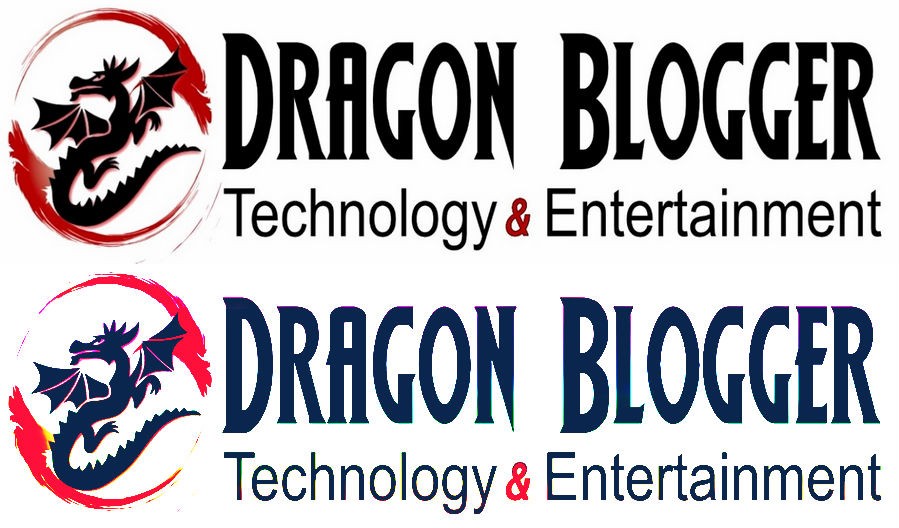 I would recommend Pic Monkey overall, but WebCamera360 would be useful when in need of a variety of fliters.
You can get WebCamera360 here.
Images are not always long-hanging fruit
The extensions covered above improve our photo editing needs and content marketing efforts, but there is a big factor we need to recognize; copyrights. These extensions make it insanely easy to snag any image we want and edit it to our liking. But if it's protected and we're unaware of digital marketing laws, we might find ourselves in an unsavory legal situation. A 'full-clear' way to negate this possibility is to strictly use creative commons images labeled as free to use, modify, or share.
Happy clip hunting!