Many people who know me know that I am about doing giveaways for the fans of Dragon Blogger and have come to run 3-4 giveaways on any given month, and I do my best to find and negotiate gadgets to giveaway that excite the fans.  We have given away 2 Lenovo Z585 laptops in the past year as well as 4 Google Nexus 7 tablets, we have given away thousands of dollars worth of software licenses and gadgets from Logitech, Anker, New Trent, Hauppauge and more over just the past 12 months.
The giveaways continue and the site continues to grow and we keep building new relationships and strengthening existing ones with our partners in order to get more products to review and giveaway to the fans while building attention and awareness for our partners brands as well.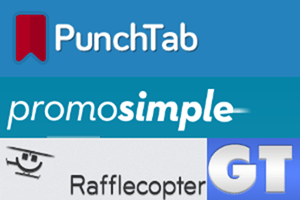 I have tested 4 major giveaway platforms over the year, and started off with Rafflecopter being my primary platform which still is an excellent choice but so many additional giveaway platforms came on the scene that I wanted to expand and test them all to see if any had advantages over the others, could bring in more entries, raise awareness better…etc.  So this article will focus on the review of 4 primary giveaway platforms and share my experiences with each of them.  GiveawayTools is the only platform where I tested the $9 per month paid version against the free versions of the other tools in an effort to see how it's auto promotion of the giveaway to dozens of other sites would help (if it would help raise awareness).
The 4 platforms we reviewed and ran giveaways on were:
We also ran a giveaway and compared SponsoredGiveaways which is a 5th platform but doesn't allow you to build free giveaways, it is a way to host giveaways that advertisers pay you to host or pay others to host giveaways on your behalf and will just give it a brief mention in the end.
Ease of Giveaway Configuration
This would probably go to Rafflecopter or Punchtab which I found had the easiest way to add and configure entries for your giveaway or sweepstakes, both have the flexibility of allowing users to enter the giveaway via email, Facebook or both.  GiveawayTools has the option of allowing you to group entries into one category, and reward entries individually or when the group of entries are completed.  PromoSimple make it easy to add entry one at a time, but you can't just click Add Twitter and put 5 ID's like you can with Punchtab.
Custom Entries
Rafflecopter or PromoSimple wins for simplicity in creating Custom Entries where you get to specify what a user does in order to collect those entries.  These custom entries can be anything from visiting pages to asking for readers to make a YouTube video for your giveaway.  Punchtab only allows 1 "visit this link" entry which can be used as a custom entry but it is very limited.  As with any custom entry there is no enforcement or validation the entry is completed, (except for Punchtab recording the visit click) so you to manually validate that the entries are not spam and were actually done.
That being said PromoSimple blows away all other free services in their additional actions that you can choose from and how many they have and are capable of.  Few others allow you to specify specific information like this, have the mailing list integration and have checkbox and drop down choices.  Only Rafflecopter comes close and only with their paid plans which are far more expensive than PromoSimple which is free.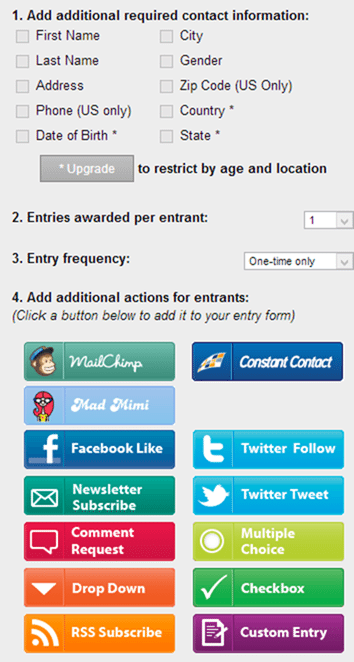 If you want Pinterest integration natively you would use Punchtab  which allows 1 Pinterest integration or Giveaway Tools both of which offer Pinterest integration natively for free at no extra cost, this isn't included in the free Rafflecopter plan only the $7.99 per month plan.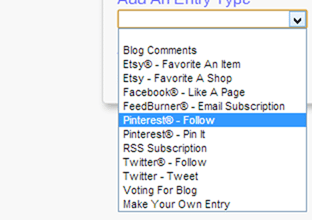 Note, GiveawayTools is the only one that has Etsy entries integrated so if you list products on Etsy then this platform will greatly appeal to you. Punchtab is also the only one at this time that has Google Plus entry options native in the widget.  So you can see how each of the tools starts to offer some different native integration.
Update:  PromoSimple now added Instagram as an option.
Custom Entry Award
Rafflecopter, GiveawayTools and PromoSimple allow you to set a custom entry award for a specific entry, this allows you to give extra weight and encourage some more complicated entry methods.  This greatly increases adoption of the entry method that gives more entries since it is more enticing to get a bunch of entries.  Punchtab is the only platform of these so far that doesn't support custom entry awards for giveaway entry.  However, many abuse the entry award process and will require you like 25 accounts on a single page to get your 25 entry award.  This is tedious and not very user friendly.
Giveaway Appearance and Flexibility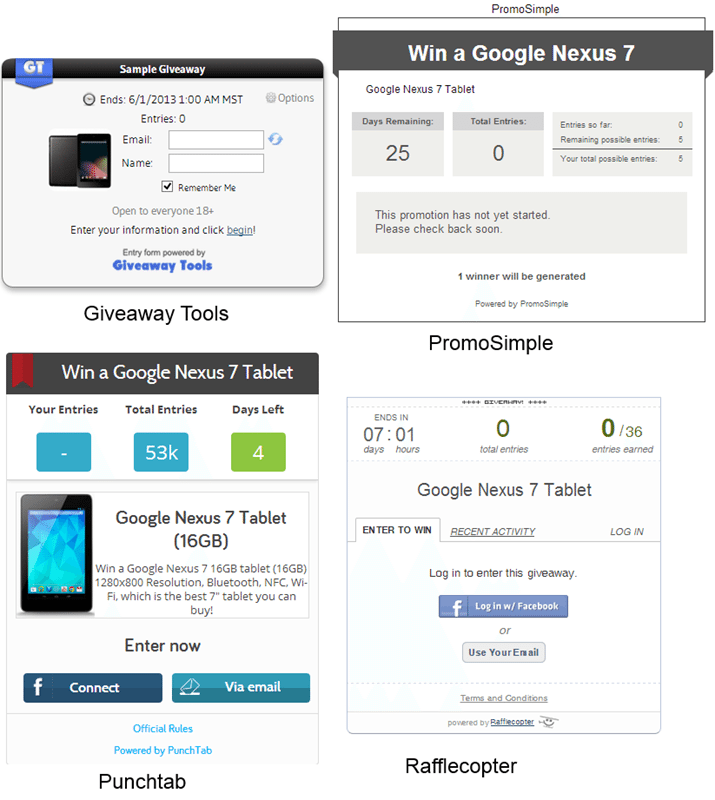 In my opinion PromoSimple wins in the Giveaway Appearance and Flexibility category, PromoSimple lets you change the colors of background, text, title, entries as part of the free platform as well as upload an image of the prize.  GiveawayTools gives customization options only if you purchase the $9 per month plan, and Rafflecopter now doesn't let you insert an image unless you purchase the Blogger $7 per month plan.  Punchtab allows you to insert an image but gives you no flexibility to customize colors, links, text…etc on the Widget itself. PromoSimple also lets you specify whether to show entries at all, or only users entered instead of # of entries.  This could have value if you don't want to disclose the number of entries or want to show number of unique users who enter instead of the entries.
Update:  PromoSimple now for the free plan scaled back to let you choose from a few color templates instead of full color customization but it is still more customizable and has better appearance than the other platforms.
Giveaway Time Ranges and Editing Existing Giveaway
Punchtab is the most flexibile allowing you to set your giveaway start time in the future and end time and make modifications as needed.  PromoSimple right now will not let you edit the start/end time of a giveaway after you publish it, even if you set the start date in the future you can't edit it after you published it if you change your mind.  This is something they said they would change in an upcoming release.  PromoSimple does allow you to add additional entries while a Giveaway is active however, so you just can't change the start time or end time if you want to reschedule a giveaway you already created ahead of time.  For terms of flexibility in editing a giveaway I give the prize to Rafflecopter or Punchtab.  GiveawayTools lets you modify a live running giveaway and add entries as well.
Handling Winners
PromoSimple and GiveawayTools were nice in how they handled automatically picking multiple winners and presenting you with the information right off the bat.  Particularly I liked how GiveawayTools you can just plug in (4 winners) and bam their name, email, entry type  method, IP are all listed with them giving you the ability to 1 click email them from Gmail.  Punchtab however once a winner is selected will automatically open a window for you to email them from the Punchtab system to notify them they are the winner, but you have to do it 1 at a time for each winner.  You can't just specify 5 winners and have an auto email sent to each which would be nice for multiple winner giveaways.  Rafflecopter like the others is a 1 at a time winner selection.
Giveaway Analytics
Punchtab and PromoSimple win hands down with Giveaway Analytics and real time information as people enter your sweepstakes.  Rafflecopter no longer offers real time analytics without a paid plan so you can't watch and check your entry types everyday with ease.  GiveawayTools just shows you a list of entries without any analytics type of snapshot/overview. I personally thing PromoSimple has the best reporting display for giveaways by far.
Punchtab Giveaway Real Time Analytics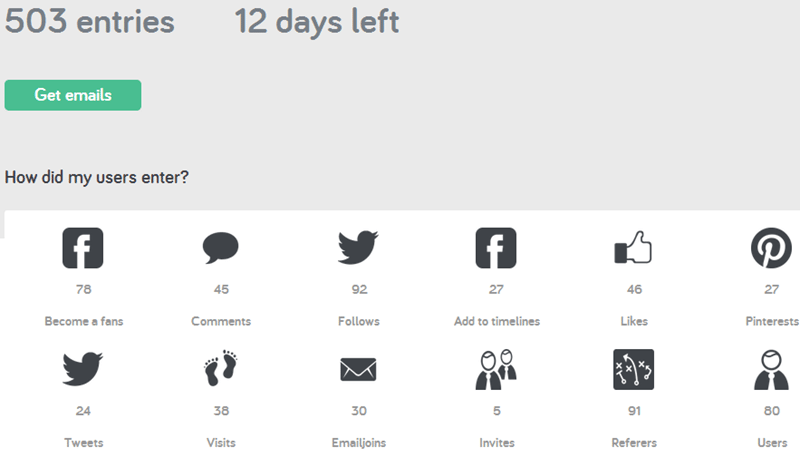 PromoSimple Real Time Analytics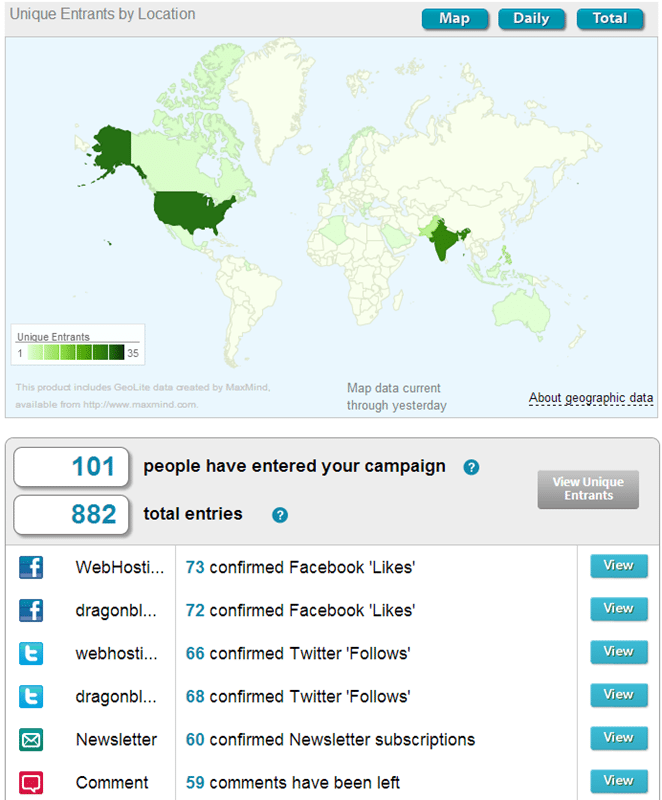 See above, PromoSimple clearly leads the pack in showing not only the entry groupings but geographic location breakout of unique entrants based on the IP of the entrants.  Much more like an analytics should look.
PromoSimple is the only one that offers analytics graphs show you trends and patterns in your giveaway.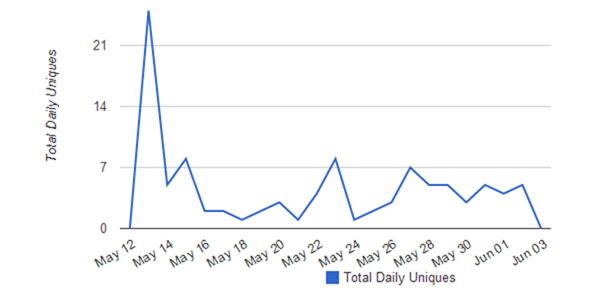 So if you want the best analytics and reports for your giveaway, PromoSimple is the winner here.
Update:  Currently PromoSimple can't show you the title of custom entries, so it makes it hard to determine which answers are from which custom entry.  They are working on a fix for this.
Refer a Friend / Viral Entry Offering
In terms of number of entries I can tell you this can be milked, with you being able to set 25 entries for individual entry options in Rafflecopter and other platforms you can get the appearance of getting hundreds of thousands of entries when only a few thousand people actually enter the giveaway.  Punchtab allows the refer a friend option where any entrant gets a custom ptab.it URL that they share and get 5 entries for anyone who signs up, this directly encourages entrants to share the giveaway like crazy to boost their odds of winning and this method words.  Punchtab giveaways previously for me get more entries than any other giveaway if you keep every entry at 1 entry per entry method without skewing the multiple entries per entry method of other giveaway platforms.  Also Punchtab giveaways I have run have more unique entrants than any other platform and that is primarily due to this refer a friend and viral component where others share like mad to get more entries.
Rafflecopter only offers the viral refer a friend for it's highest paid subscription and even then it has a finite # of entries that can be collected from the refer option.  In this category if you want to reward others with more entries by them sharing the heck out of your giveaways on any platform and forum and as much as possible then Punchtab or PromoSimple are the winner here.

Update:  PromoSimple now adds the Refer-A-Friend option and gives you flexibility, you can choose the # of entries you award per referral, and you can choose how many referral bonus awards an entrant can earn up to 50.  So now PromoSimple and Punchtab are the only two that have the viral refer a friend in the free plan, and both only award bonus entries if the referred person signs up, they don't award an entry just for the click to reduce click fraud.  For the Refer-A-Friend option as well as mailing list integration options this requires you to upgrade to their Bronze plan which is $15 per month but if you enter promo code DragonBlogger2013 you will get 20% off your first 3 months.  So you save $9 total when using this promo code if you upgrade.  However do try the free plan and see if you like the platform as much as I do first, then consider upgrading.  If you run just 2 or 3 giveaways per month then it is worth upgrading.
Giveaway Co-Sponsorship
If you work with multiple sponsors and co-sponsors or advertisers and need to add a lot of social media accounts as sponsors to follow, then Rafflecopter, PromoSimple or GiveawayTools beat out a little bit hear because they have no limit to the number of entry methods for any specific type of method.  Punchtab limits to 5 Twitter account follows, 5 Facebook Subscribes, 1 Pinterest Pin…etc.  So if you only run a giveaway with 1 or 2 sponsors then Punchtab is fine, but if you do micro-sponsorship sand work with many others for a giveaway and want say 25+ twitter follow entries then you will need to leverage PromoSimple, Rafflecopter or GiveawayTools for this one.
Free Promotion / Giveaway Listings
This is additional benefits you get from running the giveaway on a platform which comes in the form of free promotion for all giveaways on that platform.  Punchtab has an iOS app and lists popular giveaways on their iOS app for free.  PromoSimple lists all giveaways on their platform in their PromoSimple Giveaway Directory so you automatically have your giveaway published on their directory as well.  GiveawayTools with their $7 per month plan offers to submit your giveaway to over 100+ sweepstakes/giveaway sites and I confirmed that mine were listed on several dozen.  Again the type of giveaway will determine the interest, but I found that just adding my giveaway manually to a handful of specific giveaway sites netted the most traffic.  The winner in this category is PromoSimple for the free platform, and GiveawayTools if you are willing to pay the $7 subscription.

Winner and My Favorite Platform
My actual favorite giveaway tool is PromoSimple right now, it has the most flexible and customizable widget, the best reporting and analytics, and my readers have said it is the easiest to enter and complete entries.  Now that PromoSimple offers the refer-a-friend option it has an equal edge in viral social media sharing as Punchtab and the two platforms are pretty much neck in neck as the best free giveaway platforms.  I have decided to temporarily switch my giveaways to 100% PromoSimple for the next few to really see if they can reach the high number of entrants as my previous Punchtab giveaways.  Both PromoSimple and Punchtab now only offer referral entries for referrers who sign up for the giveaway, not for just clicking on your referral link which caused a lot of click fraud with Punchtab previously.
Rafflecopter is still good but with it's reduction in free options like no live analytics, less entry methods, it has more flexibility than Punchtab but simply cannot match the flexibility of PromoSimple.  GiveawayTools lists your giveaway on dozens of sites if you pay for the paid plan, and has some unique entry options but unless you need Etsy entries or want to group entries together specifically I found this platform to be less appealing and user friendly with poor reporting and analytics compared to Punchtab and PromoSimple.
PromoSimple when it implements the refer a friend feature may end up taking the best platform category and I plan on putting it head to head against Punchtab again when it does.  In the meantime most of my giveaways will still be on the Punchtab platform with occasional forays into PromoSimple and testing the others as new features emerge.
If you haven't run a giveaway on PromoSimple out you should be testing them out and see for yourself, I know many bloggers who have switched.  I would still like to see SimplyCast mailing list integration and better reporting of the Custom Entries at least to show the title for each custom entry in PromoSimple.