CSS is an extremely versatile coding language that not only helps give structure to your website when combined with HTML but also makes sure that the design aspect is looked after effectively as well. Whether you are a novice who has just entered into the web designing arena or an expert in the field, you definitely need these CSS tools to fall back on. Besides, these tools are an excellent way to give your websites a definition that adds to its uniqueness. It helps take your web design notches higher.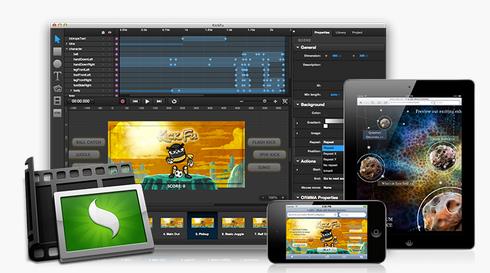 1.) Sencha Animator
With animation fast becoming a popular means to attract attention not just in terms of the children but adults as well, this tool is something every web designer must swear by. This is an application that first needs to be downloaded to your computer for use. However, its use is not limited to desktop PCs and can be vastly used to create animation graphics for smartphones as well as tablets. With Sencha Animator you can create graphics of superior quality that can help speak volumes of your web design. Besides, your ability to create breathtaking animation strips is not limited to images. You can even use this feature for buttons and animate the gradients. The possibilities are endless. Web designers who wish to use animation in their works but possess no knowledge whatsoever can make use of this excellent CSS tool that lets you take control. One of the best things about this tool is the absence of writing any type of CSS code.
2.) CSS Lint:
This can be considered an extremely versatile CSS tool that every web designer must have bookmarked when writing CSS code. Essentially, it is a bright blue hued screen with a single humongous text area that calls for you to paste the CSS code that you may have written. The lint button given right below this text area scans and checks through every word of the code and fishes for errors. Anything that they believe is incorrect or can be improved is suggested once the scan is complete. Therefore, it essentially saves you the trouble of manually reading through every line that may be creating the problem. Besides, continually using this tool for checking your CSS codes will also help you understand CSS better and you can improvise eventually.
3.) CSS3 Patterns Gallery:
For every web designer, it is not only the structure that matters but it is the actual design that must be immaculate as well. Although the functionality is important, you cannot ignore the visual and aesthetic aspect. Sometimes, all you may need is a little inspiration. Therefore, this tool can help you with all the inspiration that you need by providing a list of unique designs and patterns that can be incorporated into your website. Along the name of the pattern, a code is present too, which can be included in your coding and edited to suit your or your clients' needs.
4.) PrefixMyCSS:
This is a CSS tool that can help save an incredible amount of time by performing nearly half the work for you. The screen of this website is divided into two sections. In the first section you have to the paste the code that you have written and press the 'Prefix' button alongside the screen. Once you do that, you will see that the code has been added with the vendor prefixes. This can then be copied and pasted as your new code and you are good to go.
These are some CSS tools that every web designer must have handy to make the most of a web designing experience.
About the Author
Darryl Steven is the CEO at Digitech Web Design Austin, a premium web design company who creates amazing looking websites for your company with an emphasis on enhancing your customer interaction to drive sales. You can connect with Darryl Stevens on Google+
This is the Dragon Blogger Guest Bloggers account for author's who want to submit articles and only have credit in the post instead of having to manage their own WordPress profile.