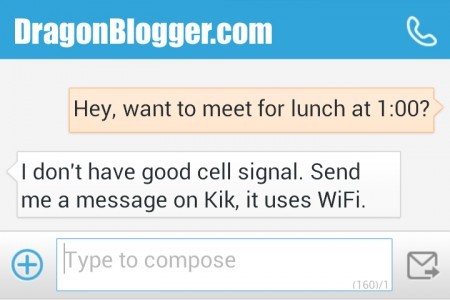 I've been on vacation in rural Pennsylvania with my family this week and although my phone says "searching for signal" 75% of the day, I'm still able to connect with my friends and colleagues in Florida because I have a WiFi connection. As long as the person I'm contacting uses one of the free text messaging services that works over WiFi, we can still communicate even though there's not a Verizon tower within 20 miles of me.
Here's a list of some text messaging apps that use WiFi.
Facebook Messenger
Perhaps the most popular one here, Facebook Messenger is a solid platform that will allow you to talk to your friends over WiFi. Almost everyone I know has a Facebook, so your friends won't have to sign up for any third-party services just to get a hold of you.
I use mainly use Facebook to talk to my blogging colleagues (some of which live in other countries) and it works wonderfully! It doesn't matter if I send a message on my smartphone, tablet, or laptop, everything is automatically synced on Facebook's servers.
Apple iMessage
Introduced with iOS 5, Apple's iMessage allows people with any Apple device running iOS or Mac OS X to send texts to one another bypassing the cell phone carrier. With iOS carrying about 50% of the smartphone market, there's a pretty good chance some of your friends may have an iPhone.
The fact that iMessage integrates into iOS without the user even realizing it is very brilliant. If I'm texting my friend who has an iPhone and I'm on a WiFi connection, my phone is sending it via the WiFi, not via my phone's data network. So even in rural Pennsylvania I can send messages to my friends' phone numbers and they won't even realize that I don't have cell phone service. However, the big drawback to iMessage is the fact that integration isn't very smooth. If you start a conversation on your iPhone sending/receiving messages via your phone number, you cannot pick that conversation back up on your Mac or iPad. iMessage on OS X and iPads use your Apple email address and cannot use your iPhone's carrier-assigned phone number, so syncing conversations between all of your devices doesn't always work out.
Kik
Ever since I've been heavily using Twitter and Instagram, I've noticed Kik gaining popularity. Kik is a downloadable app on iOS and Android that allows users to send text messages to any other Kik user. All you need to sign up is a username and an email address and you're good to go… Basically the idea is that you can give your Kik username to people instead of giving out your phone number. It's a little safer to give a simple username to a stranger on Craigslist or someone you've just met at a bar.
I've been using Kik to talk to a few of my friends while I'm here on vacation without cell service and I've started to like it. It's a simple messaging app without all the bloat of an app like Facebook. It's really quick, it tells me when the person has received/read my message, and it also shows when they're typing. I can message people by typing in their username, so I don't even have to wait for them to accept a friend request like I would if I were using Facebook or Skype.
Go SMS Chat
If you use Go SMS as your text messaging client on Android, you will find that there's a feature called Go SMS Chat that works very much like iMessage. It has all of the same features of regular text messages on Go SMS, but you can see when the person has received/read your message as well as when they're typing. And most importantly, it works over WiFi.
I've tried out Go SMS Chat a few times, but it's very rare that I will talk to somebody else with an Android phone that just so happens to use Go SMS as well. It's a third-party text messaging client that you have to download to use, so everybody that uses the stock Android texting app won't be compatible. To set up Go SMS Chat with somebody, you click the Chat button within your standard text messaging conversation on Go SMS and it sends them an invitation link. Once they click the link, you will be connected via Go SMS Chat until you decide to opt-out of it.
Skype
Skype is a video conferencing application owned by Microsoft, but it also supports "instant messaging" which is essentially the same thing as text messaging. The features of Skype are very similar to those of Facebook and Kik, but to talk to people you have to first add them to your friends list.
I use Skype occasionally to talk to people, but I try to stay away from it for simply text messaging purposes. Since it's built around video chatting, there will constantly be that bloat of video features that just aren't necessary to have a text-only conversation. Nevertheless, Skype is a good option because many people already have an account for video chatting, so they won't have to sign up for yet another service.