Last month I won a 8GB Centon DataStick Sport USB drive which is also waterproof so I thought of doing a review on it. And here it is plugged in, in my system for testing.
About Centon:
With 35+ years of experience, Centon Electronics is a leading manufacturer of DRAM and Flash-based products. In recent years, Centon has expanded its product assortment to include a full line of consumer accessories under the OTM™ Essentials brand. Centon has been ISO 9001 Certified since 1999, which drives our Total Quality Management System—ensuring customer satisfaction in our products and services. Centon, a women-owned business, is headquartered in Aliso Viejo, California. 
Specification: (their website seems to be broken as in down, so I had to do my own research)
Capacities: 8GB,16GB,32GB,64GB,128GB
Product Dimensions: 6.5 x 4.5 x 0.8 inches ; 1.3 ounces
Connector: USB Type A
Connector Type: USB 2.0
Warranty: lifetime warranty
Water Resistant: up to 1.5M
Compatible with: Windows and Mac
Packaging:
So coming directly to the packaging of this drive, we can see on the front their company logo, drive model, it's capacity and the USB drive itself.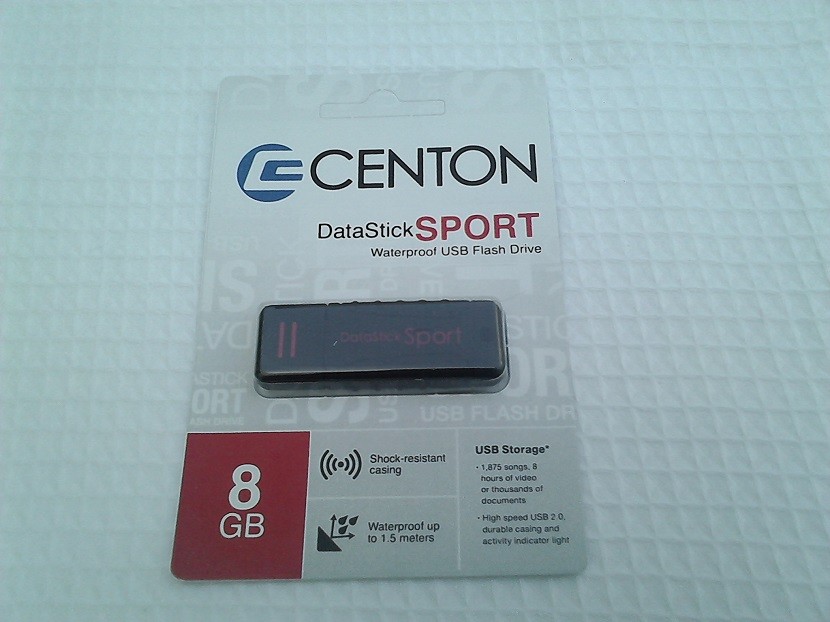 On the back of the packaging we have a chart detailing how much of the data can the USB store, but that of course doesn't matter cause people usually have random stuff on it. We can see on the side that the USB comes with lifetime warrenty and below that, there's a mention of their facebook page and twitter account.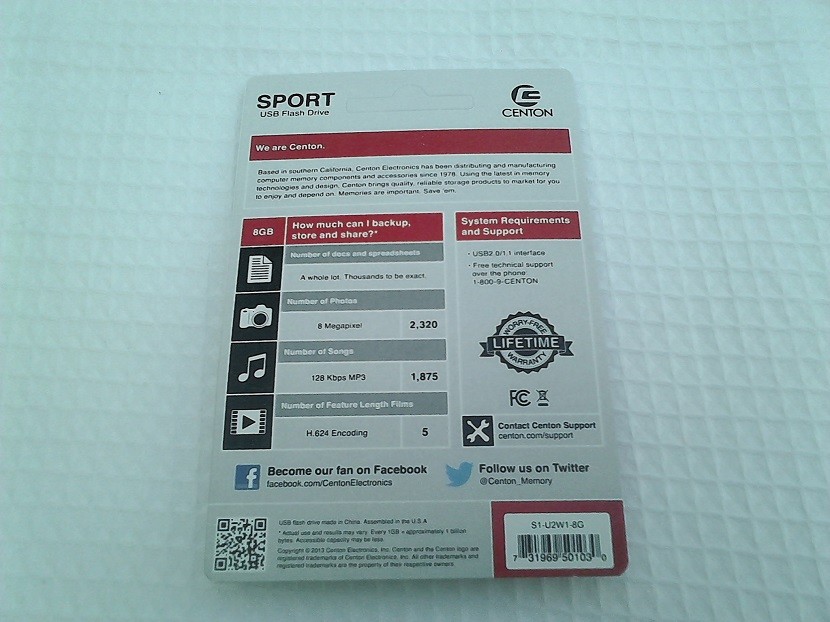 Taking out the USB from the packaging we have a better look at the USB itself. There's Datastick Sport written on the front and their logo printed at the back with red color. The USB have a soft rubber kind of feel thanks to the shock resistant silicon casing which also makes it waterproof. There's also a hole at the opposite side of the USB header for making it a keychain. Over that, the USB header also have the capacity of the USB written over it.

Methodology:
Keeping it simple, I'm going to test the USB using 3 programs namely AS SSD, ATTO Disk Benchmark and Crystal Disk Mark 3.0. I'll note down the Sequential read and write speeds of the USB in each test 3 times and mention the average speed. Coming down to water proofing test, since i don't really have anything deeper than 1.5m  to fill with water at disposal, I'll just leave the USB in a water glass for 1 hour and see if any drops leaks in.
| | | | |
| --- | --- | --- | --- |
| | AS SSD | ATTO Disk Benchmark | HD TunePro 5.50 |
| Read | 25.09 MB/s | 26.61 MB/s | 23.73 MB/s |
| Write | 4.51 MB/s | 4.96 MB/s | error |
Waterproof Testing:
So I poured down the USB in a glass of cold water right out of the fridge. I had the USB sat in there for about 1 hour and then I plugged the USB back in the computer after soaking it and there it was working as usual.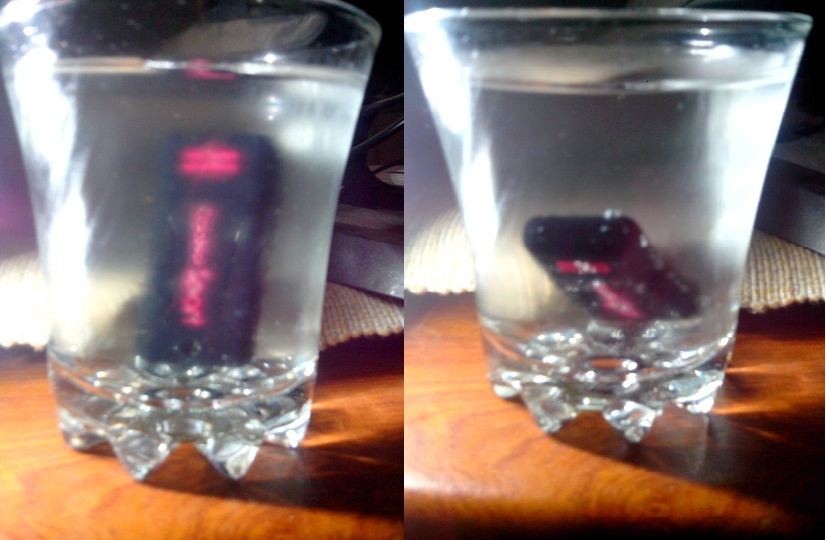 Conclusion:
From the tests above, which as mentioned in the methodology, were taken three times and their average is mentioned in this review. We can see that the USB doesn't stand out in the write speed performance verses other well priced USBs. Even though the read speed might be acceptable, no one wants to go with that low write speed. Over that, in the HD TunePro, I had some write error popping up because of which I couldn't list the write speed in HD TunePro table. No, it hasn't became write protected, I can still use the USB as it is.
Talking about the water proofing, I can't really say much as the test must have been based on the depth, but as a substitute I had to do something and I made it endurance based. I was thinking the USB would lose a little bit of the color and the water would become darker/black but that didn't happened during the time it was in there. And yeah, I did stir it a few times. When I removed the cap from the USB afterward, there was a little bit of water inside so I was confused that the USB header might catch up some Zinc, but so far nothing like that has happened.
Pros:
Price
Good Read Speed
Water Resistant
Cons:
Cap can't be stuck to the back of USB, increasing chances of losing it, would be nice it if was attached or could stick to the bottom.
Overall performance
All and all, if you're looking for a cheap waterproof USB, you might consider giving this one a shot, but if you're looking for USB with overall performance, there are better options out there. If not for the price slash (at $8.09 on Amazon now), this would've gotten even more lower score, but Centon did made a good choice on the price. Considering the overall quality and performance, this USB takes away 3.5 stars.