Up Close and Personal
We are influencers and brand affiliates.  This post contains affiliate links, most which go to Amazon and are Geo-Affiliate links to nearest Amazon store.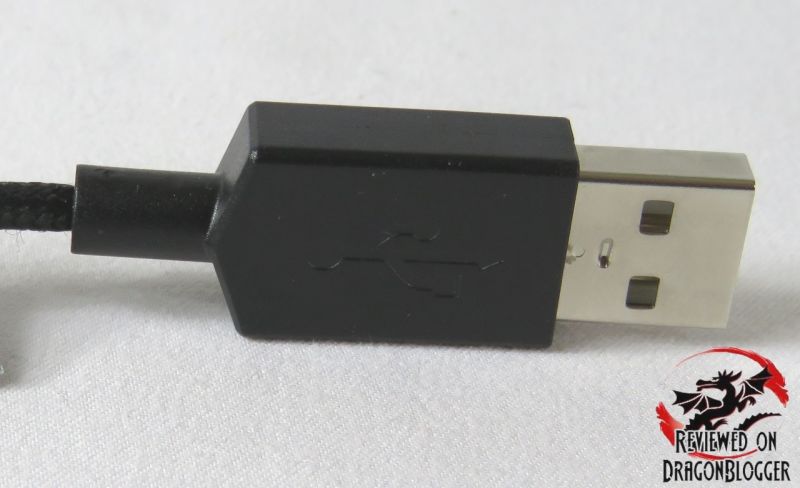 Starting at the end of the cable, we find the USB plug.  Nothing out of this world here, just a standard connection.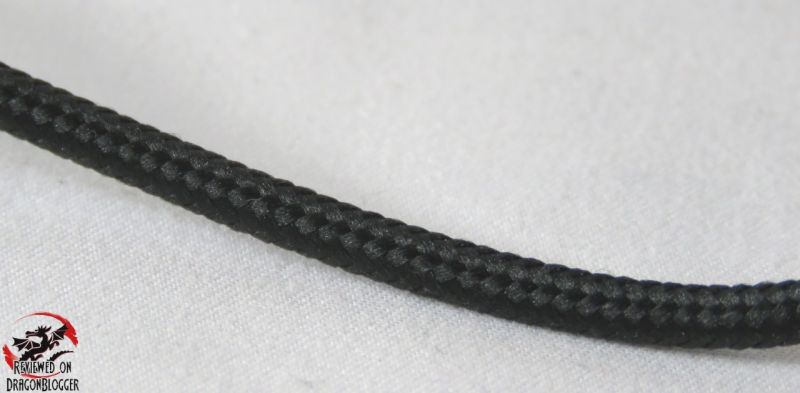 Working our way up to the mouse itself, we travel on this 6-foot nylon braided cable.  It's really what you come to expect from high quality products.  Let's keep going up this cable.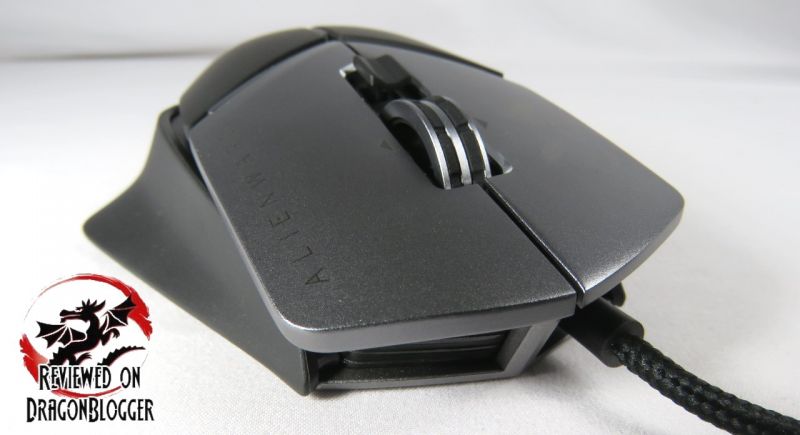 Leading up the cable, we find this oddly shaped craft.  Let's take a look at the mouse in more detail.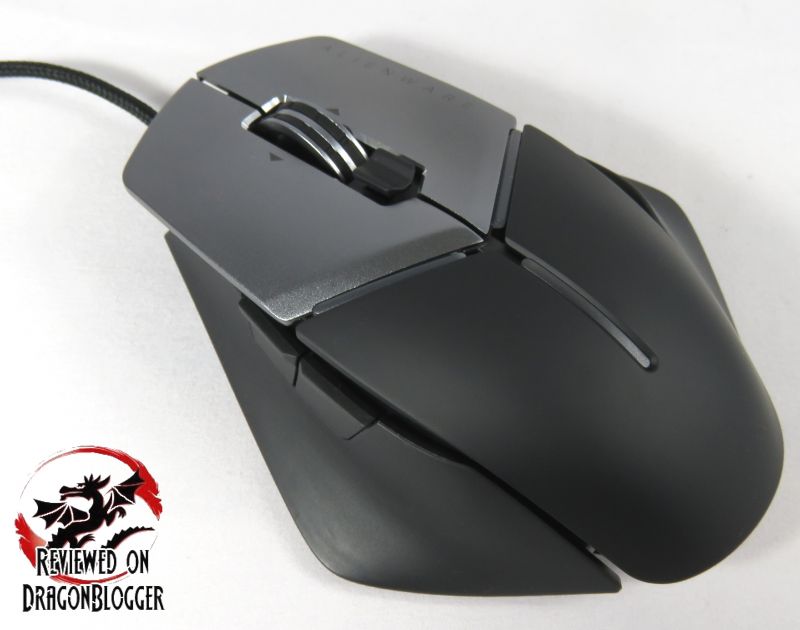 Here we have a bird's eye view of the Alienware Elite AW958 Gaming Mouse, it is a bit odd looking isn't it?  Well, it has a lot of features that might not be too obvious so it might bulk it up a bit, so let's break it down.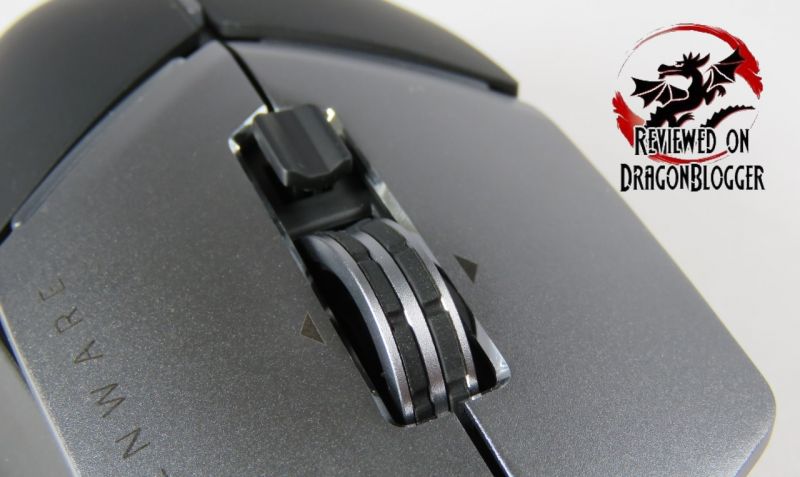 Coming up a bit closer, we can see the scroll wheel, that has a few more functions that just scrolling up or down.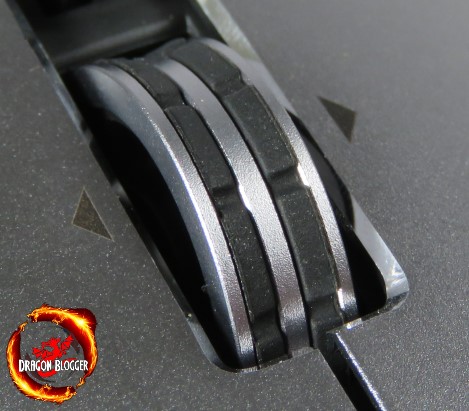 As the arrow to the right or left of the scroll wheel show you, you can tilt the wheel left or right to basically go back and forward or maybe turn a page.  You will notice, that the 2 strips centered on the wheel have little grooves to keep you from slipping when you scroll.  The scroll itself detents to keep it from being just a straight scroll, but keeps it essentially on a line per line scroll adding some more precision to the scroll.  Finally, the scroll wheel acts as a button that you can press down as well.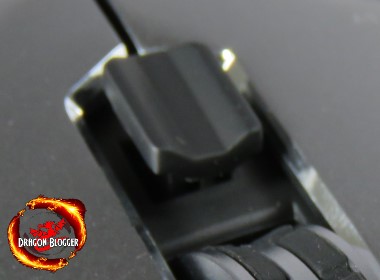 We are used to a DPI button, but this is actually a DPI rocker.  Rocker it to the left to lower the DPI or to the right to raise it.  You have a choice of 5 different DPI settings, all of which are 100% adjustable.  You can go as low as 100DPI all the way up to 12,000 DPI.  I typically prefer 6900.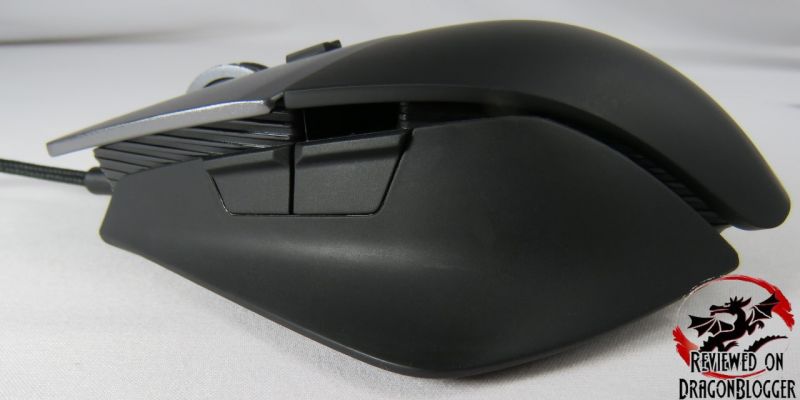 Coming around the side, we can see what look like the usual 2 buttons on the side, usually known as back and forward… but there is a bit more to this side panel.

Pulling on that side piece, it comes apart to reveal the 3 magnets that hold it together along with the piece that allows it communicate to the side panel.  Next to it, in the picture we find the side panel with the 6 buttons.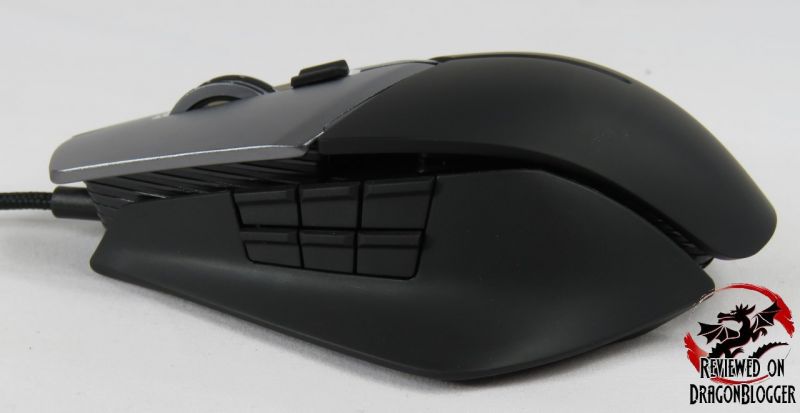 Pull this side panel close and it will magnetically bond itself to the mouse and without any sort of configuration, you now have 6 buttons.  Pretty slick if I do say so myself.  I will show you more on this once we focus on the Alienware Control Center a little later in this review.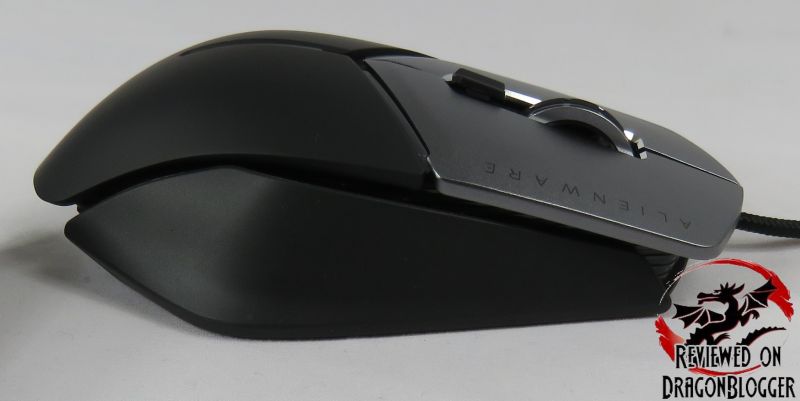 So, does that mean the other piece goes here, it does fit on the other side?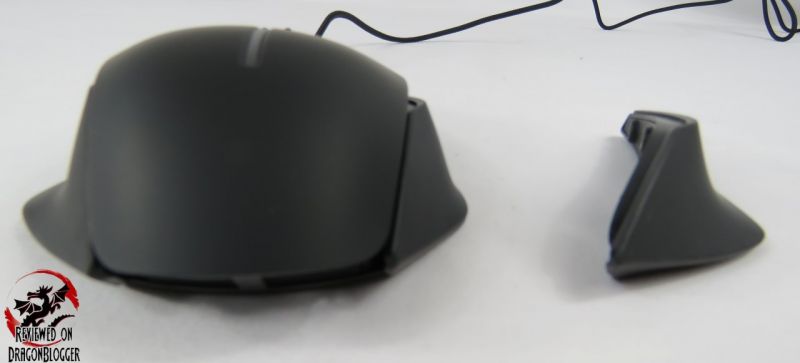 Here is the side panel on the mouse already connected when it is in the box, and right next to it is the other wing included.  Let's put it on just like we did with the buttons side panel.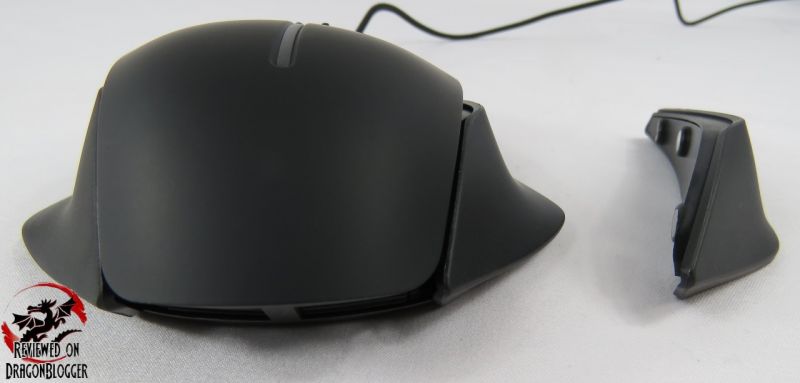 Just pull it off and it snaps back into place like the other side panel with its magnets.  The wider angle gives it a spot for your pinky and ring finger to rest a little more comfortably. The problem here is that with either wing, there is no edge for your finger to catch onto when you are lifting the mouse.  I will go over this a little more later in the review.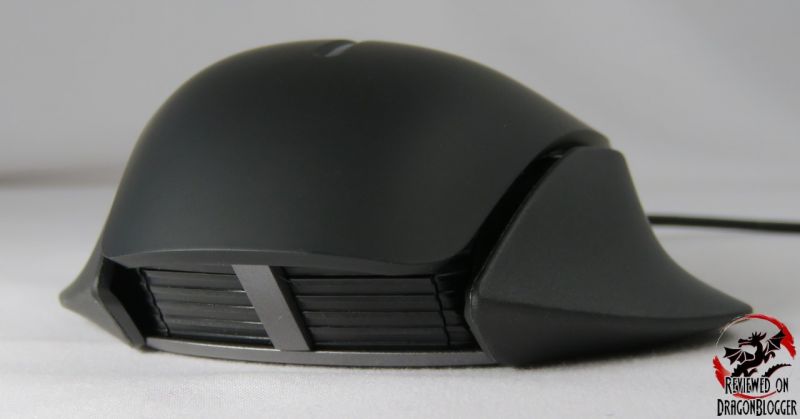 On the back of the mouse, these little louver pieces are not louvers that hide its jet propulsion system on the rear of an Alien space craft but they do hide a little secret.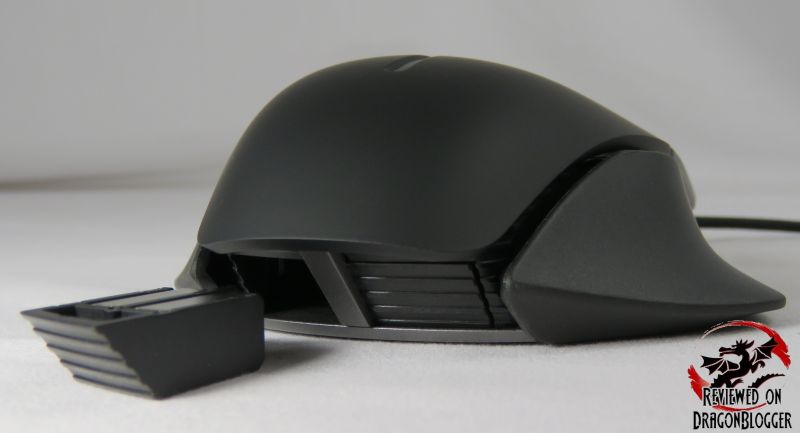 With a gentle push inwards, the little panel pops out reducing the weight of the mouse by 10 grams, depending on how you have these modules loaded.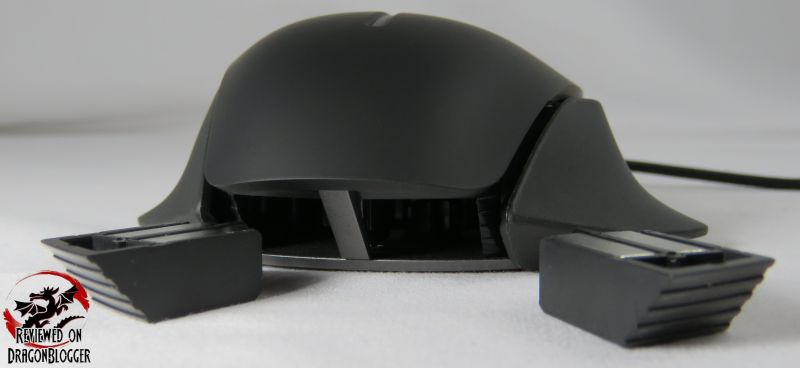 Taking out the right module we reduce the mouse weight by another 10 grams, again depending on how you have these modules loaded.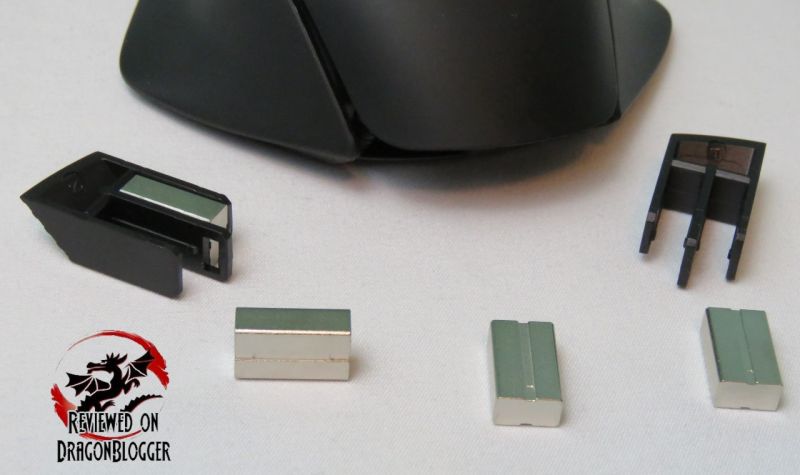 If you wanted to scale it back and control the weight a little more you can, by removing weights at a 5-gram interval.  You can individually remove the weights from the module, leaving only one or removing both from one module.  Make it yours a little more this way, but there's one more thing you can adjust.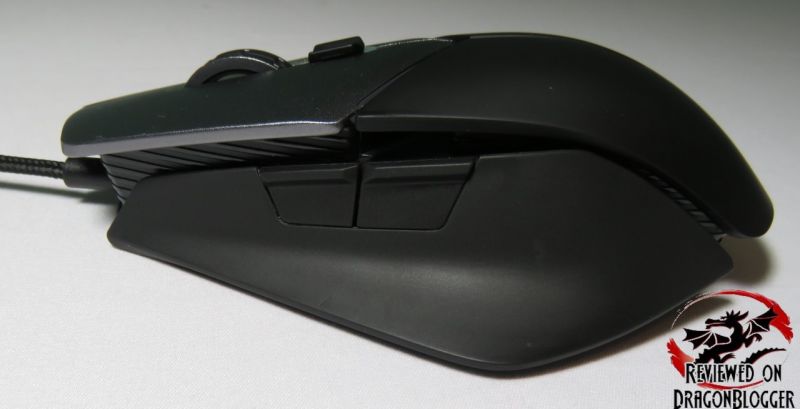 Till now, this is the length you have seen, but we don't all have the same length and width hand, so your comfort level might be a little different than mine.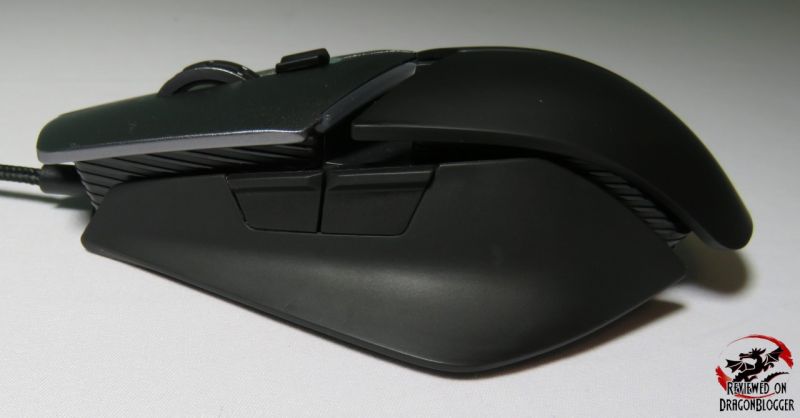 We, palm rest allows you to extend the length of the mouse, maybe make it more comfortable for you.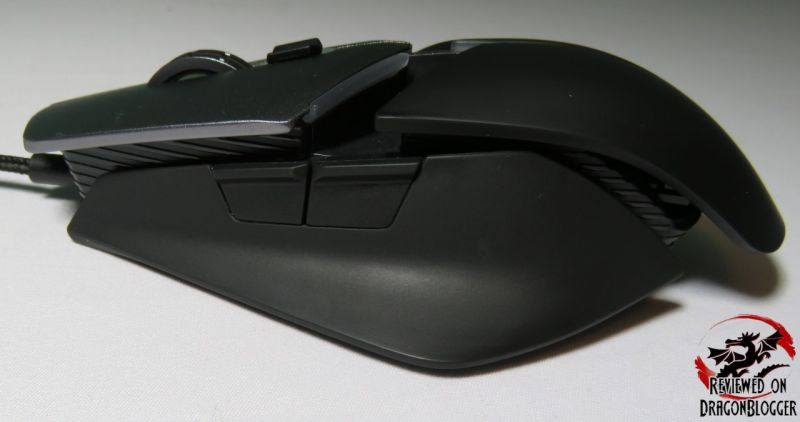 Or maybe just a little bit longer.  If this view is a little difficult to see, maybe this gif will help you.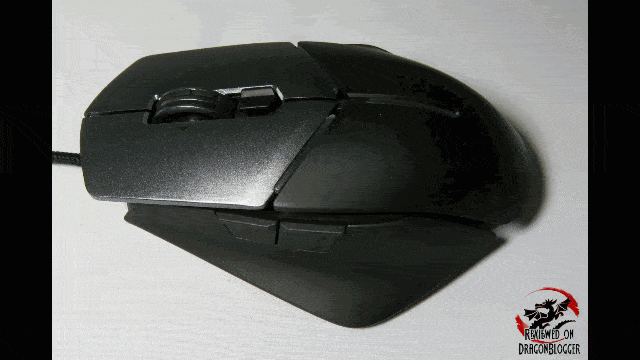 Pretty cool feature right, and it was hidden there all along.  To sum this section up, I have put together this video so that you can see all of the features in action.  Check it out.
In that video, you see all of the features of the mouse while it is not connected.  It also goes over the one thing that bugs me about the mouse, the right side of it.  There is no place or grove in the mouse to let you left the mouse comfortably maybe for additional scroll which can potentially end up in accidentally hitting on of the 2 of 6 side mouse buttons.  As I mentioned though, after a bit, you will get used to it, but you should not have to.
Again, I showed you everything the mouse can do when it is not plugged into a system, but on this next page we will go over all of the functions of the mouse that can be controlled by the Alienware Control Center software suite.
Continue: Lighting, Macros, Keystrokes and Alienware Control Center
We are influencers and brand affiliates.  This post contains affiliate links, most which go to Amazon and are Geo-Affiliate links to nearest Amazon store.
I have spent many years in the PC boutique name space as Product Development Engineer for Alienware and later Dell through Alienware's acquisition and finally Velocity Micro. During these years I spent my time developing new configurations, products and technologies with companies such as AMD, Asus, Intel, Microsoft, NVIDIA and more. The Arts, Gaming, New & Old technologies drive my interests and passion. Now as my day job, I am an IT Manager but doing reviews on my time and my dime.