Lighting, Macro's, Keystrokes and Alienware Control Center
We are influencers and brand affiliates.  This post contains affiliate links, most which go to Amazon and are Geo-Affiliate links to nearest Amazon store.
With all keyboard and mice that have a ton of features, there is a piece of software that controls them, for this mouse it is the Alienware Control Center.  Starting it up, if you have this mouse you will find this screen.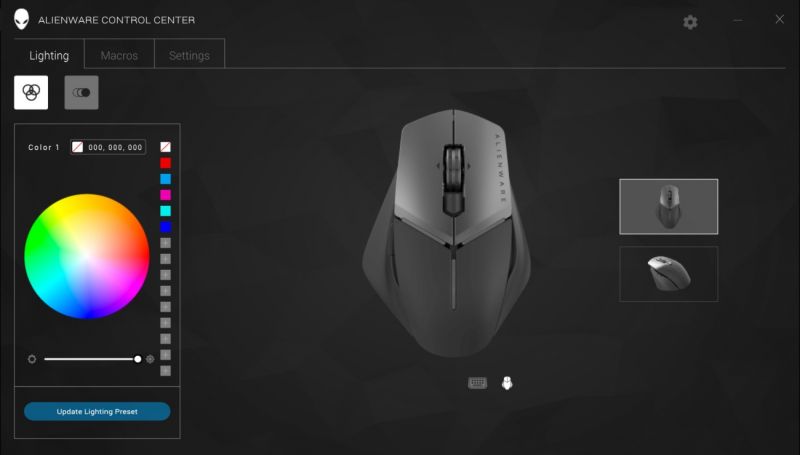 If you also have the keyboard, the keyboard portion of the software will first come up so you will need to click on the mouse on the bottom of the screen.  I need to add, it is great that one piece of software can control both, which means you don't need to install separate pieces of software for the keyboard and the mouse, a one stop shop.

Once loaded, you can first change the lighting effects from the RGB color spectrum on the left-hand side.

The first of 3 tabs is Lighting, we will go over that first.
LIGHTING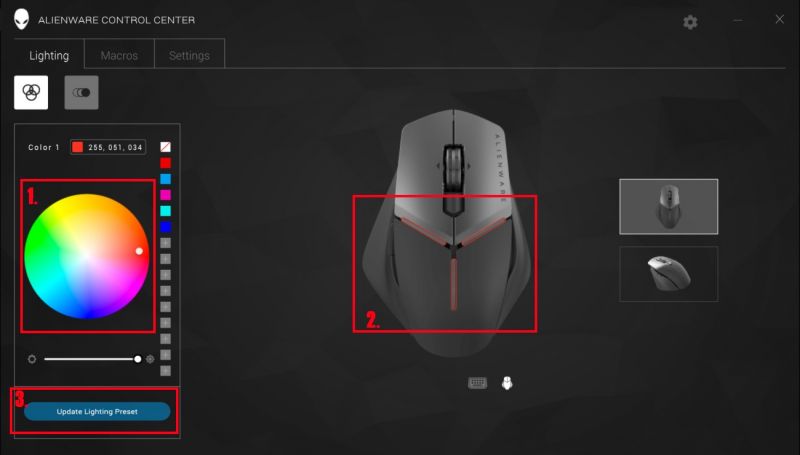 Selecting the color on the spectrum highlighted with the number 1, will change the color on the prism highlighted in section 2 so that you can see a preview.  Once you have selected the color you like, you click "Update Lighting Presepret" highlighted in section 3.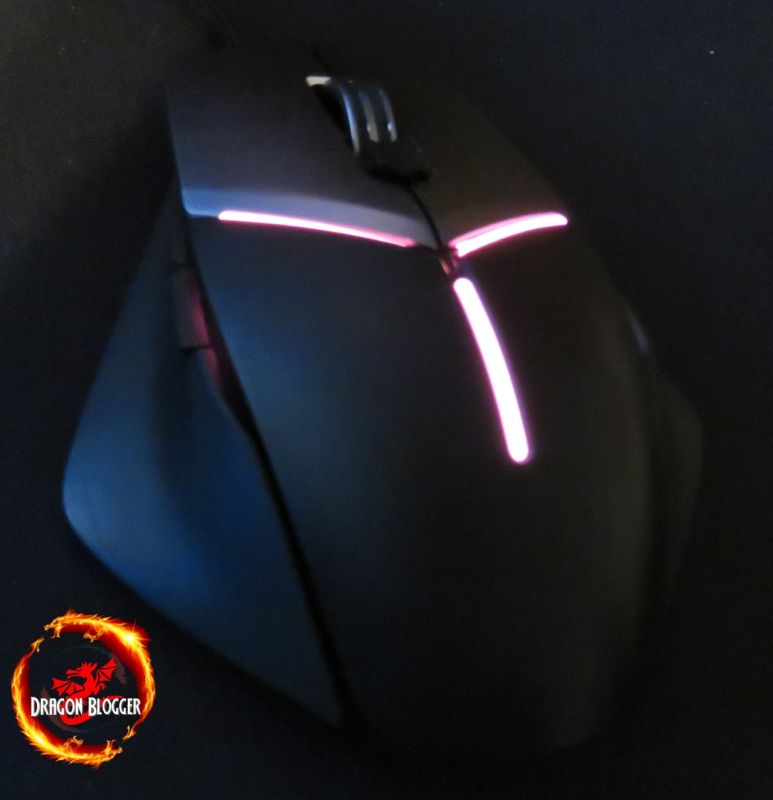 Don't worry, we will go over this in a little more detail further in the review.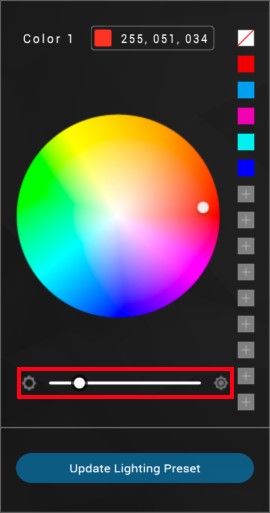 You can change the brightness of the light by moving the slider up and down, and again clicking on "Update Lighting Preset".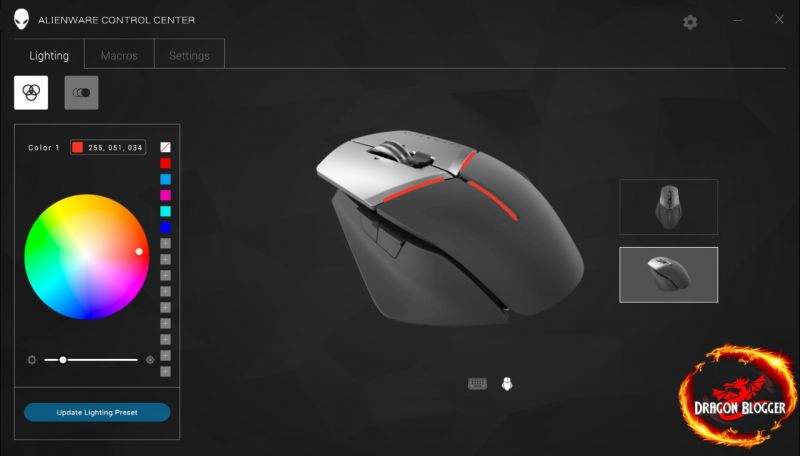 Clicking on the second button showing the graphical representation of the mouse, gives you a different view of the mouse in a smooth animation.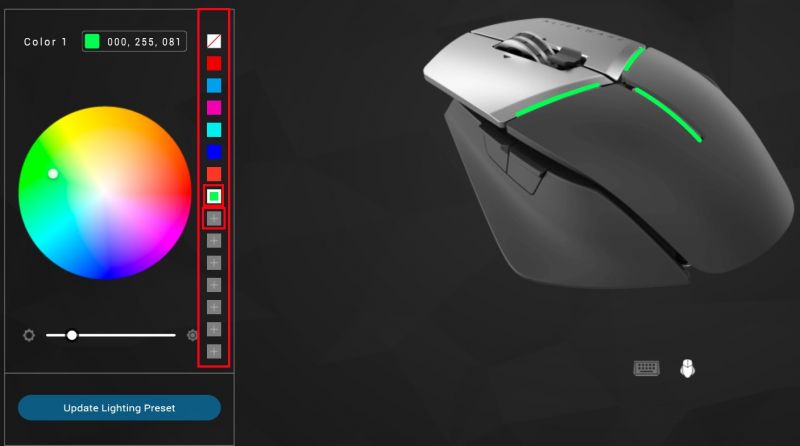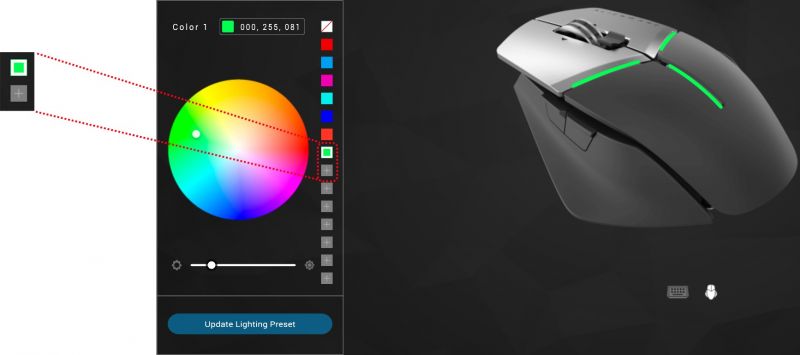 If you slide your mouse across the color wheel and find a color you like, that might not already be preset on the color bar, you can select the color and press the "PLUS" icon box to save it as a default.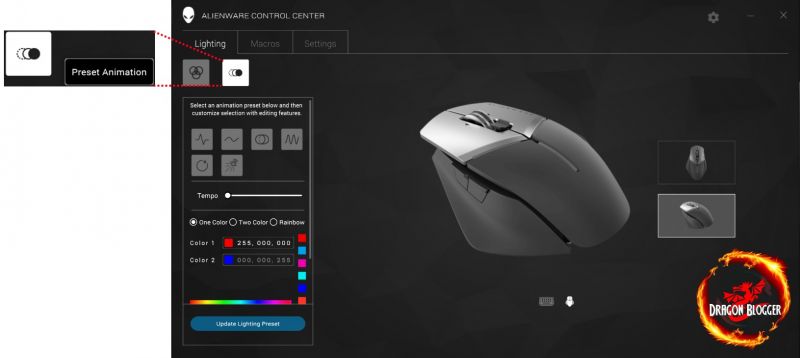 If you want a little more than basic colors on your mouse, you can liven it up a bit and select some Preset Animations, the 2nd of 2 subsections under the Lighting tab.  To do this, just click on the "Preset Animations" icon within the Alienware Control Center.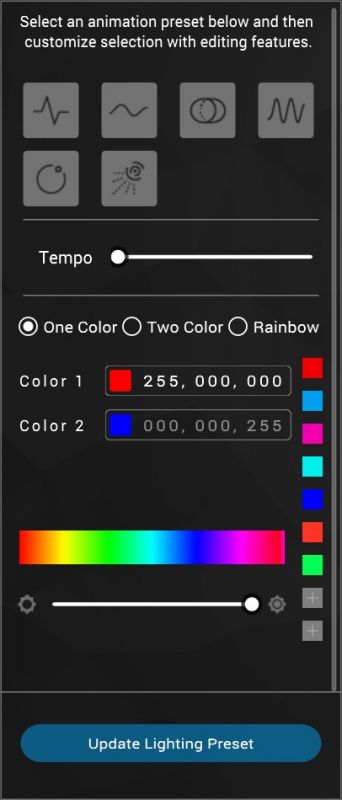 On this screen, you can select from 5 different preset animations, and then you can also change the colors as well as the lighting intensity.

With the Temp slider, you are able to set the speed of the animation.

Here you can set the color scheme during the animation, one color turning on and off, 2 colors cycling between themselves and a rainbow of colors going through all 16.8 million colors.
Let's go over what those preset animations are.

A steady pulsing lighting effect.

The light will fade in turning on and then fade out turning back off.

Will morph into every single color in-between Color 1 and Color 2.  You can only have the Two Color selection for this mode.

Will change the lighting according to the tempo through every color in the spectrum.

Will change the color prism on the mouse itself cycling through each color on each spectrum individually rotating.

Will have a pulsating breathing lighting fading in and out cycling through all the colors, like a firework going off in the night sky.
Just remember, after selecting these, make sure to click "Update Lighting Preset" for those changes to take effect.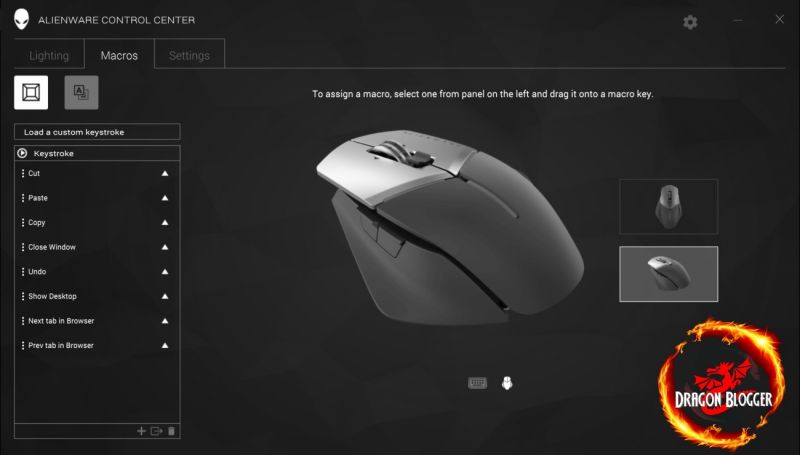 Now let's venture off the Macros tab.
MACROS

The 1st of 2 subsections is Keystrokes, allows you to set Macro keystrokes on the 2 or 6 side button wing options.  You can use one of the 8 preset keystrokes they have set for you.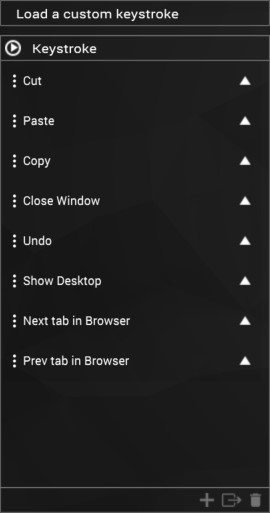 From here, you can click, drag and assign keystrokes to one of those side buttons.
You might have noticed on the bottom of the keystroke window, there were icons with a Plus, Export and Trash can.

The Plus, allows you to record custom Keystrokes to assign to a key.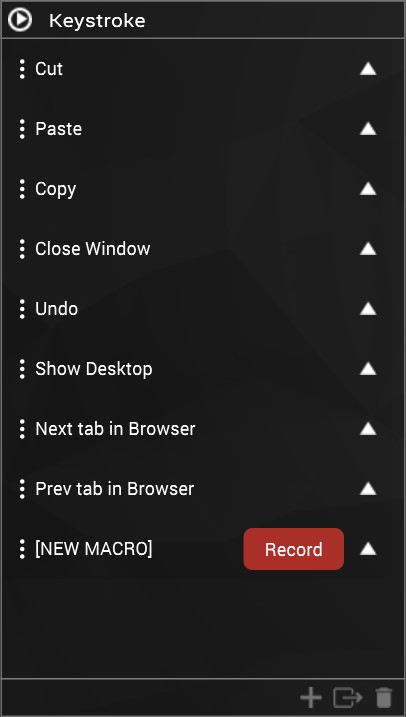 Pressing the plus, brings up a "NEW MACRO" section with a red Record button.  You can click Record and create your macro.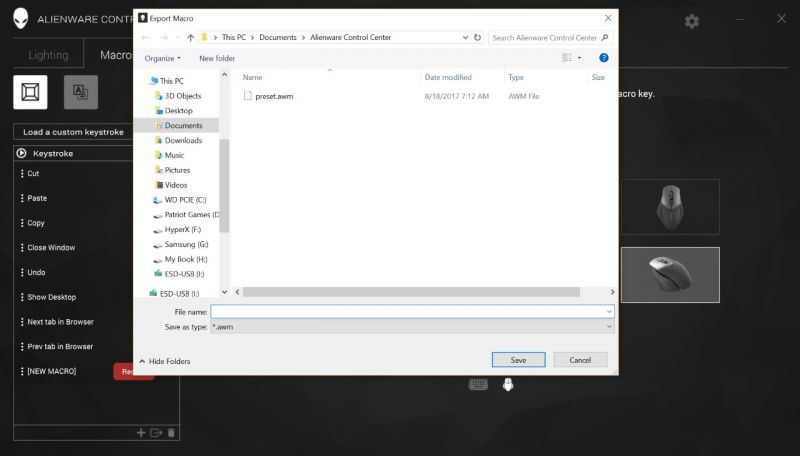 Export, allows you to export custom keystrokes you have create to maybe share with a friend or keep for safe keeping in case you reformat your machine or maybe buy a newer Alienware Elite Gaming Mouse AW958 for another machine in your house and want to use that profile there.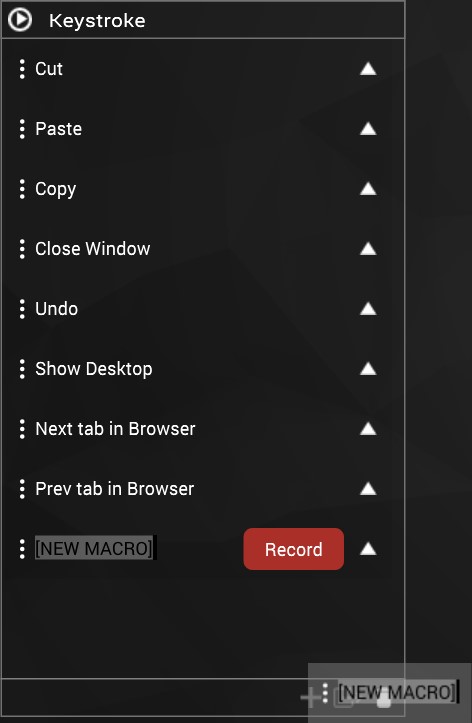 Dragging and dropping these custom profiles to the trash can deletes them.

And above this section, you will find a "Load a custom keystroke", this is the portion that allows you to load that profile you just exported.
I will go over all this in the video later in the review as well.
KEY MAPPING

The 2nd of sub tabs in the Macros tab, is Key Mapping.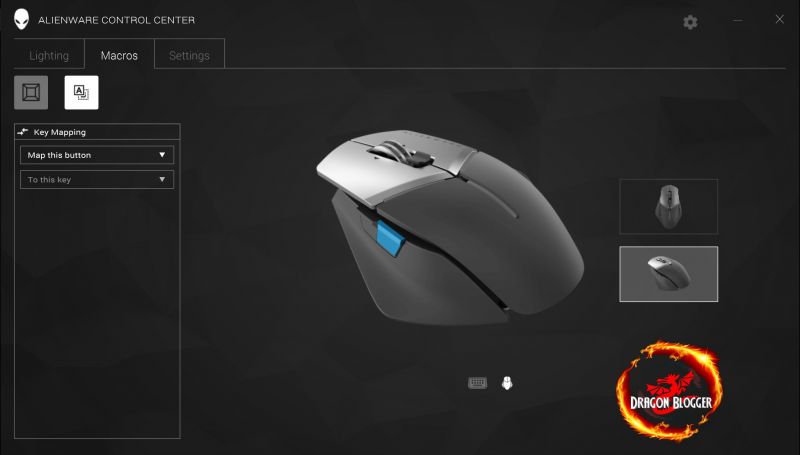 Clicking "Map this button" drop down provides you with 5 different presets to map.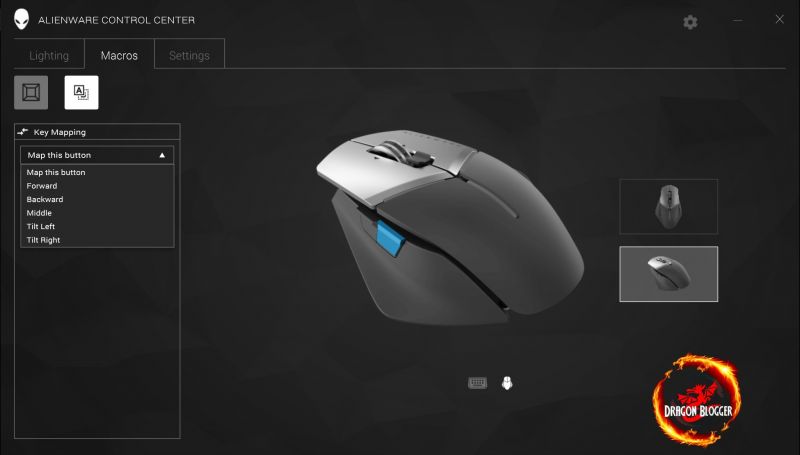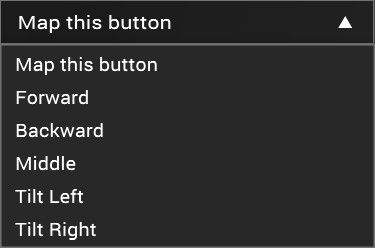 Forward, Backward, Middle, Tilt Left and Tilt Right are your options.  You can assign the keys on the mouse with these, there are no additional custom options here.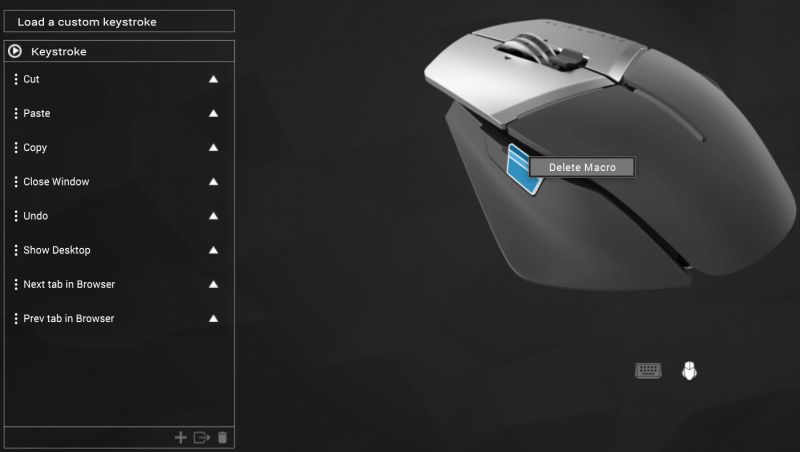 Don't worry, if you don't like the custom macro or keystroke you created, you can simply right click on the blue highlighted mouse button and click "Delete Macro".

What's under the Settings Tab?
SETTINGS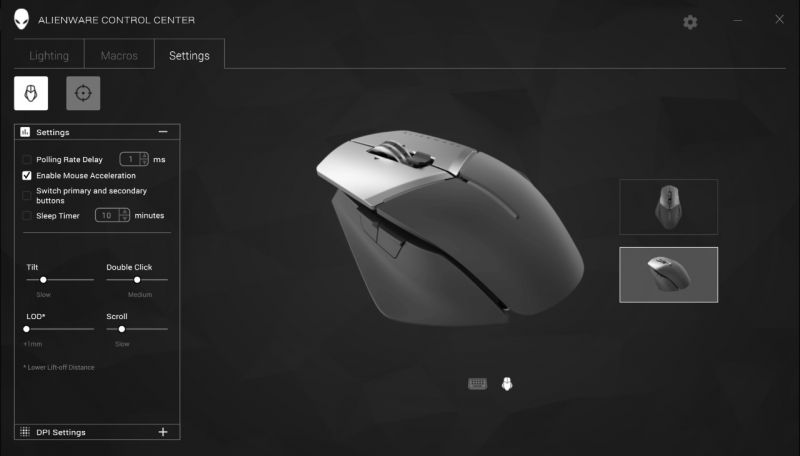 The 1st of 2 sub tabs is Settings.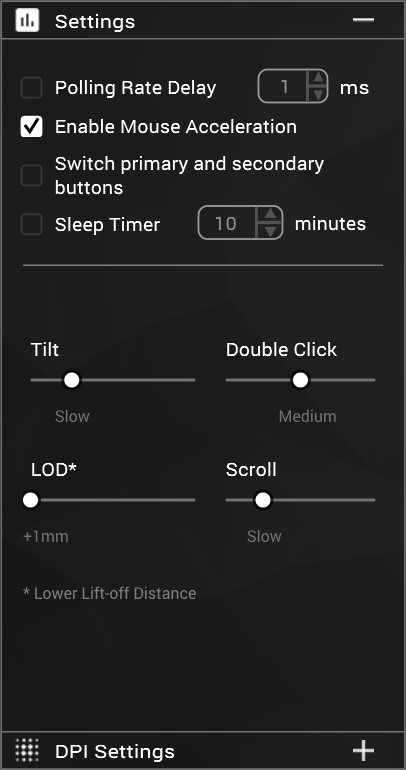 Polling Rate Delay, allows us to raise or lower the Polling Rate, you can go from 1 to 8.
Enable Mouse Acceleration, allows you to enable or disable Mouse Acceleration.  Mouse acceleration allows you to increase the mouse movement if the mouse is moved quickly over having it disabled.  The default is disabled, but I enabled it by placing a check in the check box.
Switch primary and secondary buttons, allows you to invert the left and right clicks.  For most, this is a horrible option, but for lefties (there are very few of us) this helps make the mouse a little more regular for us.  Growing up in a right-handed world, I have learned to adapt though.  I write, draw/paint and use the mouse right handed, everything else I am lefty.  It's odd.
Sleep Timer, allows you to set the time when left idle that the mouse will go to sleep.  You can select from 10 to 90 minutes.
Tilt, allows you to use the tilting wheel to scroll left or right faster or slower on word documents, photos and more.
Double Click, allows you to change the rate at which double clicks function.
LOD*, allows you to see how many millimeters off of the mouse pad you will need to raise the mouse before it stops tracking.  I have found its default to be best at +1mm, but you can raise it to +3mm.  To mention, the * captions the footing of "Lower Lift-off Distance"
Scroll, allows you to change how fast the mouse wheel scrolls, usually that is setup in lines but they make it so they know best I guess.  You can select from Slowest to Fastest with 3 options in between.

You may have missed it, but at the bottom of those settings, there was a "DPI Settings" selection.  Let's click on it to see what is in there.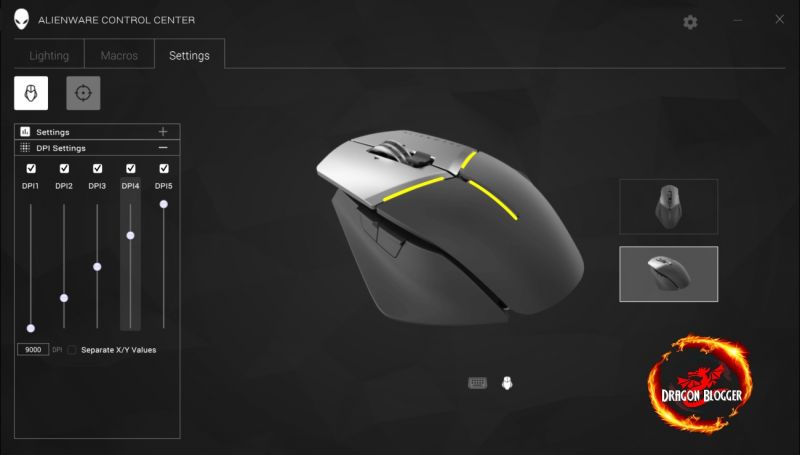 You can see here there are 5 different DPI profiles, adjustable by clicking on DPI1, 2, 3, 4 or 5 and raising or lowering the slider.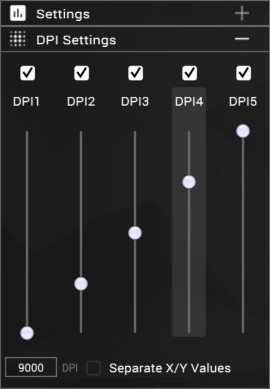 The sliders each have their own DPI setting, for example DPI setting 4 has a DPI of 9,000, but I like 9,600.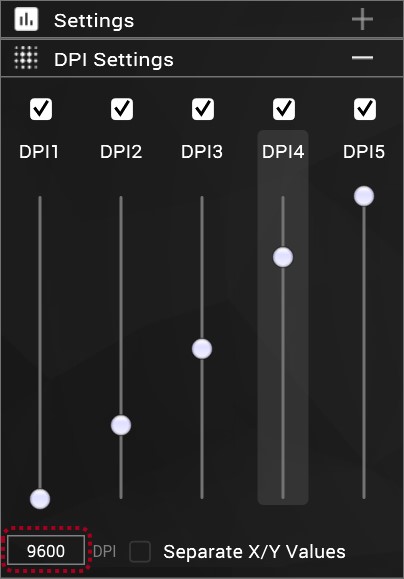 I circled it in red so that you can see the value is not static, the slider lets you adjust it by even 1 point.  Sadly, you cannot adjust it in the numeric field or by clicking on the slider then using the arrow keys on your keyboard to make the value go up or down in 1-point intervals.  The slider works fine, but it can be a little difficult to get the exact value you want, it is possible but difficult.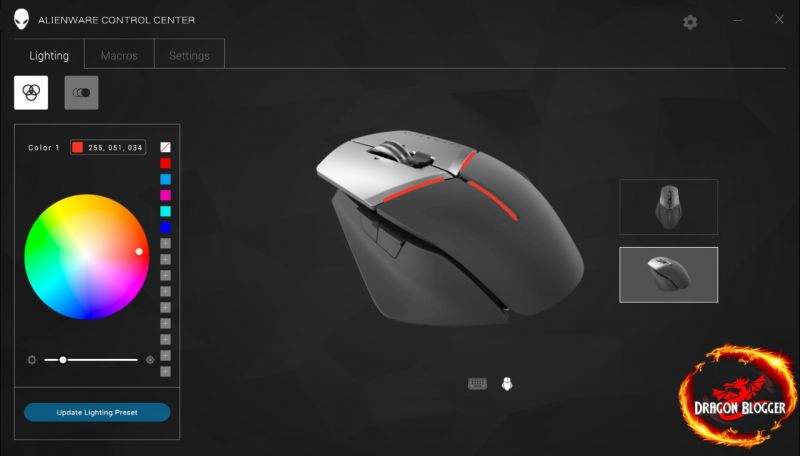 Also, as you change the profile, the color of the lights changes as well.  If you noticed, DPI4 had yellow as its color and DPI 5 has red for its color.  Don't worry though, you can still change that color if you like.  You will also notice that DPI5 has a setting of 11,900, though it can go to 12,000.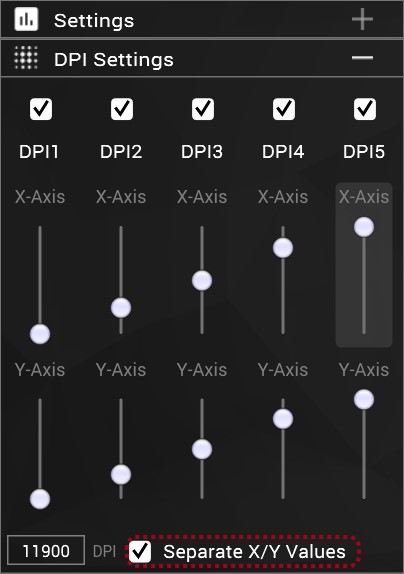 If you are feeling a little adventurous, or just know what you like you can also separate the X/Y Values.  This allows you to change the values on the X-Axis or Y-Axis individually.  A great feature for some of us out there.

The 2nd of the 2 sub sections is Surface Calibration, and I love this one.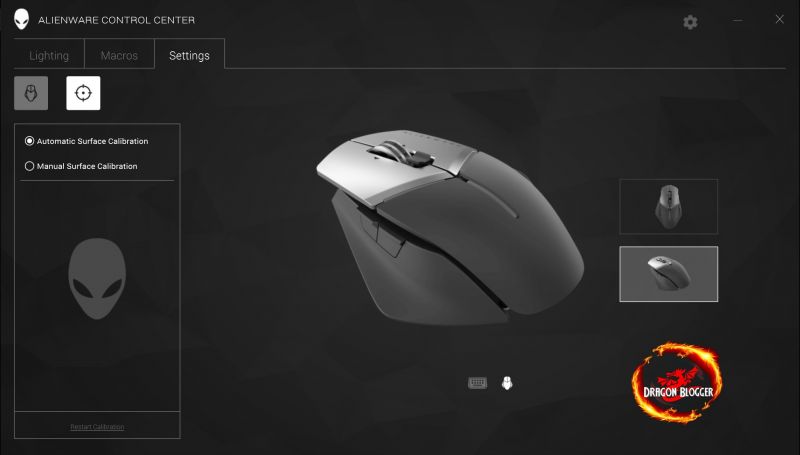 Here under Surface Calibration you can calibrate the Alienware Elite Gaming Mouse to work better on your mouse pad, I am currently using the HyperX Fury S Pro Gaming Mouse Pad X-Large.  You can leave it under "Automatic Surface Calibration" and the mouse will work well, but there is a very noticeable performance improvement using the "Manual Calibration".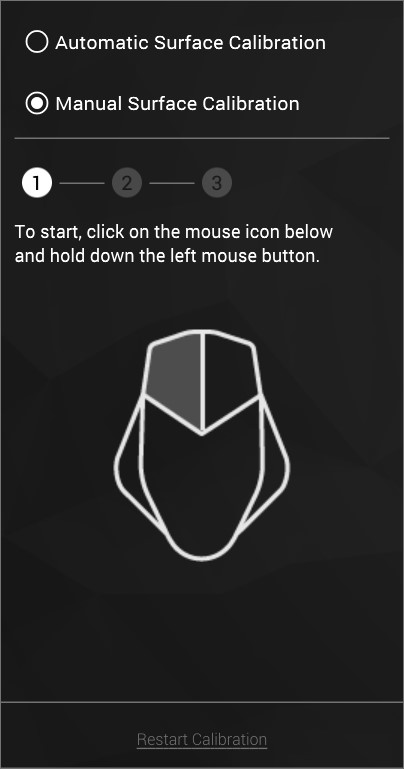 Alienware Control Center for the Alienware Elite Gaming mouse already comes set as "Automatic Surface Calibration", but if you click "Manual Surface Calibration" you will get a screen like this.  As the message reads, we will proceed to click on the left mouse button and holding on to it and the screen will quickly change.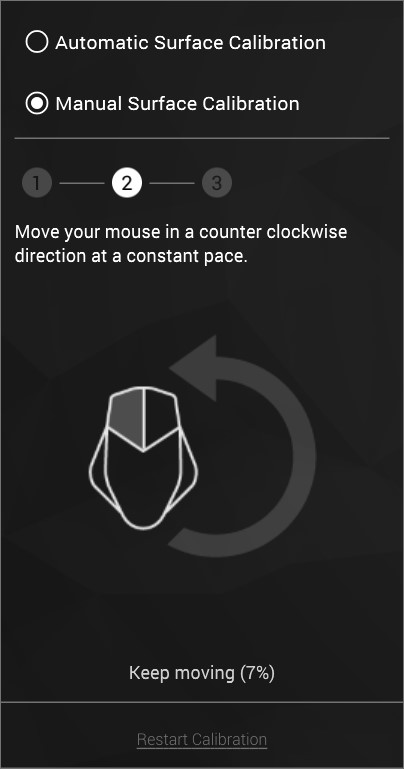 It will ask you to start moving the mouse in a counter clockwise direction constantly, just for about 30 seconds as the "Keep moving" progress meter counts up to 100%.  When you are done, you will instantly see a difference in the way the mouse moves, it kind of feels like you are free.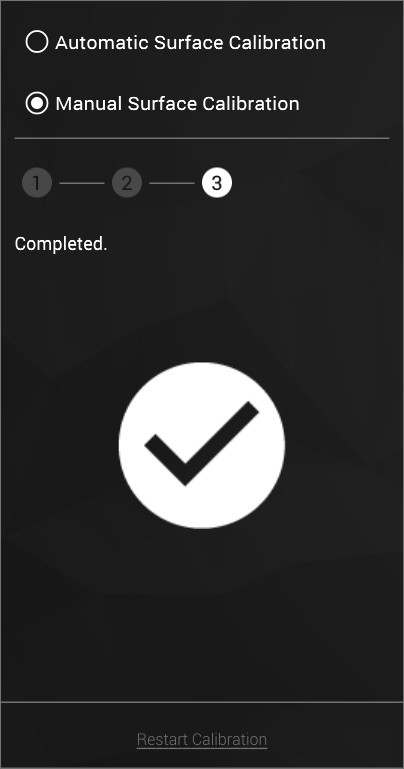 Aside from the instant freedom in movement of your mouse, you will receive the "Completed" message along with the check completing your calibration successfully.

On the top right-hand corner of the window, you will this cog or gear to click on for more options still.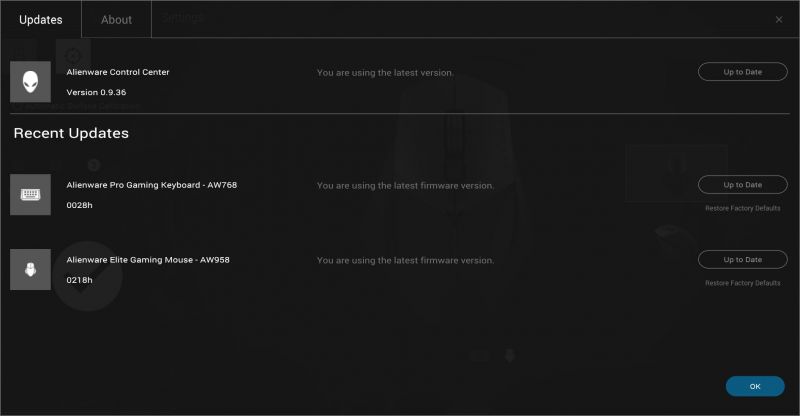 On this screen, you can see the version of the Alienware Control Center, and firmware versions of the Alienware Elite Gaming Mouse – AW958 and if you have it the Alienware Pro Gaming Keyboard – AW768.  If they are out date and have newer versions, you can click on the buttons to the right that now say "Up to Date" to update to the latest version.  Newer versions will provide improvements in features and functions in both the keyboard and mouse and even the Alienware Control Center.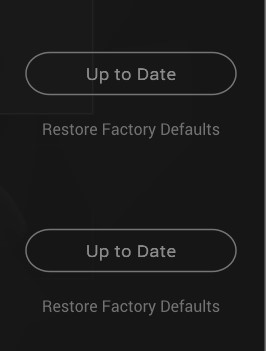 Looking closer that the buttons, you see it says "Restore Factory Defaults".  This is a little misleading because you might think to means to restore the firmware to factory version but this is in fact a great little feature.  If in your calibration, configuring macros and other customizations you mess something up and your keyboard or mouse doesn't quiet work like it did before, clicking here will restore its lost performance and function while keeping the firmware you just updated to.  A nice little feature but I think needs to be re-worded or maybe moved.
Moving on, on this scree we also see an "About" tab.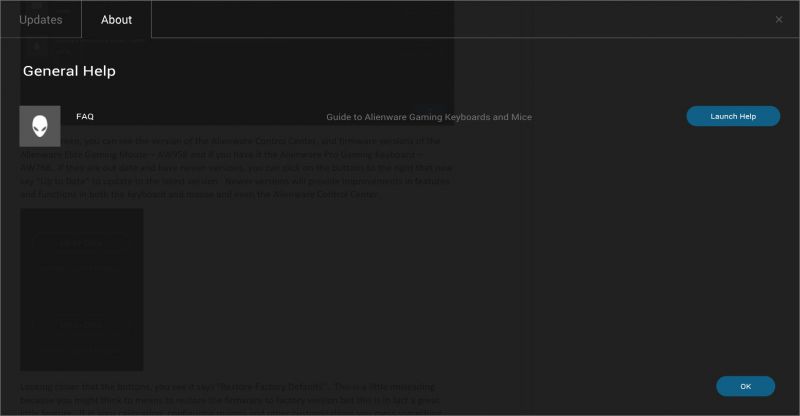 From here we have the FAQ icon.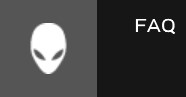 Which itself does nothing, but to the right, we find the "Launch Help" button.

Clicking here will launch a help menu.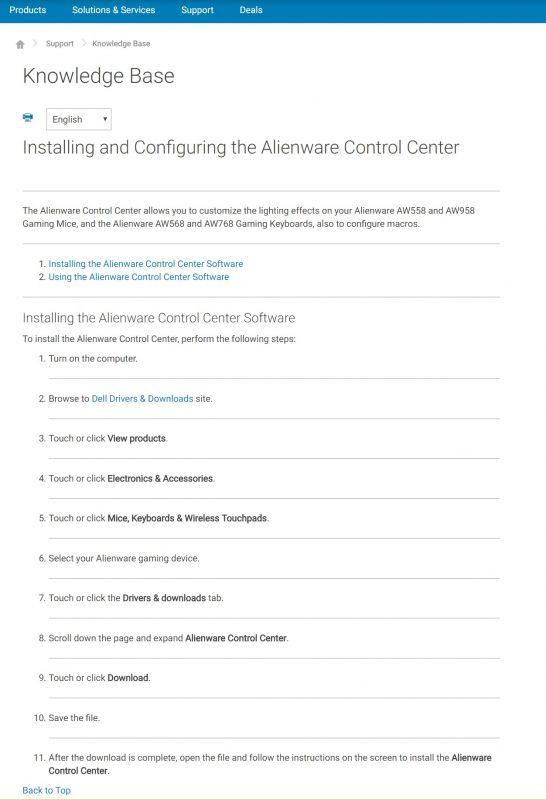 I didn't find the menu very helpful, but who knows maybe you will.  I also recorded a video going through the software to help better illustrate how nice this software is.  Check it out.
In that video I go over all of the features and functions, some of those functions of course being the lighting control and the surface calibration, which again I love.  As much as I love it though, there are some things I have mentioned that I don't love about it but I will talk about them on the next page, Final Thoughts and Conclusion.
Continue: Final Thoughts and Conclusion
We are influencers and brand affiliates.  This post contains affiliate links, most which go to Amazon and are Geo-Affiliate links to nearest Amazon store.
I have spent many years in the PC boutique name space as Product Development Engineer for Alienware and later Dell through Alienware's acquisition and finally Velocity Micro. During these years I spent my time developing new configurations, products and technologies with companies such as AMD, Asus, Intel, Microsoft, NVIDIA and more. The Arts, Gaming, New & Old technologies drive my interests and passion. Now as my day job, I am an IT Manager but doing reviews on my time and my dime.