I have been working with several other bloggers the last few weeks including ExtremeJohn, BlazingMinds and WPExplorer and one thing I noticed is that wordpress by default does not let contributor accounts upload images into posts.  This maybe a security feature to prevent the ability to upload large images that can crush down a web hosting provider, or bog down a page or site but we know that images can add pizazz to an article and can be something that makes an okay article more visually appealing.
I was doing some digging on how to configure this for my own blogs since I was considering opening up the guest post in the near future for my own blog perhaps, and I found the Members WordPress Plugin.  This plug-in allows you to set fine grained access controls for all of your wordpress role types.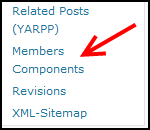 When you install the plug-in, the first thing you do is click on Members Components in the side bar under "Settings" panel.  By default no functionality is added by the plug-in, so you have to at a minimum check mark "Edit Roles" and "Content Permissions" and click Activate.  Then you have to set your Administrator account so it has the ability to perform these functions or else your Admin account won't be able to modify the roles properly to add the permissions you want.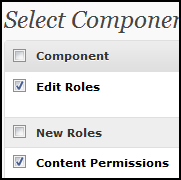 There are several options here that allow some pretty impressive control over your WordPress roles, you can actually create new role types altogether for your wordpress install as well as fine tune what roles can do, such as creating users who can just moderate pages, to other users who can moderate and edit forms and plug-ins. Imagine having the ability to create an "Admin" who can only do administrative work on your blog (update, plug-ins, themes…etc) but not create any content. This is possible with options and functions in this plug-in.
Meanwhile, we are only focused on allowing Contributor accounts to upload images for now, so once you have selected the "Edit Roles" and "Content Permissions" and Activated the plug-in, go ahead and click on your "Roles" in your "Users" section of your WordPress Dashboard. Once here you select your "Administrator" account and check mark "Edit Roles" and any other options you enabled and save it. This will allow your Admin account to make modifications to the default wordpress roles.
Once the change is made you can now click on your "Contributor Role" and make sure you check mark "Upload Files". This is the function that will allow users to see the "media" boxes in the Post editor that allows them to upload images, media and more. Once you save then the next time your contributor accounts log into your WordPress site, they will have the additional functionality available to them.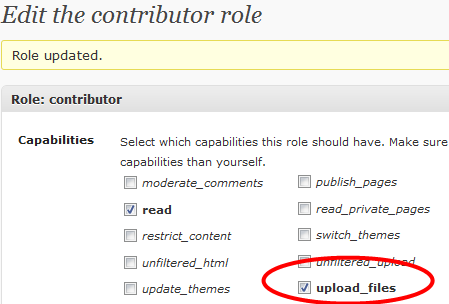 Summary:
If you are already allowing others to guest post on your wordpress blog, or you are thinking of opening your wordpress blog for guests then you should consider using the Members Plugin for WordPress which is a pretty powerful CMS (Content Management System) for your WordPress Blog.
-Dragon Blogger