Honestly it is a brilliant marketing move by Amazon, by allowing brands or anyone to run giveaways right on their platform they already store the products and can ship to the winners, why not facilitate the giveaway itself?

The giveaways work differently than simple giveaways that collect entries and 1 person is randomly determined the winner, they are more like games and you have a prize awarded per # of entrants to the giveaway.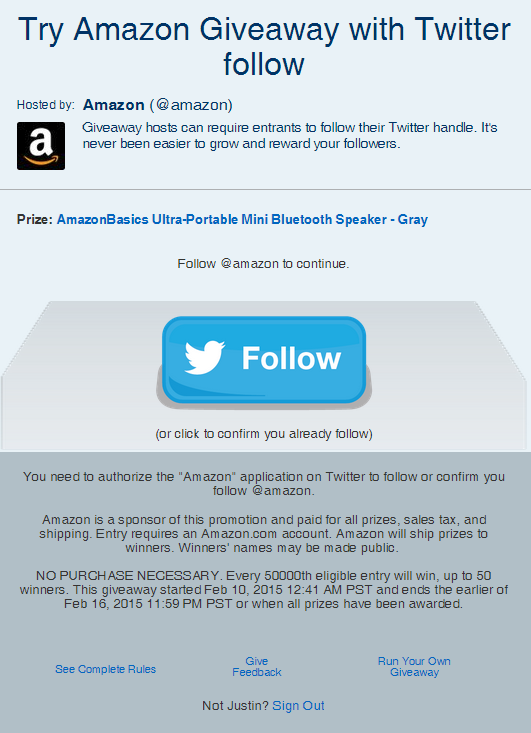 In testing out their Amazon Basics Bluetooth Speaker giveaway, I wasn't a winner but at least I knew immediately without having to wait.  This does serve the immediate reward type who want to know if they instantly win something and is kind of like the scratcher's of giveaways.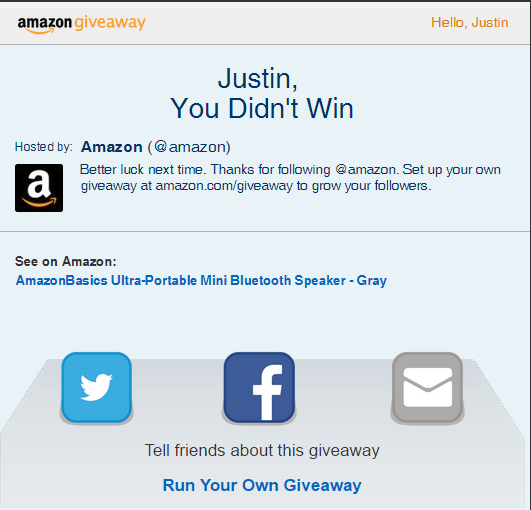 From their own FAQ, Amazon Giveaway combines five features into one solution that includes: i) selecting and purchasing prizes; ii) hosting the giveaway and determining winners; iii) shipping prizes to winners; iv) handling certain income tax reporting; and v) providing metrics. As a host, you decide what you want to give away and why, and then create awareness with your audience. Participants can enter giveaways knowing they will be run as advertised, prizes are real and ready to ship, and their information will be protected.
They offer two types of giveaways, one where the first X number of people entering are awarded the prize, and the other is random Nth number person wins the prize, like every 100th or thousandth person for example.  This does serve a main purpose in growing social media following, particularly Twitter where every X follower would win the prize, obviously you can choose between 1 and 50 prizes and set the threshold so say every 1000th person will win a prize and this can set an ROI that is better and get you real followers, instead of purchasing followers.  This giveaway platform also serves Amazon's interest as the entrants must have an Amazon account to enter the giveaway, Amazon handles all shipping to the winner and charges you estimated taxes, but you don't actually ever have to collect or know the winner's address yourself it is all handled through Amazon.
For large prizes with higher cash value, Amazon handles all tax reporting as well which helps automate and take some of the load off your hands.

Now they say you simply search for a prize and all prizes you can make into a giveaway will show the option to Setup a Giveaway, it is located near the bottom of any product page that is eligible which is kind of out of the way.  I had to search for giveaway on the product detail page to find the section easily.

Right now the only entry method is following your account on Twitter, so this is basically just buying Twitter followers through offering a prize for 1 out of X users, or first number of users.  The ROI is in 1 prize per number of users, the urgency of giving away to first 3 is really more of a reward type of system than giveaway.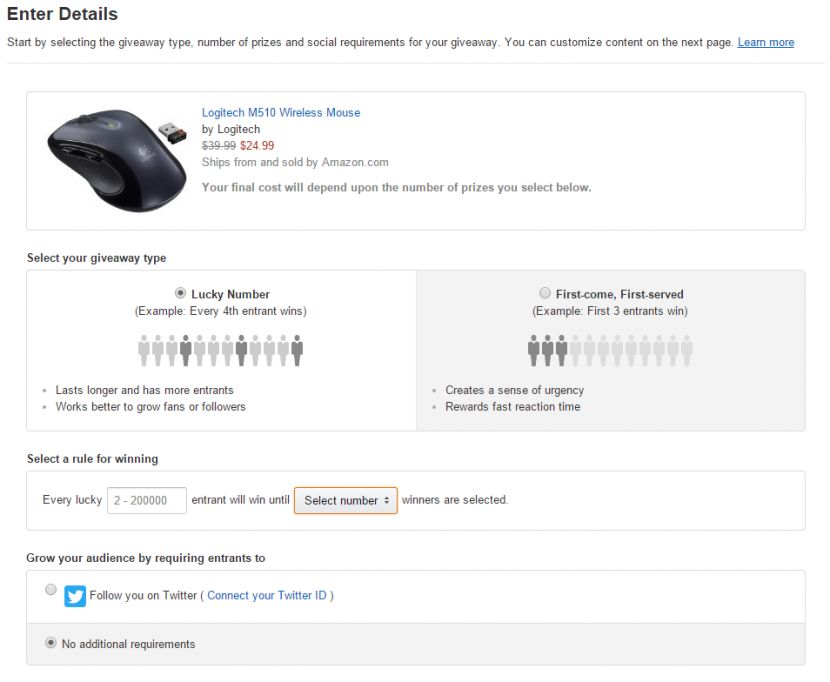 It is fairly simple to setup, and your total is calculated once you select the rule for winning.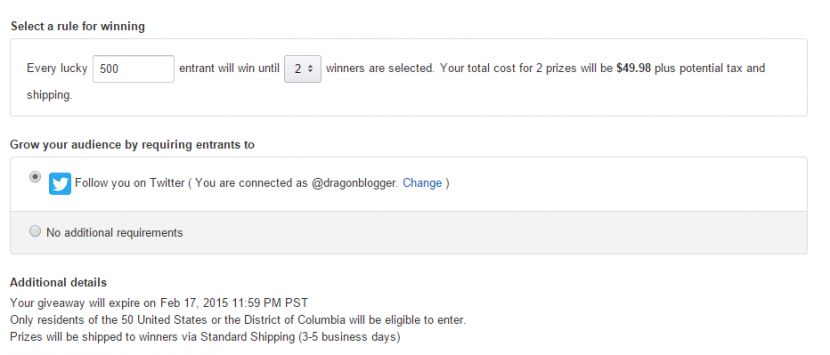 I will point out right away that this platform is not designed for a blogger who partners with brands to giveaway prizes, nor bloggers who peer together to come up with prize costs.  This is very much a single brand getting a single follow on Twitter for a prize, so it only benefits the single host, no multiple host benefits here.  It also is so Twitter specific and will just create whitenoise with Twitter accounts, most brands who already have a lot of followers and audience (and can afford to giveaway prizes en masse) will just further bloat their Twitter followers.  People will follow and it will be just white noise, this won't establish a brand relationship, there is no collecting emails for a marketing newsletter, or any other entry options to grow social media interaction or channels, it is very Twitter specific.  Facebook ToS bans doing something exactly like this, so don't expect to see a Facebook fanpage like integration in the future.  I see this more of a reward platform, than leveraging it as a social media sharing platform, you REWARD your fans in one social outlet who may not yet follow you on Twitter.  Or you simply reward your existing fans, the top 3 fastest or whatever get a free prize.  I would use this platform to reward mailing list subscribers, say I gave out 1 random prize per week to a mailing list subscriber and only promoted the giveaway to the mailing list, then more people would read those mailing list newsletters and look for their chance to enter.  This is probably where it has the most benefit from what I can see, you would invite people to follow you because you will host the giveaway on Amazon and promote it on that channel.
Amazon gives you a custom link to visit and enter, but I wish they let you embed the giveaway on your own site via an iFrame, at least then you can drive direction and visits to your own site to get some pageview and potential cross interest in reading other articles.
So my initial thoughts are that this is a great incentive/reward program for your readers, it can also be used to bloat/grow your Twitter follower base but if you are promoting it to your Twitter followers mostly existing followers will enter as they will see it.  There is no viral incentive options for others to share, it asks entrants to share the giveaway but there isn't an incentive a true viral platform like Gleam.io or Rafflecopter would offer incentive to share, like giving you a 2nd chance or entries based on how many people enter from your share or click on your link.   The Amazon platform is very self serving to Amazon and that is a good thing for them, and it can be used as a reward program but overall it falls short as a viable giveaway platform due to its lack of flexibility and ROI for the giveaway host.  It's simplicity is genius though, and it can be used as a strategy to reward existing followers easier than many other platforms and I think it has potential but needs more features and function.
Examples, include the limitation to Only residents of the 50 United States or the District of Columbia will be eligible to enter.
Also, they charge to ship to winner, but if you hosted your own giveaway and had an Amazon Prime account, you could just simply ship to the winner for free using your Amazon Prime account saving you the shipping costs that they tack on.  Again that is specific to Prime owners, but is a way to save a little if you are using Prime, since the user must have a valid Amazon account and only 1, this probably rules out most spam entries, and once they connect their Amazon account to their Twitter account likely they can only enter from that 1 Twitter account, but I don't know how easy this is to just defeat.  It doesn't take much info to create an Amazon account or a Twitter account, so simply creating 3-4 Amazon accounts to enter giveaways multiple times may defeat the system, not sure if it tracks entry by IP or other method to help rule out spam entries like some other platform services but curious to know if there is false entry monitoring as we all know that giveaway entrants who do it near obsessively can find many ways to enter the same giveaway and try to get as many chances as possible by leveraging multiple accounts where possible.
What are your thoughts on the Amazon Giveaway Platform, do you see it as a strategy in your near future?