Amplify just recently release a slew of social submit buttons that you can implement with your website or blog to make it easier for Amplify users to share your content on the Amplify network.  This isn't just submitting your link in a short message, but this button allows users to clip just portions of your site they enjoyed and share it on their Amplify blog with ease.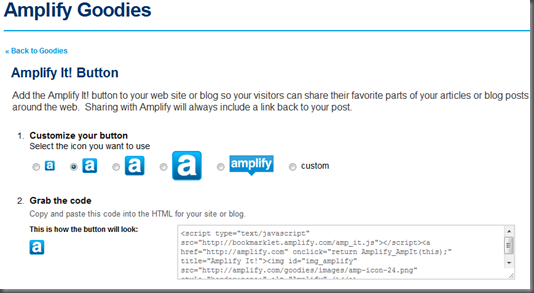 You go to Amplify Goodies and choose your button size and style, then cut/paste the code into your WordPress index.php or single.php where you want the button to be displayed.  This allows your readers to Amplify your articles without having to install the Amplify toolbar for their web browser.
Or you can simply download the Amplify WordPress Plugin to automatically add an Amplify button to your posts.
At this time my Amplify network is really small and I don't think I would gain as much value to add this button to my social button lists, but I can tell you if I saw an amplify button on somebody else's blog and I liked the article, I would take the time to share snippets of it on Amplify.
How many of you are interested in the Amplify button for your blogs?  Who else uses Amplify?
-Dragon Blogger