More and more everyday we are walking around with multiple devices hungry for power.  That mobile phone in your pocket or that tablet in your bag is always pulsing, draining its battery just tempting fate possibly leaving you without power and thereby without your device.  Or to be honest without your Twitter, Facebook, Email, Text or SnapChat.  When in your car this sometimes is not an issue with car chargers for most devices we carry.  But another option is a battery that you can tote around in your bag with that tablet or smartphone that will keep it powered for many extra hours.
The ANSUN 20,000mAh Charger is that battery that will charge all those portable devices (chargeable via USB) and not just once either.  The ANSUN 20,000mAh has two ports for multiple device charging.  I can put my phone and my tablet into my bag and both be plugged into the ANSUN 20,000mAh at the same time, so as I move around the devices are charging and ready for whatever social network fix I need to satisfy.
The marketing specifications:
Size:7.28*4.33*0.47inch Weight:0.94LB
Powerful 20000mAh external mobile battery charger keeps your digital devices always powered.Can Charge Iphone 4 about 10 times
5V/1A,5V/ 2A output USB port, universal fits for iPhone, iPod, Samsung devices, cell phones, tablet PC, etc
Lithium Polymer battery makes it very safe for use.
Input: 5V /2A Output: 5V / 1A ,5V / 2A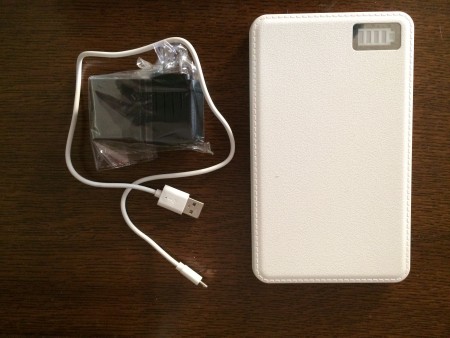 Out of the box you get the battery charger, a wall plug to charge the battery and a USB to micro USB cable.  I have used this cable to charge the battery but also to charge one of my devices.  the ANSUN 20,000mAh battery is covered in a plastic that isn't slippery and looks like leather.  So from a distance it looks like a tablet in a leather case.  I am not a big advocate of the color white but even in white this is a good looking backup battery.
The top (flat) of the device give a battery indicator which is on while charging your device or devices and can be turned on to view the batteries strength prior to heading out for the day.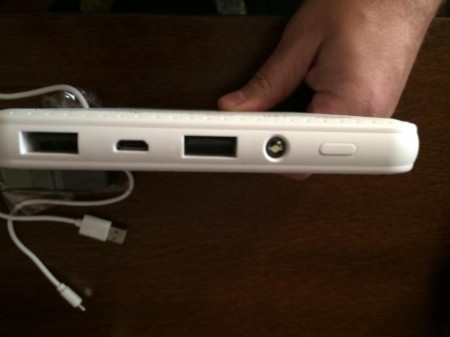 The top of the the battery has two USB ports for plugging devices into providing 5V/1A,5V/ 2A output USB port for charging then a micro USB port for charging the battery.  Also on the top is the on and off button to view battery charged state but also to turn on an LED flashlight which is a common theme for batteries these days.  Not something I would have required but not a bad add on.  I reviewed one where I had to drain the battery for the light to turn off and remember not to turn it on again to avoid this oddity.  This one turns on and off with long presses of the power button so no concerns there on the ANSUN 20,000mAh.
I charged 4 devices with the ANSUN 20,000mAh at different times, one by one and two at a time.
Iphone 5s: from about 25% took just under an hour
Samsung Galaxy S5: from about 20% took just over an hour
Samsung Galaxy S3: from dead to fully charged took about 1 and a half hours.
Nexus 7 tablet: from 30% took about 45 minutes.
All times are pretty close to real time plus or minus a few minutes and charging a device by itself.  One single full charge charged all the devices from their indicated battery states without having to recharge the battery, starting the battery at a full charge.  I even topped off one of my kids Nexus 7's from about 60% to full and it looked like I still had a bar to charge another device.  Not likely to full but could get me to an alternate charging option.  It took a little longer when charging two devices but nothing unacceptable by any means.  Again it's all depending on where the device's battery started on how long it will take to push the rest of the charge.
The ANSUN external battery is almost the size of a Nexus 7 2013 and weighs more than one.  So it is hefty.  Similar in weight as other 18,000 and 20,000 mAh batteries I have had the chance to review.  You will notice it in your bag, but it is high enough capacity that knowing your devices are all but guaranteed to be re-charged as needed multiple times with just the one charge makes that extra weight totally worth it.
So all in all I would 4 stars out of 5 for the ANSUN 20,000mAh charger.