Apple announces its new iADs service that will be coming to iPhone, iPad and iPod devices soon. This service which places ad content inside applications will have many users comparing to Google Adsense except iADs promises much more.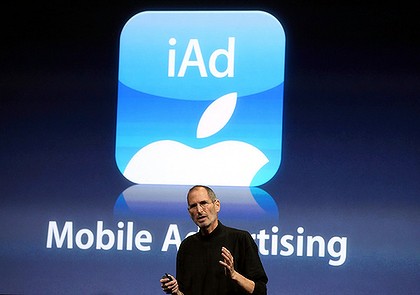 These embedded advertisements will have the ability to allow users to interact with them without ever leaving the application they are in or being redirected to another site. Combine this with potential GPS information and you can probably see location based targetet ads like nothing seen before.
In addition Advertisements via iADs will be handled by Apple which will be sharing the AD revene with the applications that host the iADs. (This is similar to how ADSense shares ad revenue with websites and apps that host their advertisements).
This new service puts Apple in Competition with Google on another service, even if iADs is for a very small share of the AD market. Mobile ads account for less that 2% of all online advertising spending according to a recent article from the Wall Street Journal.
I still don't have an iPhone (or an iPad) yet and am hoping to jump on board the Apple wagon myself eventually in the near future, I just wish I could get my hands on a Free iPhone 4 so I can do more posts, articles and reviews for iPhone products on DragonBlogger.com
I think the competition is good and no one company should monopolize any service or market. What do my readers think of the new iADs offering from Apple?
-Dragon Blogger