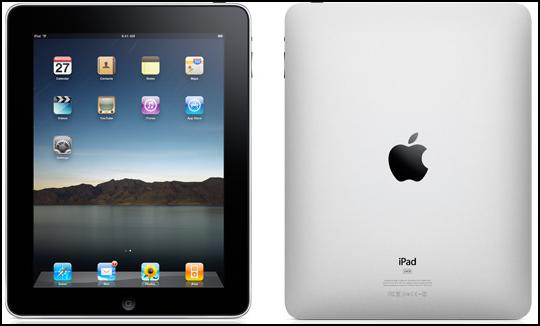 The Apple iPad has been splashed all over Apple's homepage with a set launch date of March for the Wi-Fi version and April for the Wi-Fi + 3G version. Prices start at $499 for the Wi-Fi 16GB model and go up to $699 for the 64GB Wi-Fi only version. The 3G versions will add about a hundred more dollars to the cost.
The Apple iPAD features a 9.7″ display with 1024-by-768-pixel resolution at 132 pixels per inch (ppi) and supports everything from Safari, iTunes, iBooks, Movies, Music. It is the ultimate combination and hybrid of iPod touch and Tablet PC. It can replace your iPod, Kindle and Notebook in a single device that costs barely more than the highest iPOD model.
To me this is a simply amazing technical achievement and I think Apple may do for the tablet PC what they did for the music player. This is now my new "Must Have" item and I will be hoping to get one shortly after release.
Height: 9.56 inches (242.8 mm)
Width: 7.47 inches (189.7 mm)
Depth: 0.5 inch (13.4 mm)
Weight: 1.5 pounds (.68 kg)
Wi-Fi and bluetooth, and Wi-Fi + 3G coming in April 2010
Between 16gb through 64GB flash drives
10 hours watching time on one battery charge.
Built in speakers, microphone and 3.5mm headphone jack.
You can read more about the Apple iPad by visiting Apple's website directly.