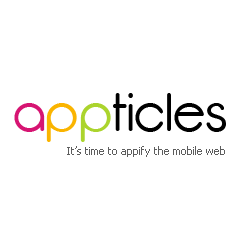 Appticles.com is a FREE nifty web-based platform which lets you create and manage cross platform mobile apps based on your blog and website feeds within seconds! As of now RSS, ATOM, XML & JSON feeds can be used. Needless to say, these days mobile device users constitute the vast majority of internet users and these users access websites and blogs via a number of tablets as well as Smartphones. Consequently, you can't really afford to NOT have a mobile app for your blog readers and website subscribers.  Currently, you can create these feed based apps for iOS as well as Android OS devices. Compatibility with FirefoxOS, BlackBerry10 and Windows Phone 8/RT are being worked on as you read this as well.

Although some of the features, like Monetization of apps and Analytics (visitor stats) are not yet ready, Appticles.com is in open beta mode with essential features like creation and editing of mobile apps. Bloggers and website owners can try it out for Free right now.
Who is behind Appticles?

Appticles.com, going by its official description – a mobile content distribution and monetization platform for small and medium publishers completely based around the concept of Open Web and HTML5 – was developed by Webcrumbz (http://www.webcrumbz.co/ ), which was founded in 2010 by:
Ciprian Borodescu (Chief Executive Officer) http://www.cborodescu.com

Alexandra Anghel (Chief Technical Officer)
Ionut Ardeleanu (Platform Architect)
How does Appticles work?
Basically, to set up a mobile app for your blog or website: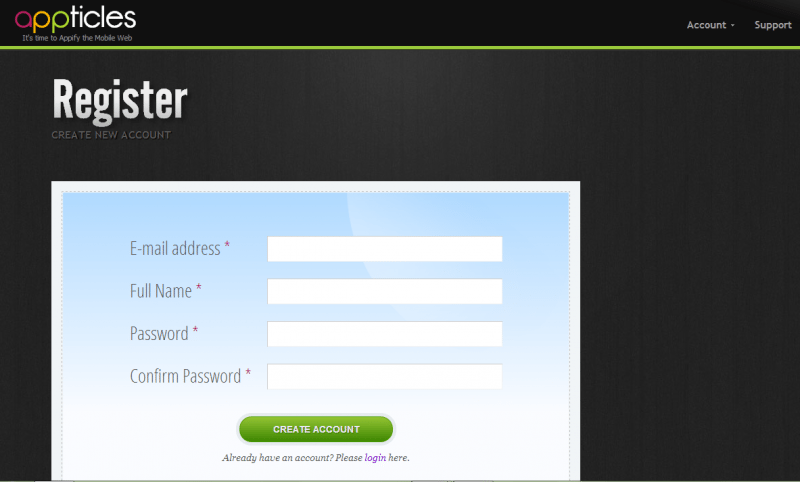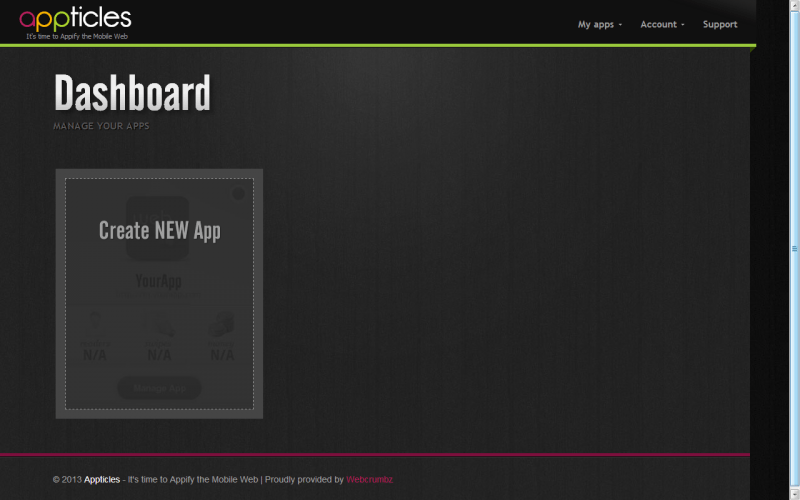 Add news feeds to the App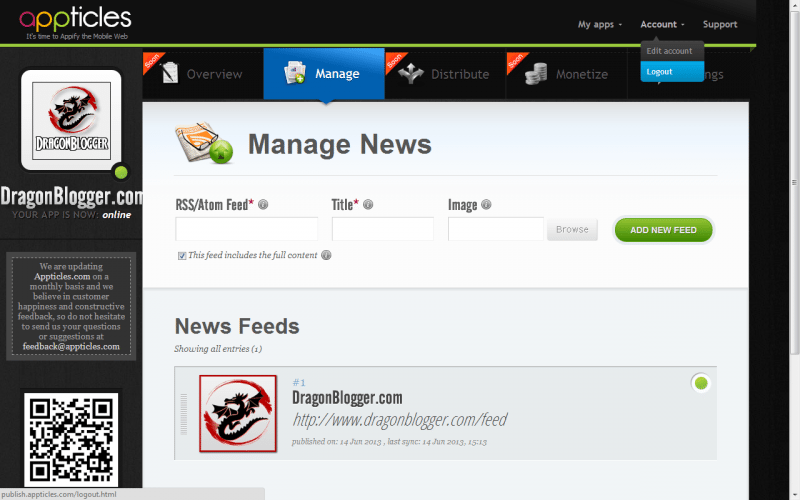 Direct tablet and smartphone visitors to the default URL for your app by adding a script to the header section of your webpages.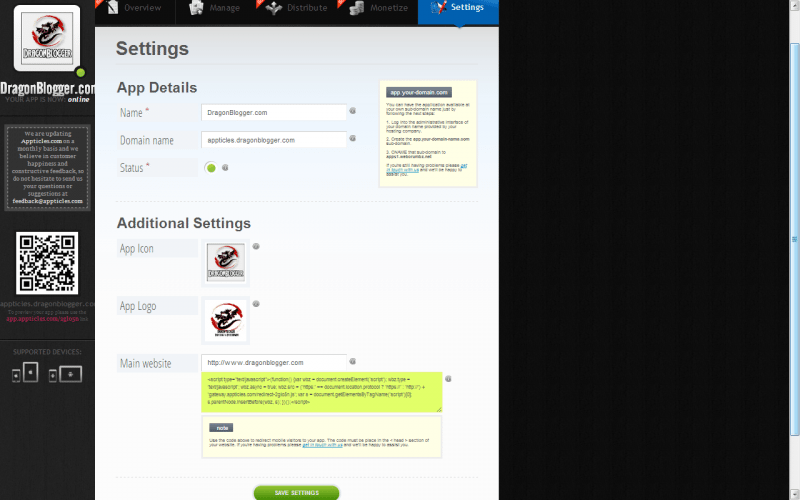 OR create a sub-domain and send them there.
Test your app before releasing it to the public.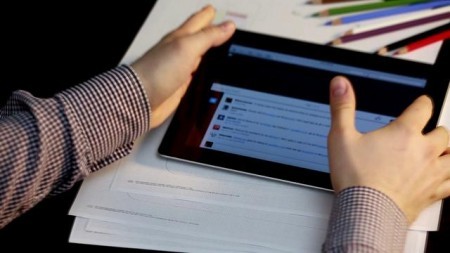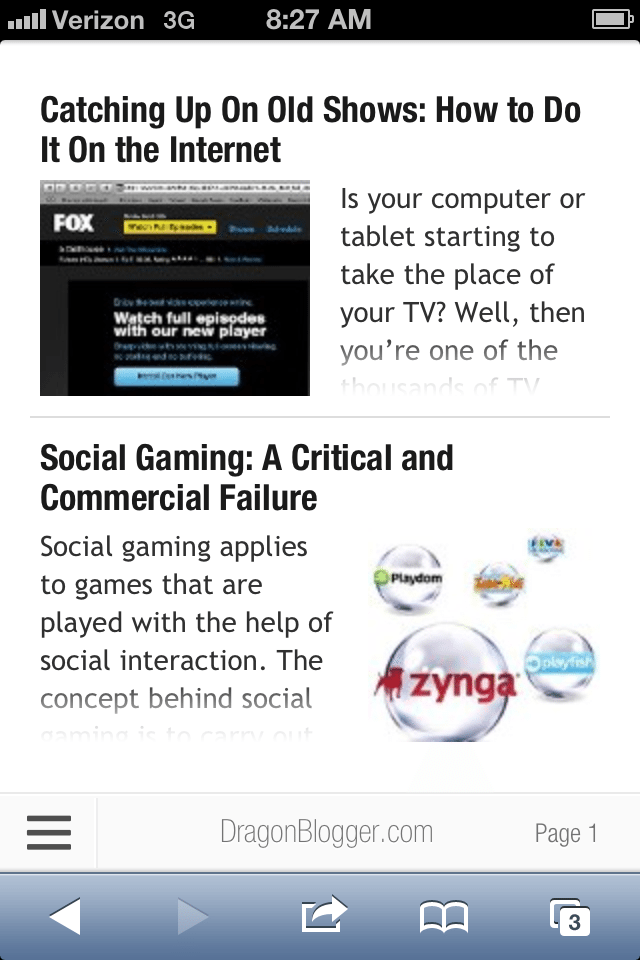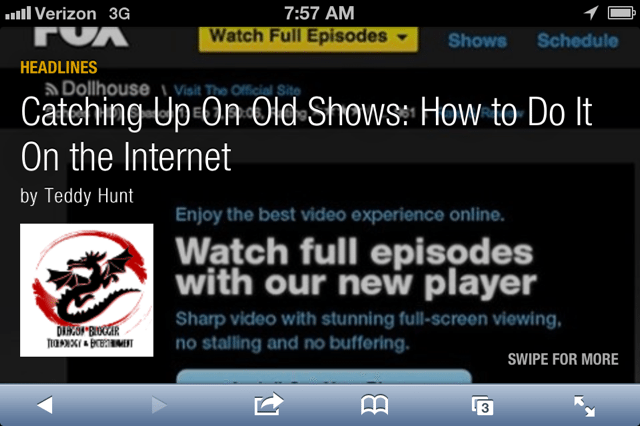 Appticles.Dragonblogger.com – Appticles Demo
Check out the DragonBlogger.com Appticles App:
For Mobile Device Users:
http://app.appticles.com/7411u3/
http://appticles.dragonblogger.com
For Notebook or Desktop Users – iPhone Simulator Demo Link:
http://transmog.net/iphone-simulator/mobile-web-browser-emulator.php?u=appticles.dragonblogger.com
How good is Appticles for creating mobile apps out of blog and website feeds?
The User Interface for the Apps management dashboard is quite easy to navigate, although the screen seems a bit full at times. Some of the features, as mentioned earlier, aren't active yet and would make for a much better service in the future.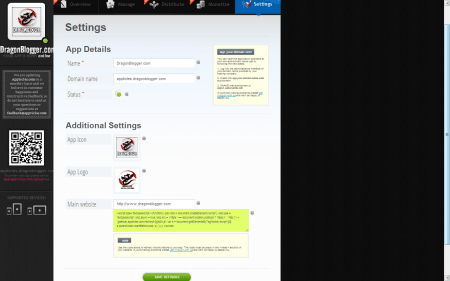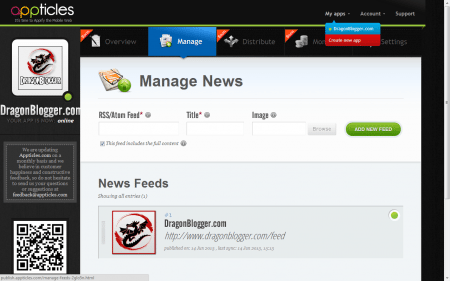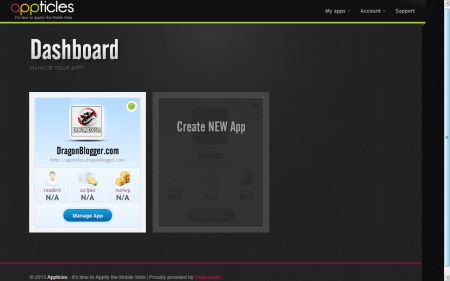 You can re-order the feeds at any time, just by dragging them around. Also, you can set different images for each feed, thus customizing them based on categories.
The apps get updated immediately after making any changes in the App settings and feeds.
The social sharing feature is quite prominent, and should help the blog get distributed on Facebook, Twitter etc. rapidly via mobile users too.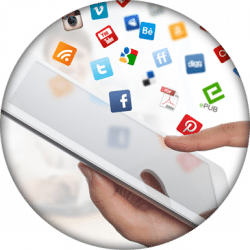 A great way to switch between various feeds of the same blog or website has been provided in the app, as a button in the lower left corner of each page other than the first one. When you click on it, all the feeds are displayed in a scroll based menu. For example, suppose you have feeds for PC Maintenance Tips, Blogging Tips and Entertainment News on your blog, the visitors can switch between them at any point!
As of now, the mobile apps based on RSS and Atom feeds don't display external scripts (although Youtube videos are working perfectly). I checked a few giveaway posts, and the widgets of Punchtab, Rafflecopter etc. weren't there. This might be to prevent malicious code from affecting smartphones and tablets.
The Appticles app has a very clean interface, and going back and forth among the feed items is simple yet effective. You can try out the DragonBlogger.com Mobile App right now on your Mobile device at: http://appticles.dragonblogger.com . If you are currently using a notebook or desktop computer, you can check it out via this simulator website: http://transmog.net/iphone-simulator/mobile-web-browser-emulator.php?u=appticles.dragonblogger.com .
What's the verdict on Appticles?
On the whole, the Appticles.com Mobile Apps creation and distribution platform from Webcrumbz is a great FREE service for all bloggers and website owners who would rather not deal with separate mobile versions of their web properties. I'm eagerly awaiting the full version release!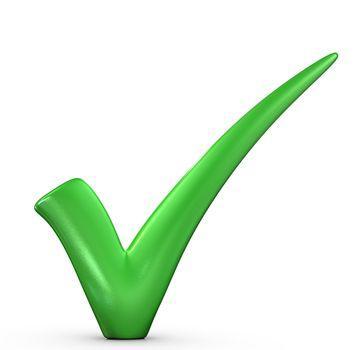 Check out Appticles.com now!
http://www.appticles.com : Browse the Appticles website.
http://publish.appticles.com : Create and Manage your Apps.
Let us know how much you like Appticles via comments below.
---
Disclaimer:  This is a sponsored review. All opinions and facts mentioned are honest and accurate and 100% mine and mine alone.
I'm a Generalist Researcher working on a Theory of Reality, Horticulturist, Blogger, Natural Systems Analyst and Amateur Architect