[easyazon_image asin="B0051JSJ44″ alt="The Avenger – Xbox 360 Adapter" src="http://ecx.images-amazon.com/images/I/41xY6KYNrPL._SL160_.jpg" align="right" width="160″ height="160″]The internet sure is a modern wild west my friends.  Plenty enter its wide open spaces like a grizzled Clint Eastwood confidently cradling a gun and a smile.  More often than not however, one's e-reputation will not only be beaten to the draw but blown to kingdom come if one is unlucky.  This was the fate of one of the desperados in the [easyazon-link asin="B0051JSJ44″]Avenger N-control[/easyazon-link] showdown.  What can we surmise regarding this battle between consumer rights and the patience of customer service?  Here is my take on it in the vein of The Good, the Bad, and the Ugly.
The Good
The Good in this PR horror show would be the Avenger company itself.  Paul Christoforo's cryptic words of "make sure you stir up a lot of controversy about us [sic] the more the better," may have been the nail in his coffin, but they also may be the jolt of life needed for the up and coming Avenger.  In an overly cynical world one would wonder if this whole exchange was staged to gain the Avenger N-control some press but I highly doubt it.  Sticking to the facts — what was one man's trashed reputation is now another man's golden moment to shine.  Avenger is hoping its Midas will turn out to be none other than Moises Chiullan.  Chiullan is following another man who is on PR repair duty Eli Schwartz.  Both have done a commendable job in representing the company in a more classier light.  One of their recent efforts that paid off in spades was the decision to host an "Ask Me Anything" (AMA) thread on reddit.com.  Besides the stellar PR turnaround, more attention is being given to the purpose and function of the Avenger, which is to improve a gamer's button response times and allowing disabled gamers to play much more efficiently.
The Bad
The Bad ironically would also be the Avenger company.  This does not imply that they did the bad themselves, but rather, are on the receiving end of the bad.  Christoforo's stunt has left the company in a rather rocky transition time.  It is taking herculean efforts to disassociate Christoforo's blunder from the company's name as evidenced by the 1-star bombing on the [easyazon-link asin="B0051JSJ44″]Amazon product page[/easyazon-link].  They also need to come up with some kind of compensation for the patience customers have spent in waiting to receive their accessories.  The product release date has been pushed and pushed to the point that gamers like Dave share their frustration openly and vocally.  One of the most concerning moments for Avenger however was when Christoforo decided to use his ownership of the original Avenger social media accounts as a means to extort the company into giving him a contract on his terms.  One of the gems exchanged during this high stakes game of Hold 'Em is the following:
"I will do things to you that you cannot imagine, they are so ******* bad! YOU DON'T KNOW WHAT I'M CAPABLE OF!" – Paul Christoforo from Ocean Marketing
Avenger managed to handle the hostage crises with ease by contacting their web hosts and getting in touch with the press.  Chiullan even went so far as to post this comment on the situation.
"Mr. Christoforo has very recently become much more forthcoming and helpful regarding a variety of Avenger/N-Control's digital assets that we requested he return a few days ago (as mentioned below in detail). We thank him for his renewed helpfulness." — Moises Chiullan from Avenger N-Control
The Ugly
The fate of The Ugly ultimately falls upon Paul Christoforo.  His blunder has led to embarrassing revelations regarding his personal life as well as records of his past run-ins with a customer that knew their way around the internet (see this archive of emails).  Any social media profile at his disposal has been fired upon around the clock.  Due to the rampant harassment Christoforo has migrated accounts numerous times.  First he left @OceanMarketting (now run by a passionate indie gamer) in favor of @OceanStratagy and has at last resolved on using @OceanDeepSea.  In response to one Twitter question pointing out how long he has been in customer service, Christoforo had this to say.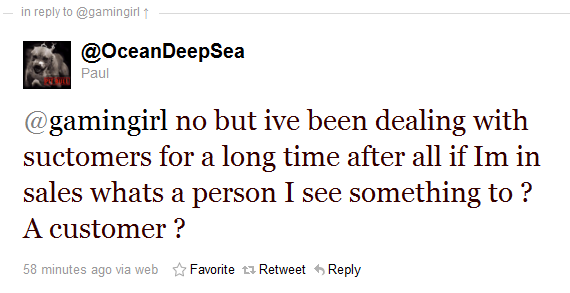 Customer service is an unforgiving profession.   It does indeed sound unpleasant having to deal with "suctomers" personally berating and belittling you despite the fact you are only one cog in the entire machine.  However, Christoforo's reaction can once again lead to negative interpretations.  Its not all bleak for the head honcho at Ocean Marketing though.  He has attracted notice of major news outlets like MSNBC and is touting an interview that will air on SpikeTV. Christoforo has also expressesed interest in capitalizing on the "reality" factor of his depredation by doing internet videos.  This tactic is not foreign to many reality franchises sans Kim Kardashian.  Even during the most heinous times of public scrutiny they manage to rake in the rewards.  It is unclear at this time however if Christoforo can manage the same feat.
The Avenger showdown between Dave and Paul Christoforo is one that will go down in the history books.  Ironically the man who pulled the trigger on all this – Dave – was one of the first voices to ask for Mike Krahulik and the internet to show mercy.  This is evident not only after the fact but in the email exchange itself (read the full transcript on Penny Arcade).
Well, that as they say is that.  Happy trails internet!
Mitra Faridian first joined the site in 2011 under the handle "Persian Poetess." Her gaming and entertainment taste is very eclectic and she's always open to a fun new virtual adverture. Email her at the following address: mitra [at] dragonblogger.com