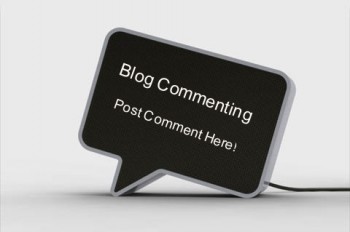 Commenting on blog posts is an activity with dozens of possible motives. In this post we'll discuss how to find the best posts on any blog to leave your comments, with the sole purpose of getting maximum benefit in terms of SEO or Search Engine Optimization. Call me selfish, call me desperate or call me innovative (please choose this!), but I try to get to the point without beating around the bush.
When I am looking to get my blogs and websites indexed quickly or to get high quality backlinks, I always try to get the best possible returns for the time I invest. In short, maximum PR juice. So, I'll walk you through 7 short, free and easy steps to getting the maximum SEO benefits from your comments on high Google Pagerank blogs.
Step 1 Submit your sitemap to Google Webmaster Tools.
If you are unfamiliar with Google Webmaster Tools, just follow this link: http://webmaster.google.com/ and sign up for a FREE account using your Gmail ID. Then Add a Site and Submit a Sitemap.
Step 3 Get to the sitemap of the blog you chose (usually at site.com/sitemap.xml) and extract all post URLs using a FREE URL Extractor. Use the inbound links and Address(URL) options only to get the post URLs and save them to a csv or .txt file.
Step 4 Download a FREE Google Pagerank checking software – Parameter from cleverstat.com. Install it and add your proxy in Options>Preferences>Proxy (if needed).
Step 5 Import the entire csv or txt file into the Parameter software program.
Step 6 Now in 1 click and a few minutes you'll have the list of high PR POST URLs (not just high PR domain names!).
Step 7 Select the highest PR post URLs and post your comments! You would want to leave your main blog URL as well as individual post URLs  and sitemap URL in order to get maximum SEO benefits and/or to get your blog or website indexed quickly by Google.
Words of Caution:
1. Please keep in mind the fact that your comments will most probably be rejected, or worse reported as spam, unless they are related to the blog posts and add value to the discussion going on. Obviously, the post page's PR Juice will be of any use only when your comment stays on the page!
2. Some Dofollow blogs get spammed so badly that the blog owners are forced to turn them to nofollow. So, if you want to ensure that your comment and the associated link you left remain useful in terms of SEO, avoid blogs that Auto-approve comments without any Captcha.
3. Most importantly, make sure that the blog and the particular post you are commenting on are related to your own website or blog, so that Google will find the link to your blog to be a recommendation rather than an attempt to artificially inflate your Search Rankings!
That's all you need to reap the most SEO benefits from Dofollow Blog Commenting! Do share your experience with blog commenting!
I'm a Generalist Researcher working on a Theory of Reality, Horticulturist, Blogger, Natural Systems Analyst and Amateur Architect