If you don't know about BitRebels then you are missing out, this blog has so many things to admire it is hard to start naming them all. First it is a geek lovers blog, it features articles about everything from geeky gadgets to graphic art & design tips, and if you are a blogger or use Social Media you will find articles about social media there as well. BitRebels reminds me of a Mashable that is geared more toward a tech enthusiast crowd rather than a social media and SEO crowd and the site is phenomenally popular in my opinion.
As a blogger who wanted my blog to eventually be more of a magazine, this blog is one to emulate in how it has many posts that cover a wide range of topics and the site pulls it off so well. The theme appears to be custom and is impeccably sharp and stylish, no other site has the look and feel of BitRebels.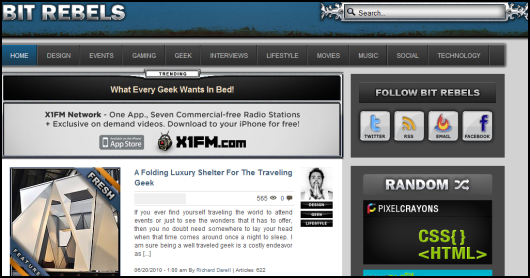 The site has many guest authors and the original creator boasts nearly 50,000 twitter followers, the success of this site is just staggering with over 2,000,000 pageviews per month according to BSA estimates. All this for a blog that was started in 2009 which is little more than a year ago.
I could only have hoped DragonBlogger.com would reach the success level of BitRebels and have such a following an audience, the quality content, traffic, pageviews, fans, look/feel of the site are all something to admire. But when noticing BitRebels listed on BuySellAds, I also noticed just how much advertising revenue this site was taking in just from selling ad spaces: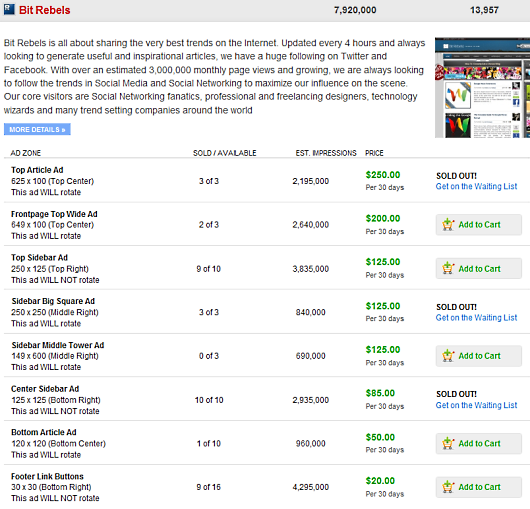 We are talking about a site that brought in $3,730 in ad revenue (at least) in the last thirty days according to how many ad slots were actively sold, this is only through what ads were sold through BSA network.  This is also not the owner's only site, the owner also runs the mega successful Minervity.com site as well.  So at least for me this puts into perspective how much traffic a site has to get to be able to start bringing in advertising dollars equaling more than $1000 per month.  Though I could only dream to hit 2 million plus visits per month to DragonBlogger.com (I know I would have to get a dedicated hosting, my shared hosting would not likely be able to support the traffic) I have been recently letting BitRebels be kind of my framework for inspiration in my own direction of where I want this blog to be.
My hat tips off to Richard Darrell who is one of the web designer/bloggers I admire most in the community.
-Dragon Blogger