I have been a Blog Engage RSS Syndication customer since December 2010 and have seen my membership bring me hundreds of extra visits to my site and articles per month, networked with over a dozen new bloggers last year alone and helped find everything from peers to giveaway sponsors all as a result of being a member of Blog Engage.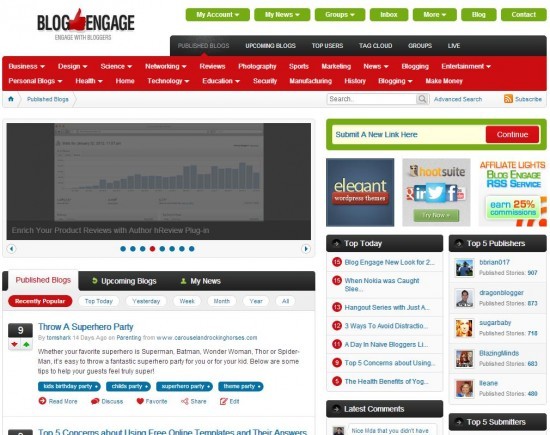 The All New Blog Engage
Blog Engage just recently underwent a complete theme revamp for the new year, the New Blog Engage is lighter, faster loading on mobile devices and much cleaner than the old interface.  The top headers for categories works properly finally and you now have top stories, publishes and comments right in the sidebar instead of having to scroll down to the footer in the last theme to see them.
Blog Engage which is so much more than an article directory submission site also now re-introduced the ability to vote down articles and not just vote them up.  This is Reddit style voting where users can now vote whether articles deserve to be front page material or vote them down if they don't think they belong on the front page.  Now I don't vote down articles often, but occasionally a marketing or overly fluff piece will get to the homepage and I would not use vote downs unless I saw an influx of poor quality blog submissions.  Brian does generally a good job of screening blog Engage Members to make sure their blogs aren't just endless fluff or sales pitches and generally the blog submissions are of decent quality and I don't see anything I would specifically vote down myself but nice to know that it is there.
Blog Engage Rewards
Blog Engage recently just re-implemented the Punchtab rewards program as well, this program where you earn rewards just by voting, commenting, sharing Blog Engage articles help you earn points toward prizes that you can claim.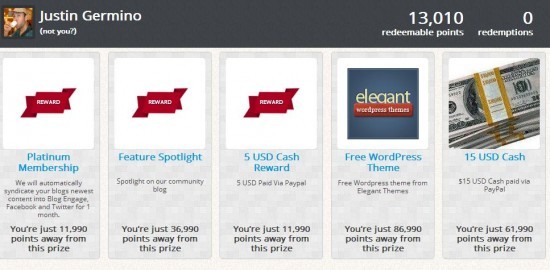 These prizes you could claim with the Blog Engage Reward program are.
1 month Blog Engage Platinum membership where all of your articles are syndicated, published and shared across Blog Engage Twitter and Facebook accounts for a full month automatically.
Featured Spotlight where a full article is created and published to the Blog Engage blog showcasing your site, services to the Blog Engage readers and members!
Free WordPress theme, you could claim a new Elegant Theme WordPress theme as one of your prizes if you are in need of a premium theme!
Cash Rewards, both a $5 and $15 PayPal cash rewards are claimable.
My own preference and opinion is the Featured Spotlight and the 1 Month Platinum Membership are the best to rewards for your investment.  The 1 month platinum membership which is normally $9.99 per month is the same price as the $5 cash and you get far more value than the $5 cash would give you.
Blog Engage RSS Syndication
Late last year I did a detailed article about the benefits of Blog Engage RSS Syndication and these benefits all still apply and more.  You still get not only the article submissions, summaries, AdSense Revenue sharing but you also get increased awareness and social media presence.
Blog Engage shares readers articles that get published across its Facebook Fanpage and Twitter accounts which get them more notice and attention, your articles are more likely to get noticed by other members and have them shared on their social media networks as well.
The key is not to be one that only hopes to receive shares but never sends them, Blog Engage is a social community but it is not a snob community, meaning that any new member can join ask questions and start participating.  There is no crowding out, backlash, disrespect or as they say "no stupid questions" for newcomers to Blog Engage.  The key though is to network and share responsibly, this network is ideal for those who share information and want to partner, meet and raise awareness of their blogs.  I wouldn't say this network should be used as a tool just to affiliate market or attempt to sell to your audience, this is an abuse of the service and not its intended function.  You can certainly submit articles that review products, services and the like and leave it to the community to vote if your article is interesting enough to make it to the home page.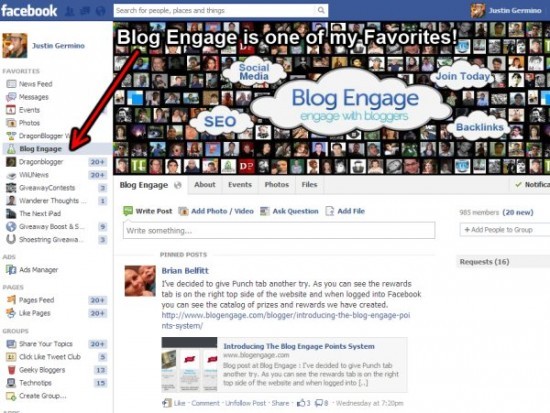 The Facebook Group is very engaging, I see new members joining all the time and asking everything from newbie blogger questions like How do I SEO an article, to What SEO Plugin to use?  But also for specific WordPress issues, blogging problems and where to find resources to help them.  The community always has some members willing to answer and share information, but remember the BE Group which is open to all BE Members isn't for sharing your links, but for sharing your information and communication.
In Summary
I like the new design, look and feel of Blog Engage and I still think the system provides one of the best returns on the dollar for the Platinum RSS Syndication membership.  You should spend some time investing in building in the network and the more you network the more reward you will see as with any online and social media networking.  The truth is share others more often than you promote yourself, ask and offer information, be courteous and respectful and appreciative.  Those who fall into this category would do well in the Blog Engage community.
Don't think this community is only for bloggers who talk about blogging, SEO either, there are more tech, food, gaming and other bloggers submitting blogs there.  The categories will grow and Brian continues to look for new ways to bring in reward for readers.  You still get the EasyRetweet and JustRetweet credits for example which are a HUGE boost to immediately get some social media promotion for some of your articles and this alone is worth the initial membership sign up.