I'm sure that many of you have already heard of Ileane over at Basic Blog Tips (BTB). If you haven't, well, it is my absolute pleasure to introduce you to Ileane, and her Basic Blog Tips.
Since 2009, Ileane has been focusing on helping you succeed by extending her knowledge on to you. Ileane focuses her many talents, to help bloggers of all types, with SEO and social media. Even some of the more advanced webmasters can learn a thing or two from reading her blog posts–or by watching her many video tutorials on her blog and Youtube.
Basic Blog Tips breaks down the complicated lingo that can sometimes go with search engine optimization–into simple, easy to understand steps. Social media can be an intimidating aspect of online communications and collaborations. Luckily, BTB is there to help, and features social media tips and tutorials for you to understand. Also, the technology aspect of her blog–articles and tutorials that are also featured there–will help you navigate and incorporate your smart phone to go along with you in your blogging adventures.
Do you have the need to get in on the BTB community? Feel free to jump in at any time! Ilene is there to help–so do not be afraid to ask questions. Ilene's blogging tutorials and Basic Blog Tips would be the place to bookmark–you will be sure to return to learn more for one of the most resourceful sites on the web. Don't know how to configure a setting or an idea for a helpful video, and you just do not know how to go about it–Ileane will be more than happy to create just the right "how-to" video for you!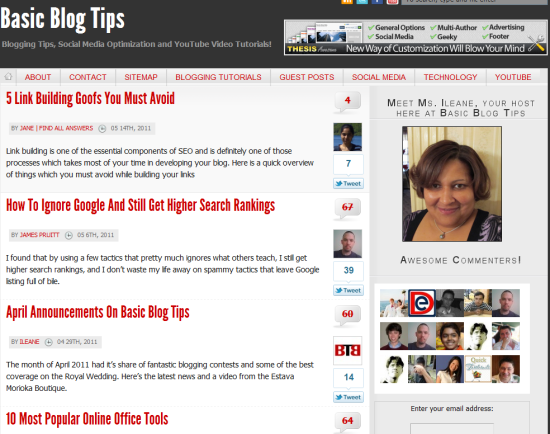 Want more from Ileane at Basic Blog Tips? Subscribe to her blog, Youtube channel for the latest podcasts on tech news, CommentLuv, and how to do just about anything for your blog and your blogging business.