I have seen many bloggers on Amplify lately and though I had an account on the network, I finally took it a step further and setup a full Amplify profile and my first blog post.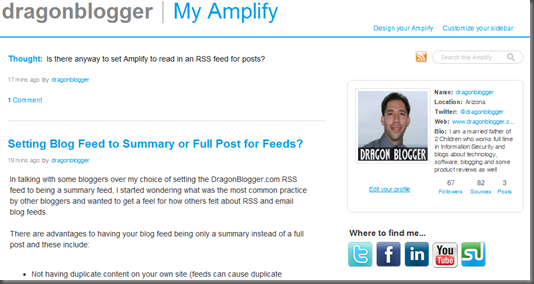 Amplify is your own personal blog space online plus combines a social media platform.  It connects with a multitude of social networks posting updates automatically, it is based on WordPress MU so you get a customized wp-admin and can put modules/widgets in your sidebar.  It is however highly restricted and doesn't allow you to add plugins or monetize from what I can see.  It would be nice to allow AdSense revenue banners, or Amazon affiliate code for users who want to make a little passive earning from their Amplify blogs.
I put in my latest RSS feed from my technology blog, as well as my tweets and contact networks. 
I wish Amplify can read in RSS Feeds from my other blogs to create posts automatically as YouSayToo and some other networks can.  So far I am on the network to be part of the community and build up social networking.
How many of my fellow bloggers are leveraging Amplify to augment their social networks and reach?
Go ahead and connect on Amplify if you are a member, I would be happy to add you to my network.
-Dragon Blogger