One of the advantages of a Hootsuite Pro account is the bulk uploader which allows you to configure and mass upload bulk Tweets.  The sample that Hootsuite provides is good, but I created a custom date field that works even easier for sending bulk tweets.

With this spreadsheet, you can easily schedule as  many tweets as you want as long as they are 5 minute intervals apart.  Below is a sample image from my spreadsheet.

To build your own spreadsheet open up a new Excel File
Know that your first column (A) will be your Date/Time column
Your second column (B) will be your message
Optionally you can use your 3rd column (C) and just put a URL into this column.
Just setup a custom date format for your Column A with the following by going to "custom formatting" or "More number formats (in Excel 2010)"
Set the formatting to "d/m/yyyy hh:mm"
Then when you type the date just type, 7/15 11:00 and it will convert to 15/7/2011 11:00
Make sure you copy this format to the rest of the column A and you can quickly start building all your dates.
When scheduling Hootsuite messages for your Twitter accounts in bulk, remember that the bulk importer will only allow "unique" messages and you can't use the same exact message at all even for different days.  Twitter itself allows duplicate tweets as long as they aren't back to back, but the importer doesn't allow duplicate tweets at all even if they were separate days.  I think they should loosen this restriction and just make a unique tweet per day.
But even with this minor limitation, in literally just a few moments you can set it up so you have Tweets scheduled for a week or month in advance!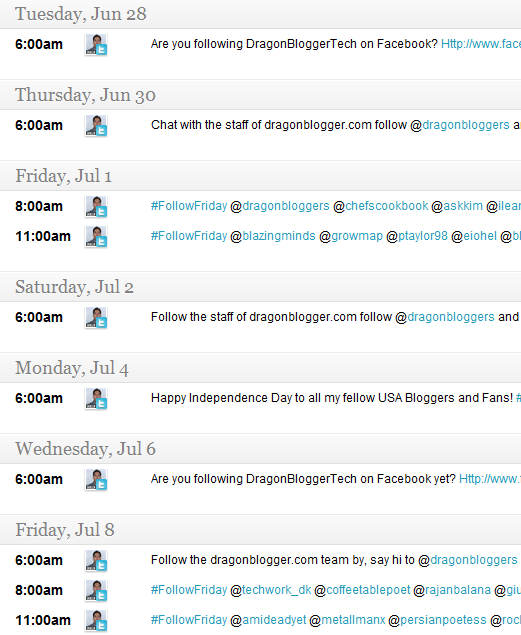 This is only 1 of many good reasons why you should be using a Hootsuite Pro account to manager your social media profiles.  You get to select which profile you want to upload your bulk tweets to when you select the file.
For those of you who want me to send you my Hootsuite Sample template, just like DragonBlogger Tech on Facebook and leave me a comment and I will email you my template excel spreadsheet.
-Dragon Blogger