I was contacted by the creator of JustUnfollow.com to review their site and provide my thoughts and opinions of the service which helps you cleanup who your following on twitter. The Huitter Mutuality tool I used to use stopped working in recent months with the site completely going down so I was interested in a new tool to manage and cleanup who I was following on Twitter.
JustUnfollow is easy to use, you just hit the site and sign in with a Twitter Oath Token to see the list of people you are following who are not following you in return. You can very quickly and easily unfollow people and it unfollows them instantly.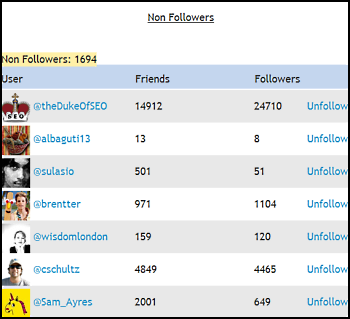 I tested and confirmed by doing 50 unfollows in less than 1 minute. I checked to see how many followers before I started using the service and directly compared right after using the service:
The service connects to Twitter incredibly fast and is one of the fastest tools I have ever used to unfollow users who were not following me. However, it has a few limitations and some of these are deliberate for the author wants to stay in compliance with Twitter ToS. Currently the tool requires that you manually click "unfollow" for each person that you want to unfollow and though it does the actual action very quickly this still is 50 clicks.
Secondly, there is a current limit of 50 unfollows in any 24 hour period and you reach this limit very rapidly if are trying to unfollow a massive amount of accounts, which displays a popup like this:


In Summary:
Whether you have time warner internet or dial up internet service, this is the best tool I have found to help you manage the users you are following on twitter so you can clean up your follow list. It is completely free and is very fast to run through and unfollow 50 users in a day and in a week you can trim your following by 350 users if you remember to do it 7 days in a row. The developer also informed me that they plan to increase the daily unfollow limit to 100 which would also allow you to unfollow 700 accounts per week which will make it even more useful and faster.
I think the tool could use a "check all" and just auto unfollow the first 50 or 100 people checked, but I think the manual "unfollow" is what is required to stay within Twitters Terms of Service as I stated earlier. So even though it is manual it still is very fast, and the account unfollows reflect on Twitter immediately. Twitter Karma used to take quite a while to reflect when you did unfollowing with that service.
I highly recommend Just Unfollow if you are looking to trim up your list of people who you are following, it is the best pseudo Twitter bulk unfollow tool I have found.
-Dragon Blogger
[easyazon_block asin="0596802811″]
You can get score highest marks in braindumps using pass4sure ccna and Testking 642-999 which are prepared by top certified professionals, Actualtests 200-120 & CISCO training; both are marvelous in their nature.