I am always looking for featured and enhancements for Windows Live Writer to make my blog writing and editing easier and more efficient.  One such plugin I found recently is "Bullets!" which allows you to insert 47 different bullet list logo's into your Windows Live Writer blog posts.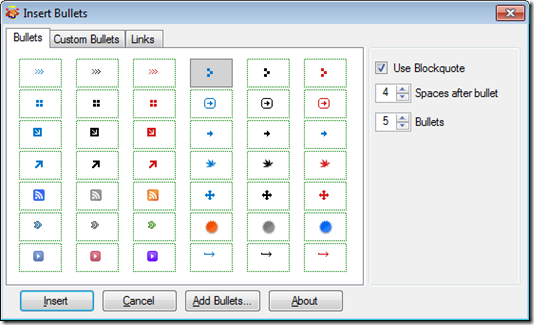 Once you install the Bullets plugin for Live Writer and install it, you will see a Bullets! link to the right of your screen.  Clicking on the link will display a variety of bullets you can insert into your blog post.
This is one way to liven up your posts by using varied bullets to help draw attention and can help add a little something extra to your list posts.
I still wish there was WordPress Featured Image support for Windows Live Writer as bloggers who leverage the featured image will still have to manually make edits in their WordPress admin to set the featured image for blog posts.
-Dragon Blogger