I read an excellent article over at FamousBloggers.net written by Nasrul Hanis titled "Is One Blog Enough to Earn Money from Blogging" and I decided to chime in with my own post and my own thoughts and experience with running three blogs over the past two years.  In this article Nasrul makes many good points and I myself thought the same way when I started blogging two years ago.  I started DragonBlogger.com on August 23rd 2008 and when I made my first forty dollars or so in my first month blogging I thought why not run three blogs and triple my earnings.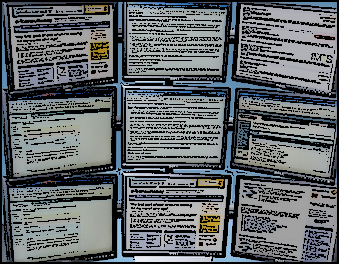 The theory is that if you can make one hundred dollars per month from one blog, you can make three hundred per month from three or five hundred a month running five blogs but you will quickly find out that this doesn't pan out as you would have hoped.  You will find that the amount of time and effort it takes to write content, SEO (properly), promote, socialize for more than one blog becomes very hard to keep up with if you are a casual or part time blogger.  I do believe full time bloggers can effectively run more than one blog as well as bloggers who run "multi author" blogs where they only contribute a portion of the content for the site.
In the end after two years of simultaneously running three blogs I have one blog that earns nearly 90% of my earnings and the other two barely break $20 – $40 per month but I maintain them anyway.  Had I focused on a single blog Iwould have over 3000 published articles and instead of leaving comments and breadcrumbs all over the web and dividing those among three blogs I would have one blog with 3x as many backlinks on the web.  In the end, I think one mega blog with 50k plus traffic per month and a PR4 or higher will earn you more than 3 blogs with 15k or less traffic and PR2 or lower.
That being said, sometimes you don't get a great niche with your first blog and no matter how much you want to it doesn't gain any footing, you may need to run more than one blog to find your footing and decide which topic/category you like to blog about best and then focus on making the preferred blog your flagship blog.
I have very specific purposes for my three blogs, DragonBlogger is my flagship, my identity and my Technology, Blogging, Gadget and Entertainment blog.  This will be an online magazine someday and I expect to reach 100k unique visits per month and have guest contributors writing articles in the future.  (I dream big, I know).  My Poetry blog is just that, an outlet for my creative art and I don't really care if it earns money.  I do it for my love of creating poetry and unique written art which is my passion.  My personal blog is kind of like a "get to know me" type of blog and is about my personal insights, living in Arizona, raising kids, being married and anything else that I feel like talking about.
I love being a blogger and have experimented with seven blogs over the past two years and retired four of them (shut down completely) to focus on these three.  I wouldn't be happy just running one because they each fill a personal goal of mine, but for purposes of making money I do believe you can earn more from a single site that is heavily promoted, indexed and generates a ton of great content that not only people enjoy reading but "WANT" to share with their readers will earn you more than dividing your time between multiple blogs.  So before you go and start your second, third and fourth blog really thing about the goals you are trying to achieve and make sure you are ready to commit to doubling your efforts or you risk "dividing" your time and effort between your blogs.
-Dragon Blogger