I have been a huge support of CommentLuv for a long time and thing it is a great way for bloggers to give back to the community and encourage commenters on their site.  Primarily other bloggers gain the most benefit when a site uses CommentLuv because they enter their site/URL and the last post from their RSS feed shows up (or more than one) and they can leave a trail that shows their latest content.

A companion plug-in released by Andy Baily called Dashboard Luvers Widget is a way for the blog administrator to easily see who is comment dropping and what their last articles are.  This is a fantastic and easy way to quickly visit and return the comment favor on some of your commenters sites.  It shows you who made the most recent comments and keeps track of how many total comments they left so you can quickly see who are some of your top commenters.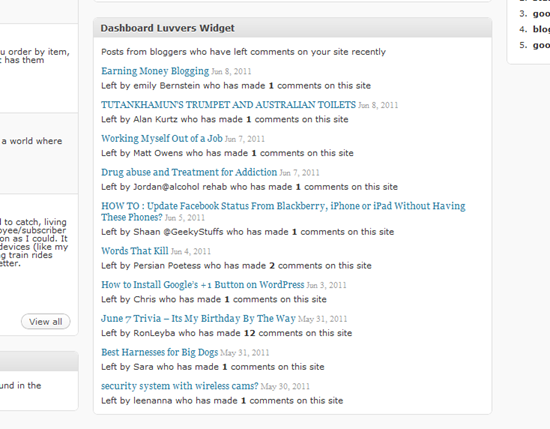 To get the Dashboard Luvers Companion plugin to CommentLuv all you have to do is watch Andy's Awesome Sauce video and after watching the video the download link will appear right under the video.
If you haven't yet, time to upgrade to CommentLuv 2.9 by visiting the video and watching it.  After watching the video you will get a form to enter your email and the download link will be sent directly to you via email.
Now honestly, there is a little hoop jumping to get these plugins but as they are "free" they are certainly worth watching a few 3 minute video's so you can keep using such an amazing set of plugins.
How many CommentLuv supporters do we have out there and have you already upgraded to CommentLuv 2.9?
-Dragon Blogger