As many of my readers know, we here at DragonBlogger.com have been running contests for months.  I came up with the idea back in November 2011 where I wanted to give away at least 1-2 cool things to readers as a sign of appreciation and also a means to increase my following on social media outlets such as Facebook and Twitter.
Since I started my contests back in November 2011, I had 600 Facebook Fanpage fans and about 11,000 Twitter Followers. Since then, DragonBlogger.com has grown in following on both social networks but even more important is that my engagement on social media networks has increased not only with readers but other bloggers as well.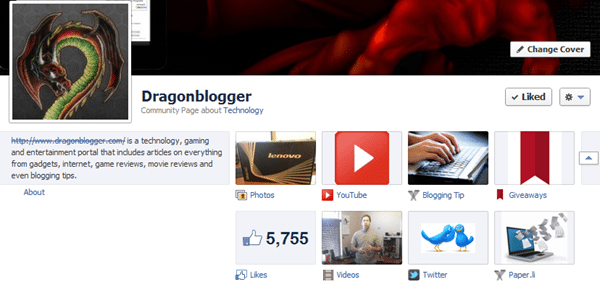 Not only has my readership and following increased, but I have noticed higher overall visits to the site and average returns on Amazon Affiliate and AdSense since the months I started doing my giveaway contests.
For all of my contests from November 2011 until August 2012 I was using Rafflecopter exclusively, I even did a video on how to use Rafflecopter for contest:
Using Rafflecopter to create contests
However, starting last week I decided to run my next few contests using Punchtab after comparing the two services and seeing how the differ and the potential Punchtab has when compared to Rafflecopter.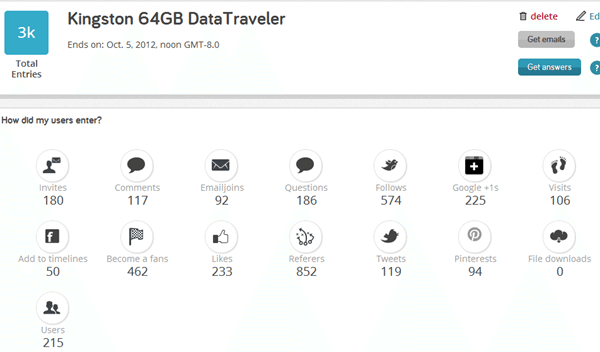 Both Rafflecopter and Punchtab are designed to run "random winner" contests where all entries are collected and a random winner is chosen by the contest service.  These are the advantages of each platform and disadvantages.

Rafflecopter Advantages
Custom Entries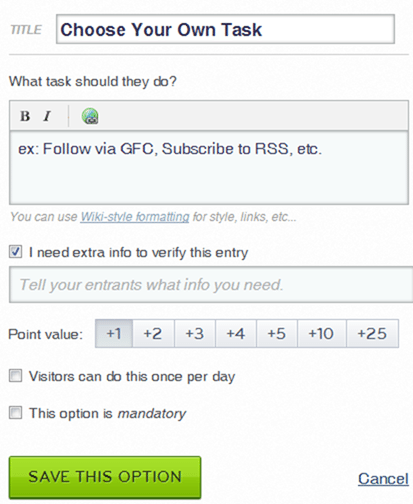 In Rafflecopter you can create custom entries specifying exactly what you want the contestant to do in order to gain the entries for the contest.  In Punchtab there is no way to create a custom entry and you are limited to only the specific entries listed.
Note:  I spoke to Punchtab and they mentioned they didn't want to offer any entries that required manual validation by the contest host, all their entries are ones that their widget and service can directly validate which makes the moderation time much less when running Punchtab contests at the expense of flexibility.
Contest Start Date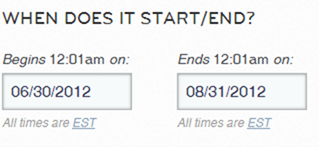 I found out the hard way that Rafflecopter allows you to set a Start AND End date for contests, but in Punchtab you can only list an end date.  This means the contest is live the moment you create the widget and if someone embeds the script before you are ready to host the contest it can start collecting entries early.  I tend to create my contests weeks a head of time and co-host with other bloggers so having the ability to restrict the contest from opening until a specific start date is important and I hope Punchtab adds this feature soon.
Custom Entry Points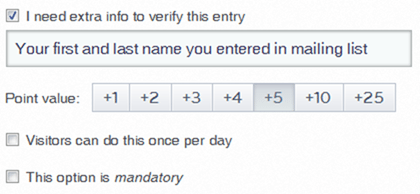 Rafflecopter also gives you the ability to set a "point value" for your entry methods, this means you can give weight to certain entry methods granting more points to readers who chose these methods.  This is a good way of enticing readers to do things like leave comments, create a YouTube video or other custom entries where you want to give them extra points for the extra effort involved.
Entry Moderation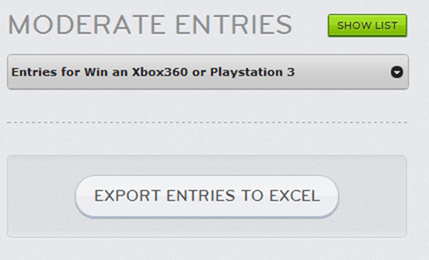 This is both a blessing and a curse of Rafflecopter, the positive being that you can directly manipulate any entry in the contest if you have to.  This allows you to weed out bad entries, manually add entries from other sources or even export all of your entries to an excel file so you can perform data filters on them.
Rafflecopter Disadvantages
Manual Entry Moderation required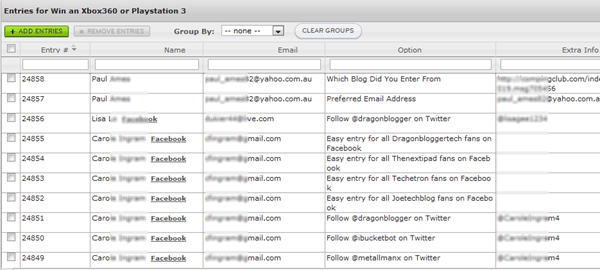 Rafflecopter gives you full access to moderate entries and the fact is you needed that access because you will be weeding out thousands of fake entries or bogus entries if you are running a popular contest.  I had to manually remove thousands of entries for my PlayStation and iPad 3 giveaway contests because Rafflecopter cannot validate that a user actually "Follows" you on Twitter or Becomes a Fan of your fanpage.  Instead it shows the contestant what they have to do, trusts that they performed this action by letting them click "I Did This".
This means you can have thousands of people entering your contest collecting entries for following your own accounts or sponsors and your contestants may not actually be doing it, what's worse is that you can't look and confirm on social media accounts you don't own on Facebook so it makes validation very difficult.  Multiply this for every custom entry that you create and you can have hours and hours of entry validation that must be done manually just to weed out all bad entries before you can choose a random winner.
It is the fact that it doesn't validate entries and just allows anyone to click "I Did This" that I chose to start trying Punchtab in the first place.
No Like This Page
Rafflecopter had to remove "like this post" functionality from the contest widget for Facebook compliance reasons, but Punchtab gets around this by not specifically having the widget like the page but by you specifying specific pages and it displaying (and validating that you performed the action).
No Time Zone Flexibility
Rafflecopter starts and stops all times in EST only, there is no adjustment on Timezone, but Punchtab lets you specify any Time Zone to be the default for the contest so you can always remember your start/end times and set the to your time zone.
---
Now that you have seen an overview of what Rafflecopter has as strengths and disadvantages, it is time to take a look at Punchtab and show you what it can do and can't do.

PunchTab Advantages
Easy Entry Breakdown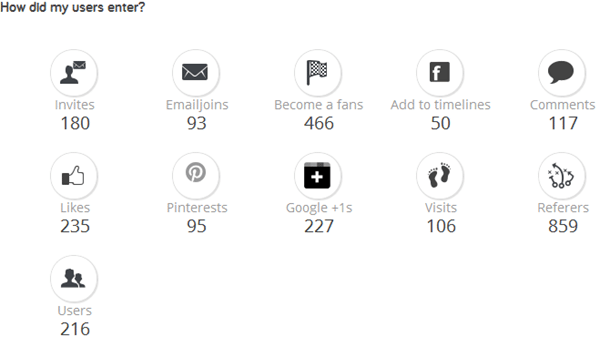 No doubt one of the clearest benefits is how quickly you can see which entry methods are collecting the most entries.  This is a great overview to see what entry methods are working so that you can tailor them next time.  You can't break down into more details like seeing which Twitter accounts are being followed without manually going through the entries but it is a start.
Email Entry Option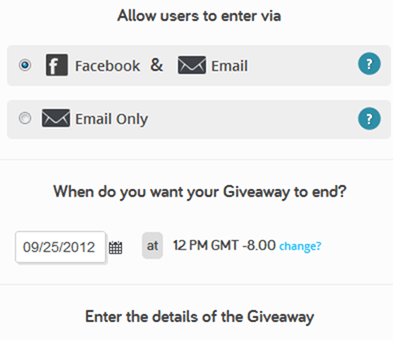 Rafflecopter switched to only allowing entries from Facebook which though there are over 900 million users, not everyone uses or wants to use.  PunchTab allows contestants to enter via Facebook or the good old fashioned email sign up if you allow it to increase your contestant pool.
Cleaner Appearance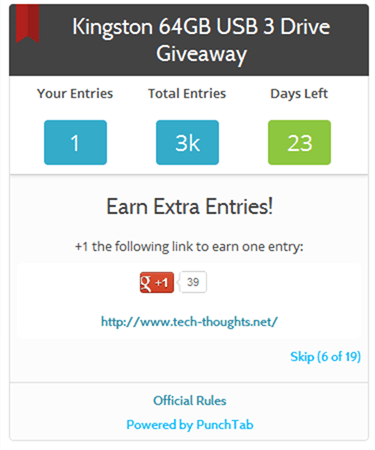 Rafflecopter will create a bigger widget that scrolls vertically the more entries you have and if you have a lot of entries this widget can require an enormous amount of scrolling.  Punchtab keeps the interface nice and clean making the contestants perform each entry one at a time, or skipping to see the next entry method.
You never have to worry about the Punchtab widget expanding larger than it's set embed size.
True Verified Entries
Whether it's a Facebook fanpage subscribe or a Google +1 for a page, Punchtab will validate the entry before it gives the reader the entry point.  This means you don't have to do any weeding of bogus entries because the reader couldn't have gained an entry unless the action was validated.  They only get the entry for performing the action not doing a separate "I did this button" this holds true for everything except the leave a comment entry which you still must manually validate.
The only disadvantage is it requires readers to unfollow/unsubscribe then refollow/resubscribe to get the entry but it spells this out and is part of the validation.
More Default Entry Methods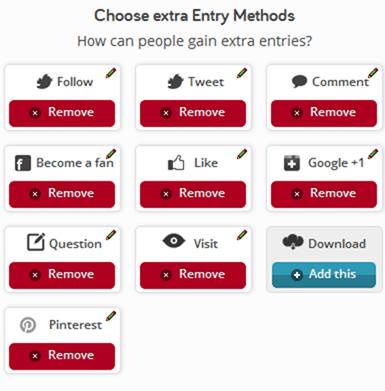 Punchtab offers Pinterest "Pin this post", "Google +1", "Visit This Link" and "Download This File" entry methods which it validates.  Rafflecopter only lets you create those entry methods via custom entries which all require 100% manual checking to confirm and you have no real way to validate Pinterest Pins unless you were following the user.
Referral Entry Rewards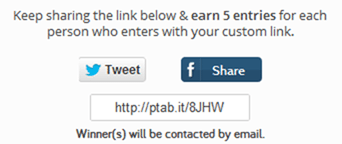 Punchtab has a great feature which allows contestants to get a custom URL that they share, this URL leads to the web page that hosted the widget they grabbed the URL from.  For every person they get to enter the contest under their referral link they get 5 extra entries in the contest themselves.  This means contestants are rewarded for doing mass promotion and creatively sharing the contest with their custom URL.  This allows creative contestants to leverage social media, forums, websites and even offline promotion to maximize entries for themselves.  Not only are they getting more entries, but you are getting more visibility for your contest.  This has the greatest potential to make the contest go viral compared to the 1 tweet per day option of Rafflecopter.
The winning entry is still chosen randomly, but somebody who gets 1,500 entries is going to have a way better chance in a 10,000 entry contest than someone who has only 100 entries so it greatly increases their odds of winning by doing this heavy promotion.
Punchtab Disadvantages
No Entry Export
When you have sponsors you want to have the ability to see how many entries they collected for their sponsorship, or you just want these metrics for yourself.  Punchtab has no easy way to export the entries to a CSV or excel file so you can perform data filters on your entries.  The PunchTab team did tell me they can manually do a CSV export for people who open a specific request but this should be a feature that any contest owner should be able to do.
No Custom Entries
The gift of not having to manually validate entries comes at a price, no custom entries can be created with PunchTab contests.  This means I can't create any "Create your own YouTube Video" or "Be a Contest Co-Host" and give entries for people who do those options.  I would liked to have had the option of creating manual custom entries knowing they required moderation, but since PunchTab doesn't let you do any moderation of entries at all (you can't modify/delete entries without making a support request) it doesn't have the system in place to support custom entries.
Limited # of Entry Options
Rafflecopter allows you to set an infinite number of entry options, so you can have countless fanpages to become a fan of, or Twitter accounts to Follow.  Punchtab limits you to 5 of the same entry options only.  So you can't specify more than 5 Twitter accounts to follow, 5 Fanpages to like…etc.  Only 5 for each of the social media ones, and only 1 for question visit a site option.  (Visit a site option can have some customization like what you want reader to do on the site, but it isn't capable of being validated).
As you want to reward sponsors with at least social media shares this limits how many sponsors you can take on for a Punchtab contest, you really can't have more than 4 sponsors + yourself, (maybe double if you give some only Twitter follows and others Facebook fanpage like options).
For the coupon and mommy bloggers who like to microsponsor contests where 30-50+ bloggers all contribute $5 or $10 to get their social media accounts in these widgets Rafflecopter is a better tool because you simply can't support that many entry methods with Punchtab.  However, remember everything needs manual validation with Rafflecopter so the amount of bogus entries may negate the benefit overall.
---
In Summary
As you can see, I have broken out the primary advantages and disadvantages of Rafflecopter and Punchtab and have decided to go with Punchtab for the next few contests.
Both Rafflecopter and Punchtab currently lack Google Add to Circle option for business pages and join mailing list options.  However, Punchtab gives you the option to export all email addresses of people who join the contest via email and with a disclaimer you can opt them in to become part of your newsletter.  Or you can still use the "visit this page" and request they join the mailing list but there is no way to validate this except manually, which is the same for Rafflecopter with a custom entry.
PunchTab told me they will be adding the Google Add to Circles option in the near future.
Starting Friday of this week the Lenovo IdeaPad Z585 Laptop Giveaway contest will be hosted on Punchtab.  Remember to take advantage of the custom referral URL so you can maximize your entries by sharing your custom referral link.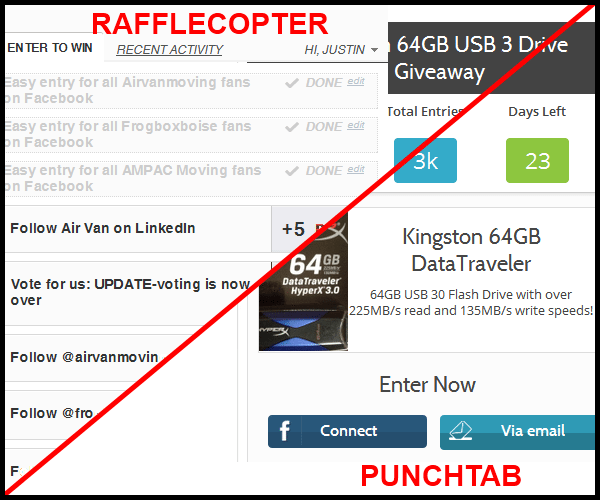 So which contest widget do you like better?