I read about Compete.com from Web Site Magazine, and was always wondering if there was a website that gave estimates of traffic without requiring an account.  Compete.com is such a site that will show you the estimated traffic any website gets on the web.  I compared compete.com stats of DragonBlogger.com and found them to be within 2% of Google Analytics reports month by month which is incredible accuracy.
In fact, many people have claimed that Compete.com which doesn't record bots can be more accurate than Google Analytics for showing you your stats and rankings.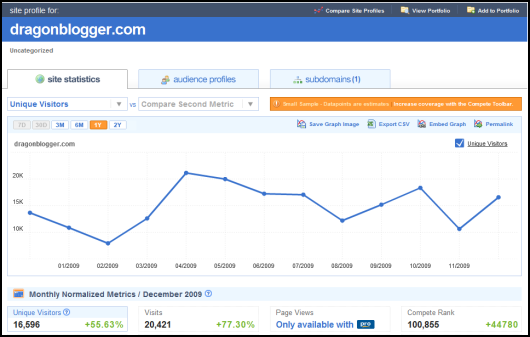 Compete.com is a good way for advertisers to get a feel for how much traffic your site gets and use that information to determine if they want to advertise on your site. You can also for free list up to 3 sites and compare your site against some of your fellow bloggers or competitors. If you sign up with a free account you can compare up to five sites to see traffic and how they measure up.
This is a really good tool for you to see the estimated traffic of sites you want to achieve, a quick scan of Problogger.net showed they average about 468k visits per month according to compete.com, and my site being at only around 16k unique visits by comparison still has a long way to go to catch up. I did however fare better and am now up to 10% of the traffic that ChrisBrogan.com gets according to compete.com.
With a quick free scan of my keywords and analytics, I can see the top five referrals and keywords to my site. I was suprised to see Leapfish in my top 5 referring engines, as they never showed up in my Google Analytics for some reason. Also I show Bing as one of my top five referrals according to GA, as well as Google being a much higher referral percentage, so I am not sure how it collects this data.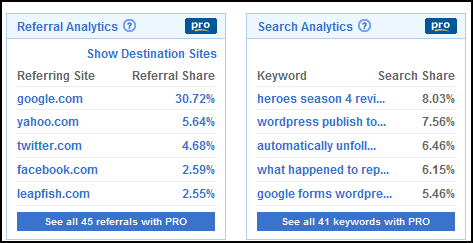 Now, Compete.com for free doesn't give you as much information as Google Analytics, but since it shows public information you should be aware of what advertisers and others can see when they run your stats on Compete.com. This gives you a fair understanding on what is publicly visible and helps you get estimated traffic on other sites so you can adjust and set your goals for your own site and blog.
Stack up, how does your site look on Compete.com? How does it compare to your Google Analytics numbers?
-Dragon Blogger