Let's face it there are backlink building services online, and if you are a website owner, blogger or online business owner you may not have the time to build all those backlinks organically and manually yourself.  Now I know Google specifically penalizes sites that sell backlinks, lease them out or whatnot, but what about saving time and effort which may have you thinking you should Buy Backlinks to save you time?
I only recently was contacted about a service called SEOClerks, obviously this site is popular as it has a 4k Alexa rating and they are kind of like a Fiverr for SEO services except there isn't a $5 limit on services being offered.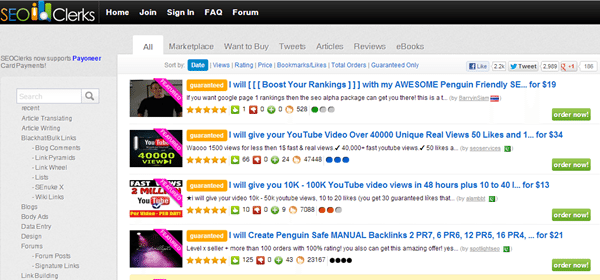 The key here is many services claim to be Penguin and Panda compatible and friendly and claim they won't hurt or penalize your site.  Some claim to do this by setting up various profiles on your behalf, forum posts, signature type of items and others don't clearly specify.
I didn't purchase any services and typically refrain from buying SEO services in general but no matter what changes currently exist, there is clearly still some key benefits to your site if you have high quality links from higher PR sites and SEOClerks has listings from SEO people who claim to help you do that.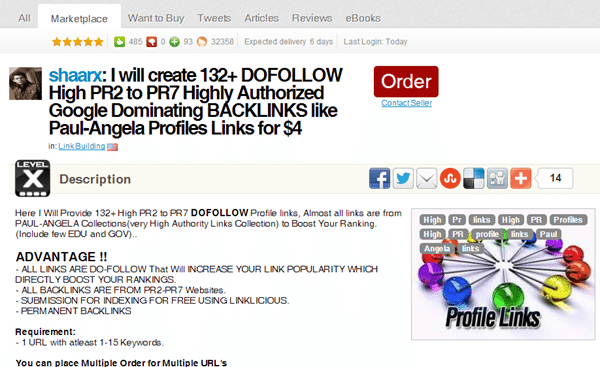 I haven't purchased any SEO Services, especially I haven't considered buying backlinks for years in regards to my site and I have been taking the time to leave every comment, build every backlink manually so I am curious to know how many fellow bloggers purchase SEO services and what you look for when you purchase an SEO service?
You can also list in "Want to Buy" to specifically broadcast what you are looking for if you don't want to specifically purchase a service related to SEO or Social Media listed or want something custom tailored. You also want to make sure you use a service that can track your links and give you analytics for your links, something like Link Okay provides.
Have you heard of or used SEOClerks at all previously and if you have what was your experience with the site itself or any services that you purchased.  If you were happy with the services from someone you hired feel free to share their profile in the comments to and send more traffic their way, though I will make sure the person recommend at least has a valid number of favorable reviews and won't let a link to someone who appears new or has a bad rating to stay linked in the comments (be warned, don't promote yourself if you are listed on SEO Clerks unless your reputation can back up your claims).