This is a heads up article to let my readers and loyal commenters know that in the very near future (any day now) I will be cutting DragonBlogger.com over to using the external Livefyre commenting system.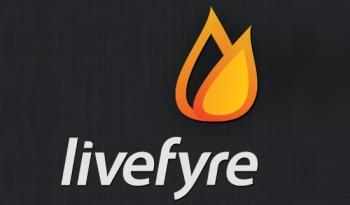 This is being done not only for testing the Livefyre platform to see if it brings more social engagement and interaction but as a way to combat comment spam which runs rampant on this site and consumes far too much time to moderate.
I had looked at IntenseDebate, Disqus and Livefyre and Livefyre won as the external comment system to try.
Livefyre will give readers the ability to engage the site on Twitter, Facebook and LinkedIn as well as pull others into conversations on the site through Social Media, it will allow for conversations on the DragonBlogger Facebook Fanpage to become part of the comments on the site (syncing the comments into the site itself, not making Facebook comments on site).
The good news my readers is that if the system doesn't work out no comments made under Livefyre will be lost, it syncs all comments to the WordPress database and they will be retained if I should back out at some point.
I am going to run the plugin a full 30 days to give it time to compare against previous 30 days and see if interaction/comments increase and spam decreases.
I apologize in advance if this offends any loyal commenters who will lose some backlinks from previous comments as a result of me testing this system.  As a technology blog and WordPress blog I also must make sure I accurately and thoroughly test as many things as possible to provide accurate reviews and reports.  This site is the only one that has enough comments/traffic to where I can do an effective review of an external commenting system.  My other sites are too small to really measure the success/impact of such a system reliably.
Feel free to share your thoughts or ask questions about this new commenting system change.
Here is some FAQ like answers:
Will I need to sign in or register to comment?
Yes, the livefyre will require you to sign up/in.  This will allow you to quickly sign in via Twitter/Facebook or LinkedIn and you can setup a profile in seconds.  The good news is by doing this you will still get a dofollow backlink to your blog as your username.
Will I still get DoFollow Backlink?
Livefyre no longer offers DoFollow backlink for the username portion which links to your site, however if you use Livefyre on your own blog you will also get the benefit of showing your most recent commented article similar to a showcase of your activity in your comment as well and this recent conversation link is a dofollow link.
Will CommentLuv Still Work?
No, CommentLuv is not compatible with LiveFyre and this is one regret as I have really enjoyed using CommentLuv and heavily support the system.
Will My Previous Comments Be Retained?
Yes, all previous comments will be imported to Livefyre and will show up in older posts.  The URL link for your username however will be lost as well as any links that they had with CommentLuv to latest articles.
Ask questions, feel free to share your point of view and whether or not you use or your experience with external commenting systems.
-Dragon Blogger