Up Close and Personal
This mouse has a very original design, but more important than the design or as aesthetically pleasing as it is, is the comfort aspect of this mouse.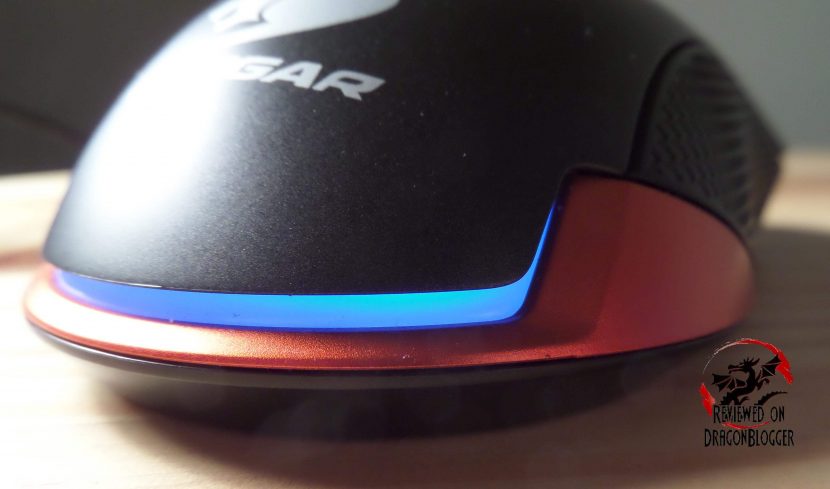 Nope, it's not a spaceship but it is almost as cool.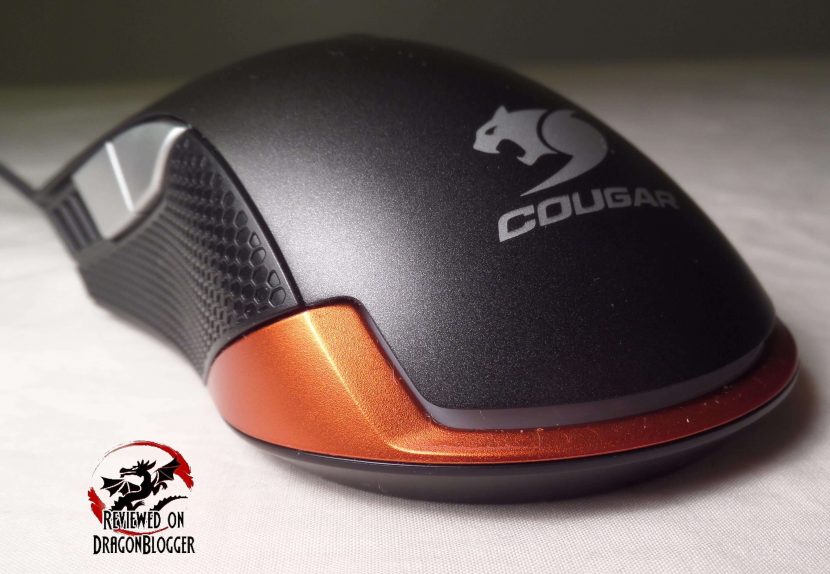 This mouse fits perfectly in my hand; I can actually rest the palm of my hand on this mouse comfortably and access all of the buttons with ease and it feels very sturdy.
Moving over a little to the side, you will notice a little honey comb sort of design.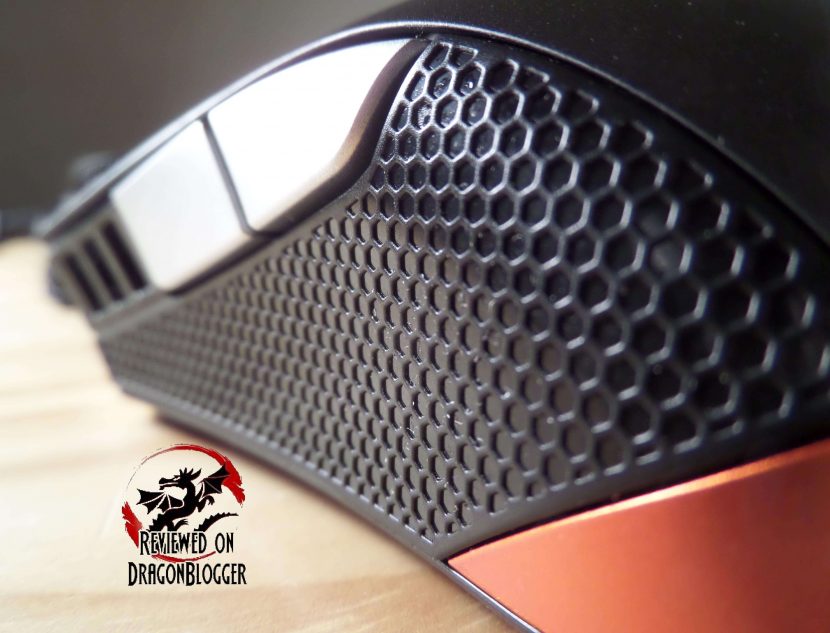 There is actually a purpose for this, they are called Anti-Slip Flanks.  They are made to help keep your grip after hours of gameplay.  It creates tiny pockets of air in those little groves to keep your palm breathing a bit then of course adds traction to keep from slipping; you know how you can at times on a regular surfaced mouse, that won't happen here.  Another thing to mention is that once this mouse is in your hands, you will not even notice they are there.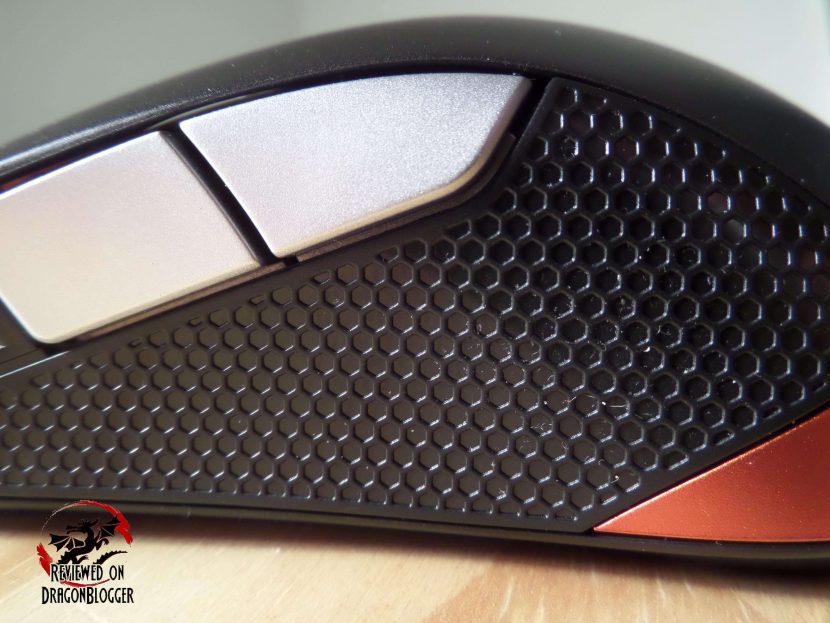 Moving over to the left, we find the forward and backward button.  Definitely not a new thing here, but the fact that they are very accessible with your palm resting on this mouse is a welcomed feature.  Another thing I like about these buttons is they are not tiny buttons, they are good sized buttons.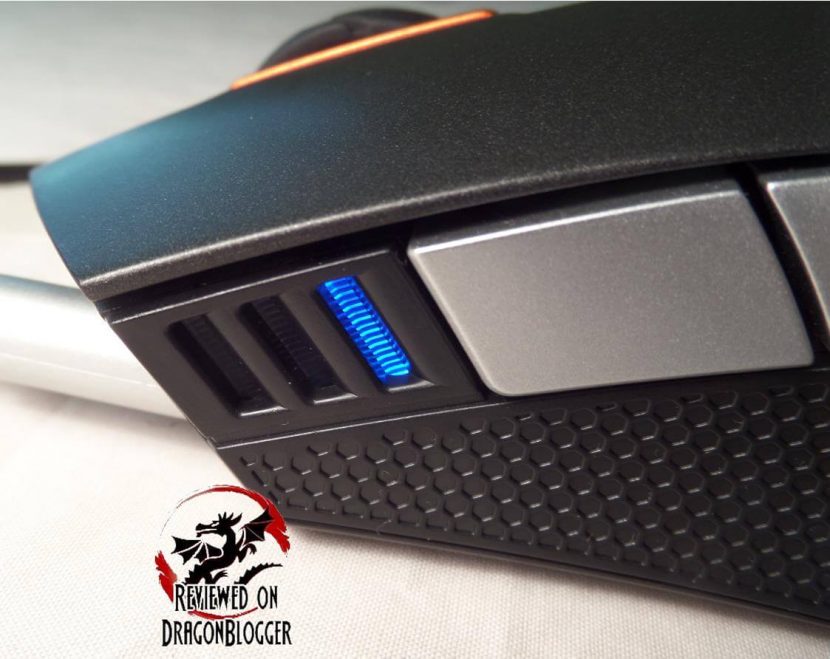 And a little further down we find gills, is this mouse amphibious?  No, no it is not and do not put this mouse in water but it does have a cool feature.  These are not just there for looks; keeping on with the theme for this mouse this actually has a purpose.  This is actual part of the 3 stage DPI LED display.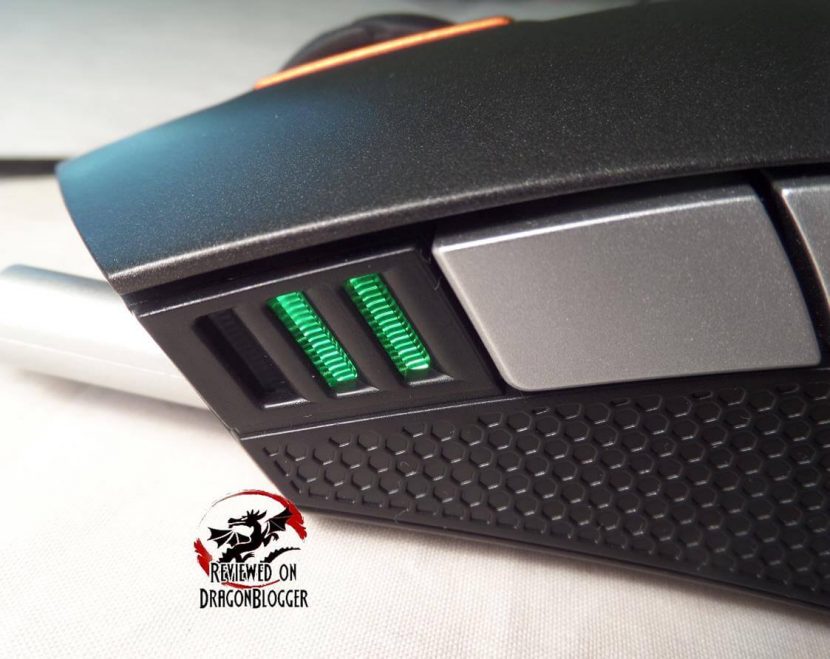 The previous photo had only one LED lit in blue, now this one has two lit in green.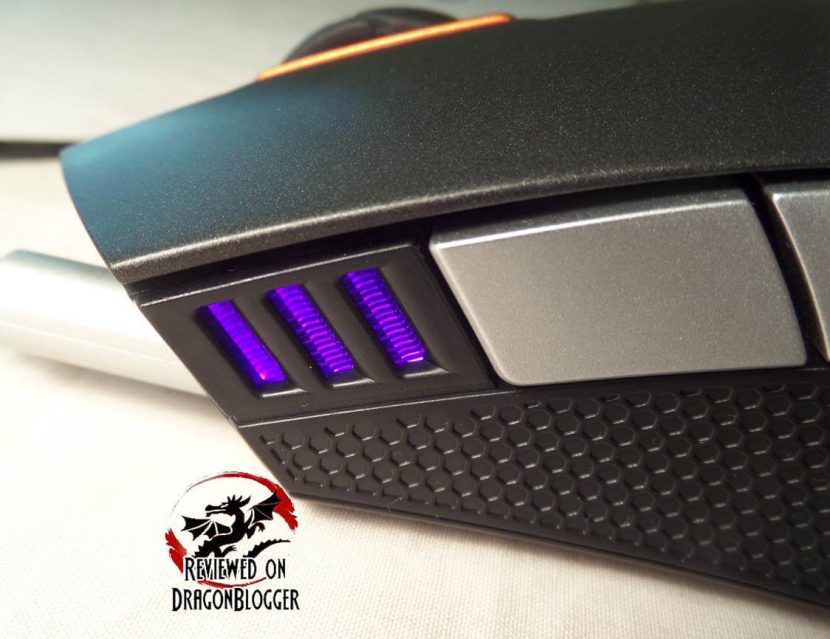 And this one has 3 LED's.  The LED's help you to know without having to check UIX what the current DPI setting is at.  The settings are not programmed with a color in mind, though you can set it up to be that way, I had the lights set to a breathing mode and I wanted to show you the 16.8 million color options Cougar provides.  This is one of the areas where the LEDs are illuminated, they both can be the same color but they can also be different, I will show the second one shortly.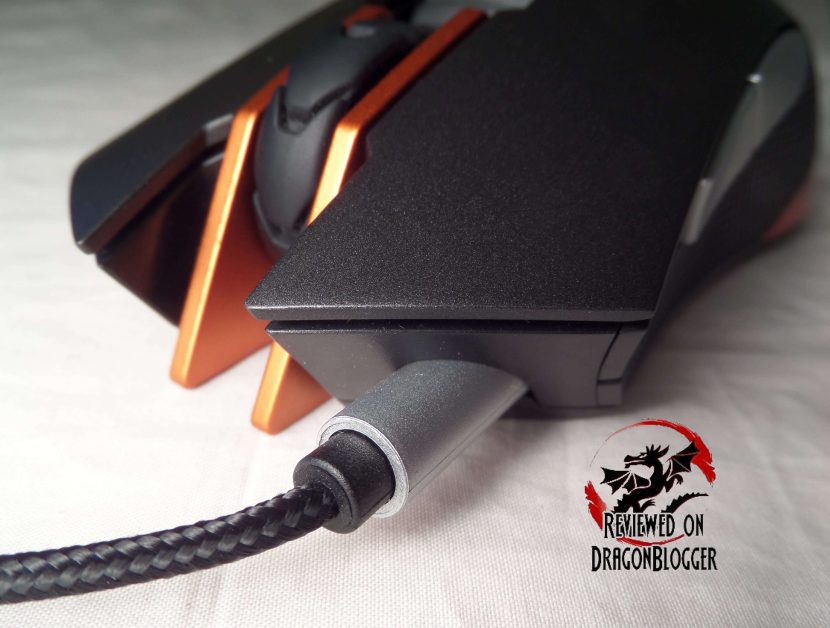 Moving of more to the left, we find where the USB braided cable connects to the mouse.  It is in an odd spot, directly under the left mouse button.  This one actually no purpose that I can see for being there, though as odd as it could potentially look, it does not get in the way at all.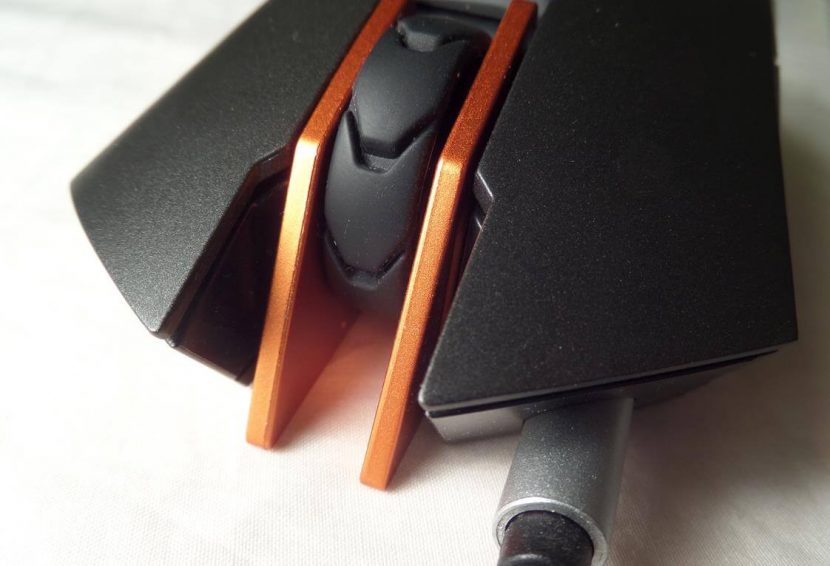 Moving just a little slightly to the left, Nope, that's not the new Batmobile or the Batcycle, that's the M550's mouse wheel.  This is branded as a Gaming Grade Scroll Wheel, as it might look every time you roll that wheel you get clear tactile feedback, being a soft rubber material it feels nice as you scroll and not annoyingly loud.  The orange barriers there are only for looks, though it looks a bit like it is designed a bit to plow through games.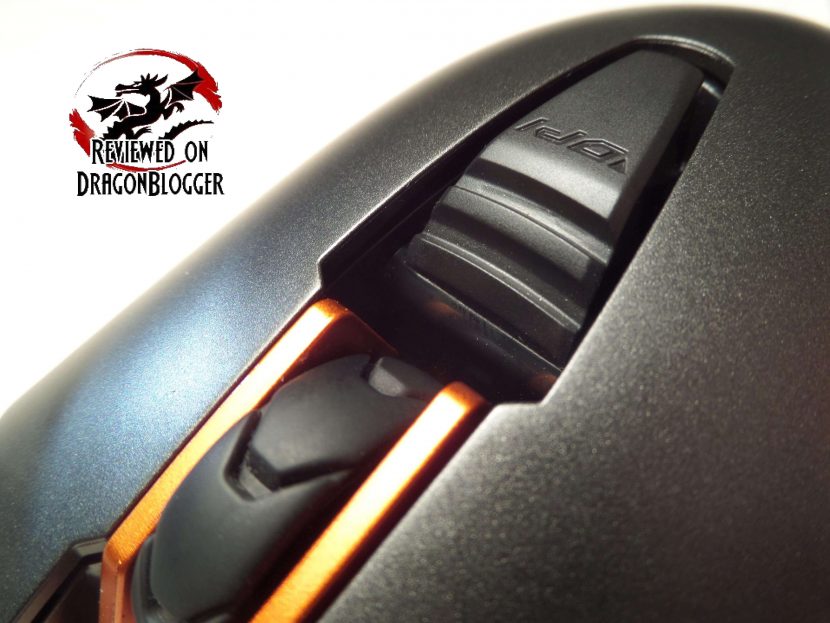 Just behind that wheel we find the DPI selector trigger.  By default, this trigger allows you to change the DPI settings as you saw previously.  It actually does feel like a trigger, you dig you finger into that spot and pull it back to change the DPI, I can saw I have never seen anything like this.  Like with all the buttons on this mouse, you can change its functions inside of the UIX software.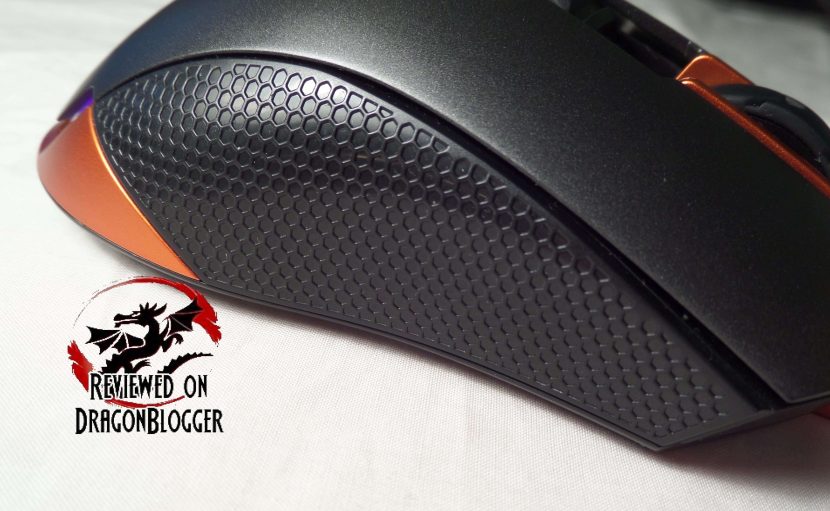 Off to the other side, nothing to get excited about here aside for the fact that it is completely filled with the anti-slip flanks.  I do like the black matte color; the shiny ones tend to older looking quicker I have noticed.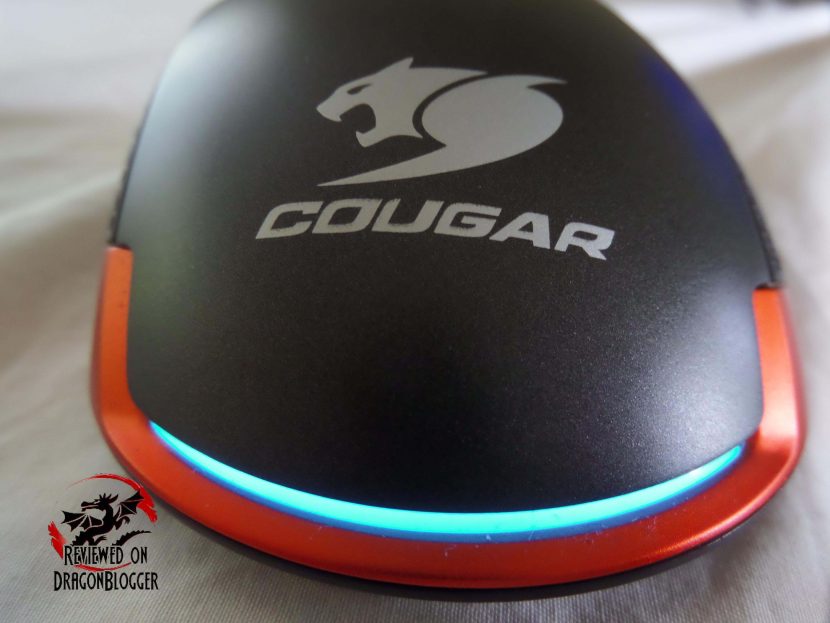 Leaving no stone unturned, the back of this mouse hold the second LED section and of course Cougar's silk screened logo.  The back of this mouse at night gives off an ominous glow right behind your palm, the part that hovers ever so slightly over the mouse pad.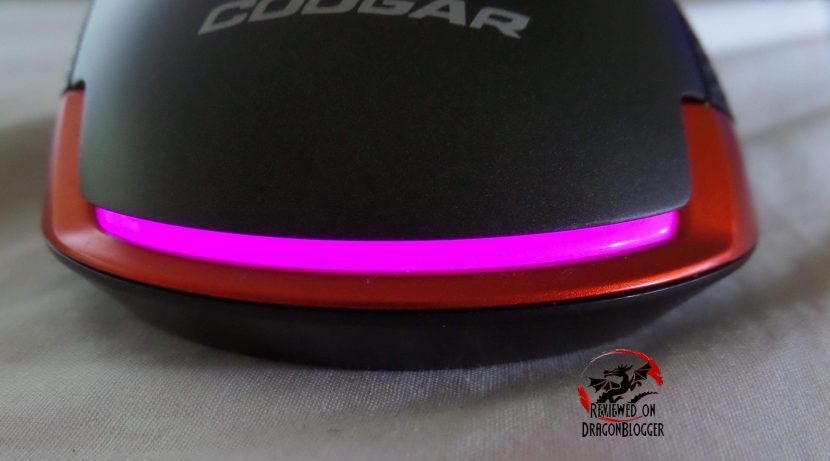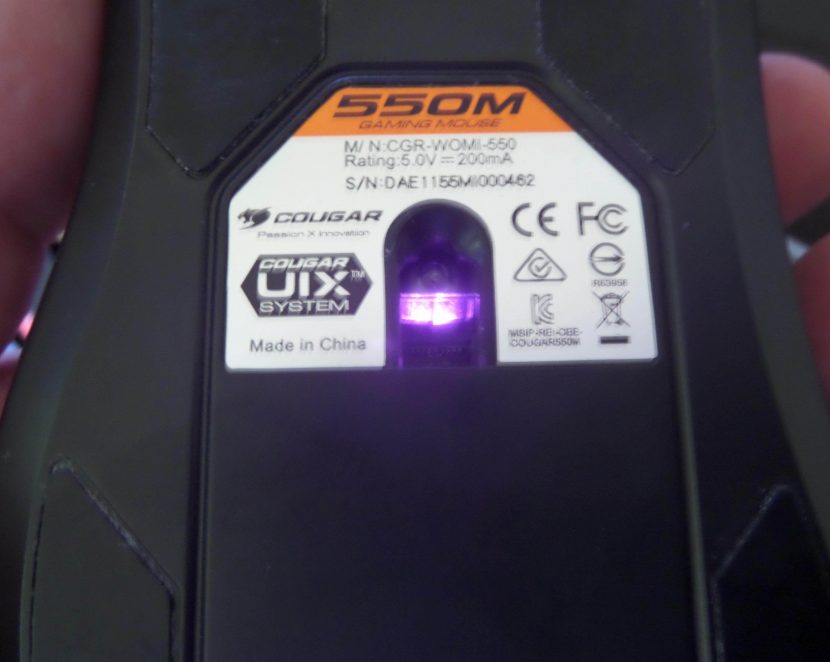 The bottom, while very basic has four rubber feet as to keep the bottom of the mouse from getting all scratched up and to help it slid more.  Of course, you have the laser and the Cougar stick that shows you the model number CGR-WOMI-550, the serial number power ratings and all the certifications logo's.  The optical laser itself is powered by the SDNS-3988 gaming sensor.  This is where many of the UIX features come from, this sensor allows for features such as lift detection, variable frame rate, programmable DPI settings, angle tune-ability, its 200 IPS tracking, 50G Acceleration and angle snap.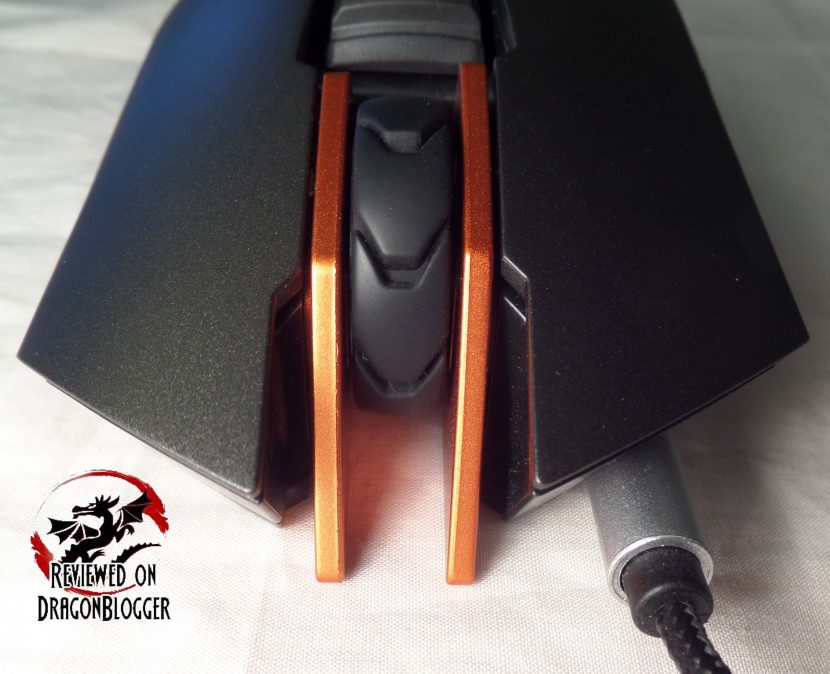 We cant forget about 2 of the buttons that makes a mouse a mouse, the main left and right buttons, left click and right click.  Powered by the Omron micro switches, you are guaranteed to get at least 5 million clicks.
Here's a little showcasing of the mouse itself.
In the showcase you get a better idea of the trigger button, just how deep it is and the anti-slip flanks.
So let's get a little into the UIX software.