UIX and Features
The mouse on its own works great, but if you want to change a few things you can and you don't have to touch windows own mouse configuration software because Cougar packs its own.  While UIX is not included in the box, you can download it off of Cougars website.
The first time you install the software, it will update the firmware on the mouse.
When you start it up, you will be greeted with this screen.  On this screen, you can adjust the DPI, set the Sniper DPI Settings, Polling Range, Angle Snapping, Lift Height, Double Click Speed, Scroll Speed and Windows Pointer Speed, and that's just on the Performance section.  Let's dissect the Performance section a bit.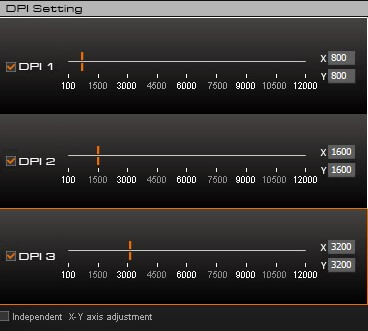 On the DPI Settings, you can program what each of the 3 DPI settings resolve when you pull the trigger button, or whatever button you may change to be the DPI selection button.  You can pull the slider left or right to raise or lower the DPI sensitivity.

With the "Independent X-Y axis adjustment" check box you can go so far as setting the X axis and Y axis independently.  That would drive me insane, but lets me on we have a lot to cover.

The Sniper DPI setting, allows you to use a key, by default the trigger key as a temporary key to have a higher DPI.  While you are gaming, you can pull back on the trigger key and get a little extra sensitivity to align your scope just right and shot through another gamers barrel.  Like the other DPI settings, you can adjust the axis individually as well.

The polling rate allows you to adjust how quickly the computer receives and sends signals to the mouse.  The higher you raise it, the better response times you receive.

Angle Snapping, I tend to keep off, but you may like it.  This function allows you to make mouse movements a bit straighter.  It feels very unnatural to me but it is adjustable so give it a try you might like it.

Lift Height can get you in trouble.  This allows you to define the height at which the mouse will stop tracking your movements.  If you chose too low, the mouse will stop working when you lift it and if you set too high, the mouse will track when lifted.  I have had a few times where I set it too low and it would not move at all.  This can be very comfortable for different grip types as well, I leave this one on default as well, Middle is for me.

The Double Click Speed is a basic Windows Mouse adjustment but it is a very nice one for many people.  I used to train people how to use their computers and found that a few of my students, the older ones usually had a hard time double clicking, they would click a little too slow and it would only register as a single click.  I used to adjust windows for them so that a single click would be a double click or lower the double click speed.  It can be a life saver for many, but I leave this one as default as well.

Scroll Speed, this allows you to adjust how many lines a scroll rolls up or down on.  I tend to play with this one a bit, but this is the default speed.  Since I do a lot of reading on my PC, I don't raise it too much because it will scroll me right off of the page I was on.  Too low and you will be scroll for a few minutes to scroll passed that one page.  They even let you adjust it to "On screen at a time", that will greatly depend on the resolution of your screen because it may be awkward for pictures.  Give it a try, you can always revert it.

Windows Point Speed can almost be seen as a DPI adjustment.  Too low and it will be like your DPI is way too low and too high you may be looking for your pointer at times.  I did say it was almost like the DPI adjustment because there is a difference, though there is a fine line and you will need to play with it, also the "Enable Mouse Acceleration" check box as well.  This check box will improve the overall smoothness of the mouse movement.
That was just once section of the UIX software, let's check out the "Key Assignment" section.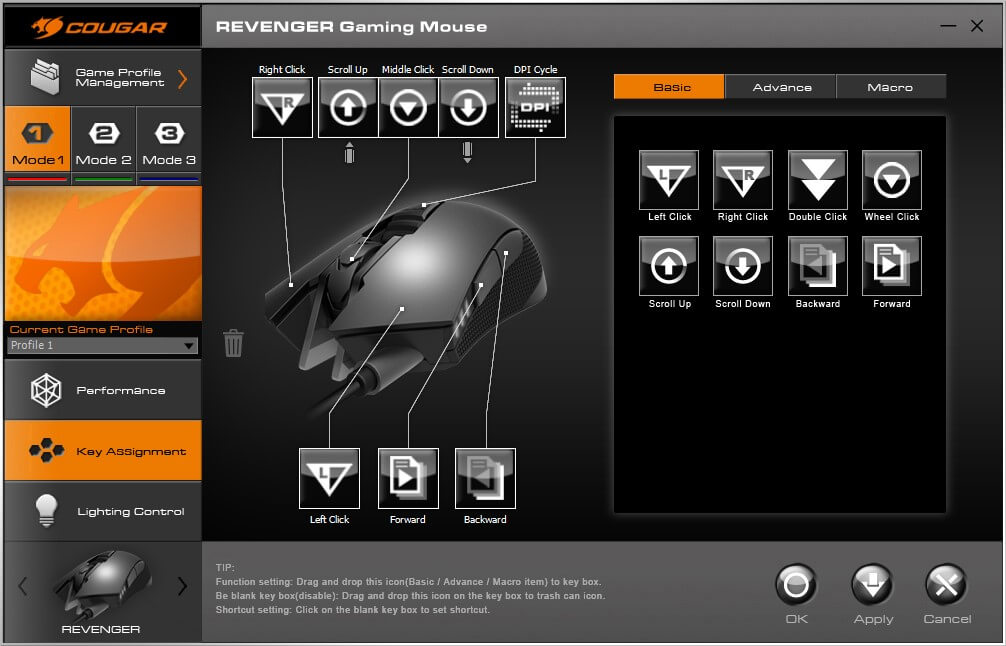 In this section, you can click, hold and drag icons from the section on the right over and icon on the left and release it.  Let me show a little of what I mean below.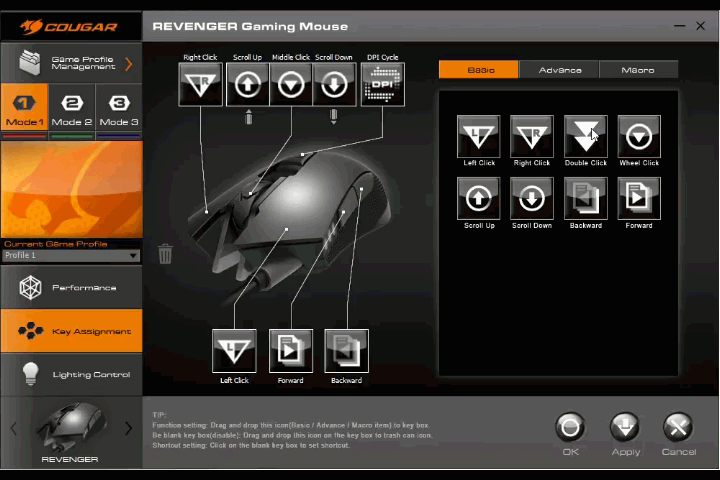 Pretty simple, right?
There are 3 tabs in the "Key Assignment" section.  There's "Basic", "Advance" and "Macro".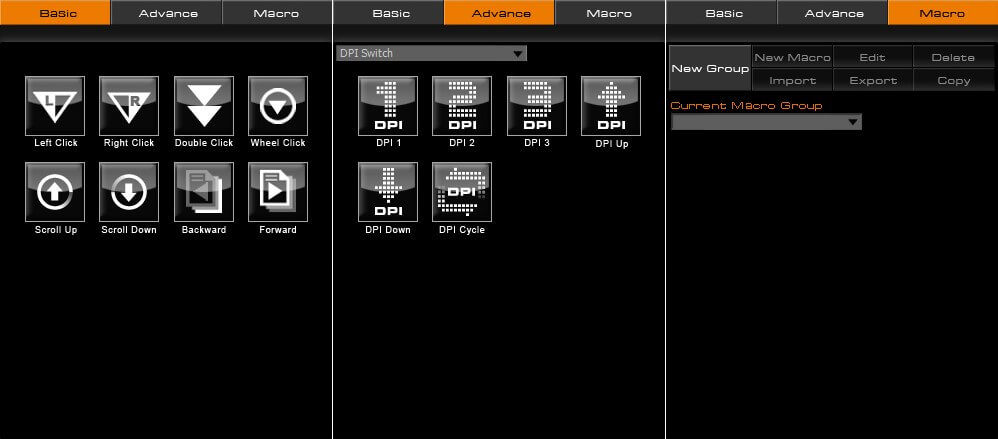 Basic, lets you setup basic key assignments of the mouse while Advance give you a little more control, with a subsection that I will go over and finally Macro, let's you set up and play different macros you can make and might use regularly.
Under Advance, here is the drop-down menu.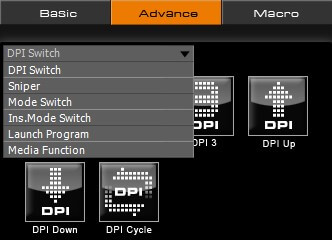 Here you can select the DPI Switch, Sniper Mode, Mode Switch, Ins. Mode Switch, Launch Program and Media Function.  We have already seen DPI Switch, so let's check out Sniper.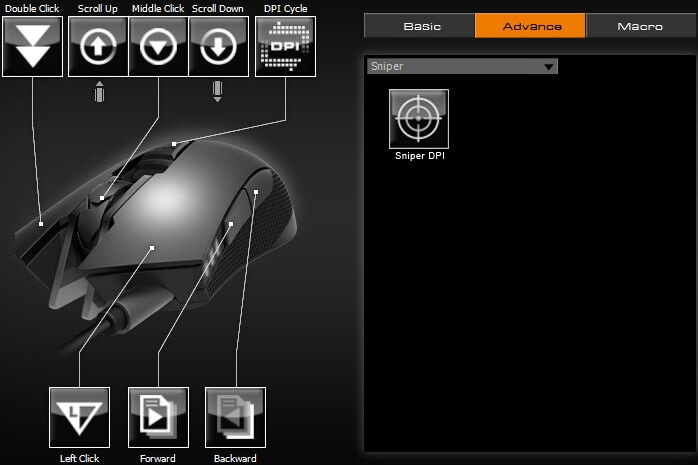 Like the DPI switch I showed you previously on how to program, here is that Sniper Mode I spoke of before.  As I mentioned previous, with Sniper mode, you can have a higher or lower than average DPI setting assigned to any key, I think the trigger key is the least obtrusive, what do you think?  Moving on, let's check out the options on "Mode Switch".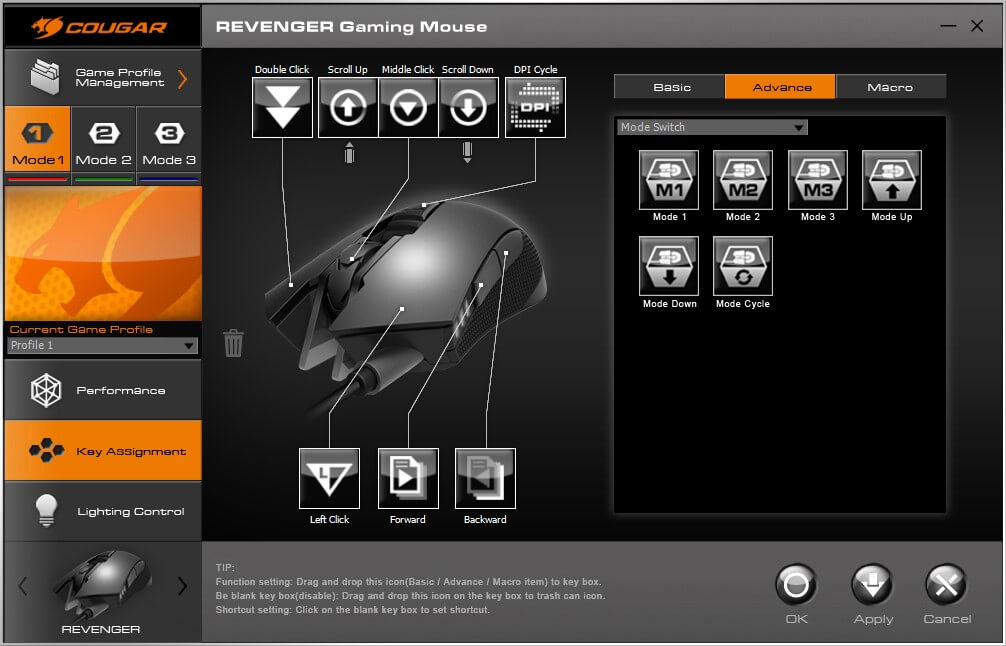 On Mode Switch, you can select profiles in which these Modes are saved under on the left-hand side.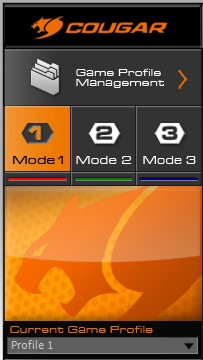 Ins.Mode Switch or Instant Mode Switch allows you to change the profiles to one of the saved Profiles as long as that button is held, like Sniper Mode.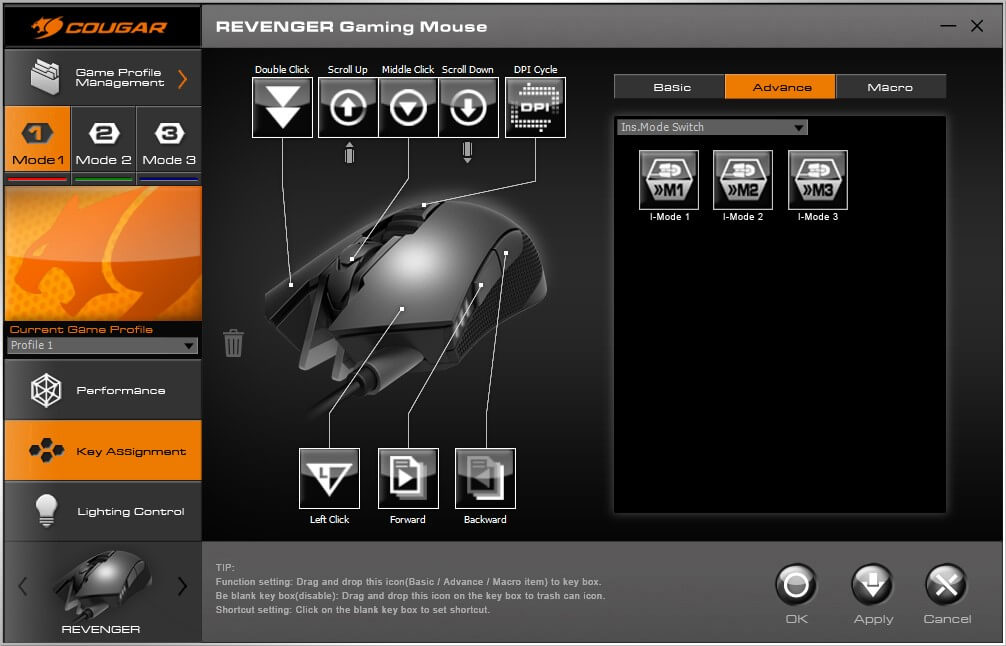 Launch Program, a nice little feature.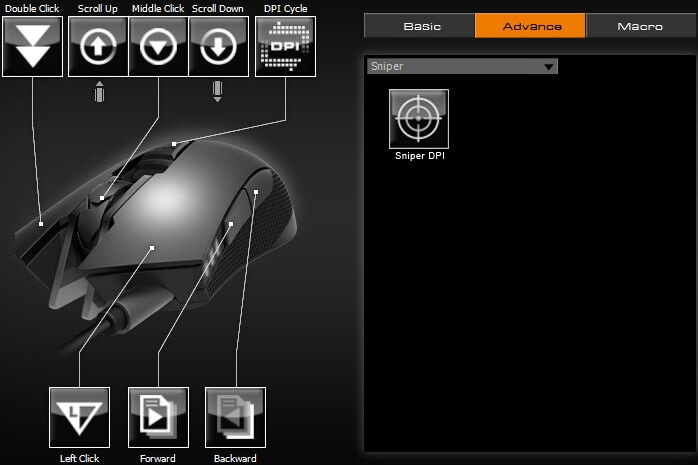 Launch Program, like drag and dropping functions from the right to the left, here you drag the Quick Launch icon to the left, then you assigned the program you would like to use so that now when you click on that mouse button, that program launches.  A great feature for frequently use programs, kind of like a shortcut on the desktop, but even easier to get to from anywhere on the screen.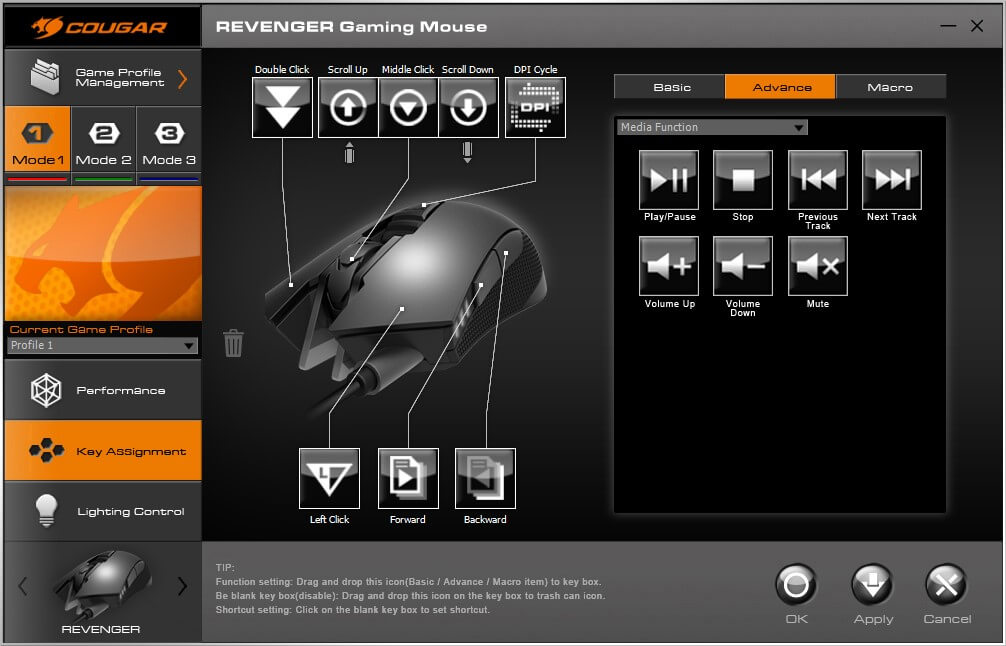 The "Media Function" setting allows you to use the mouse as a media play, or at least controls for a media center, maybe for a Kiosk or something more functional.  Like before just drag a function from the right to the left and click Apply and you are good to go.  Now, one of my favorite tabs, the "Lighting Control" tab.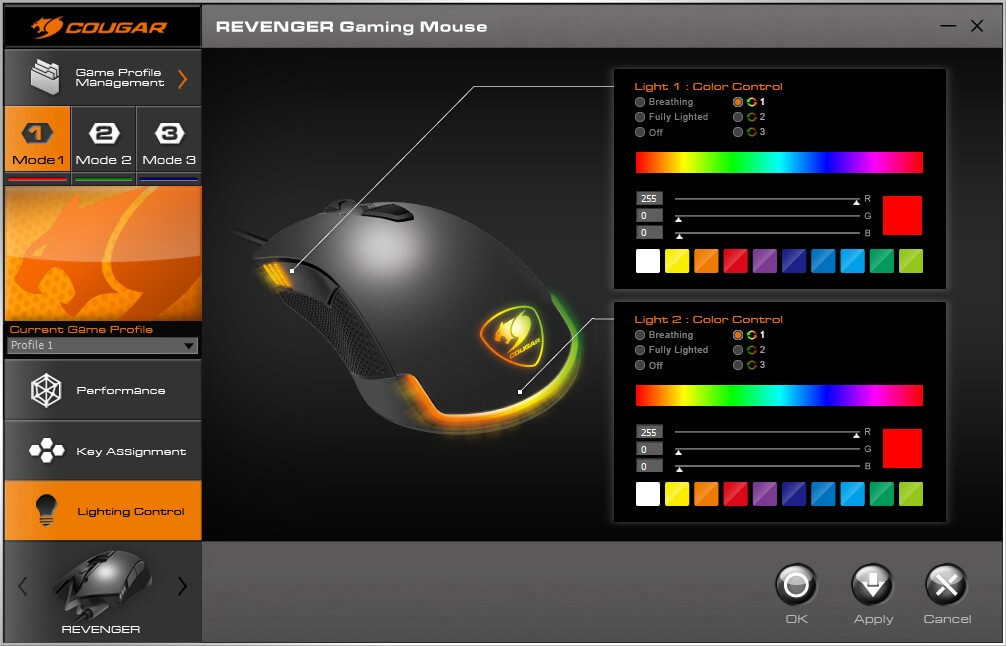 In this section, based off of the DPI selector trigger (the default key at least), where you would select your DPI the lighting is controlled as well.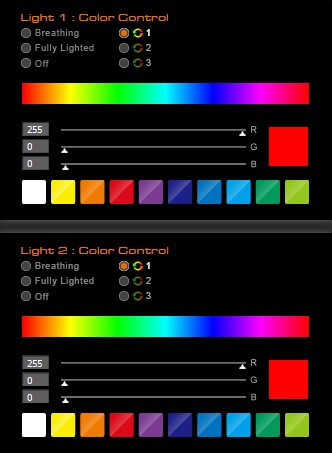 Here you can select Lighting Controls for the front DPI selector section and for the Logo/Palm Rest section.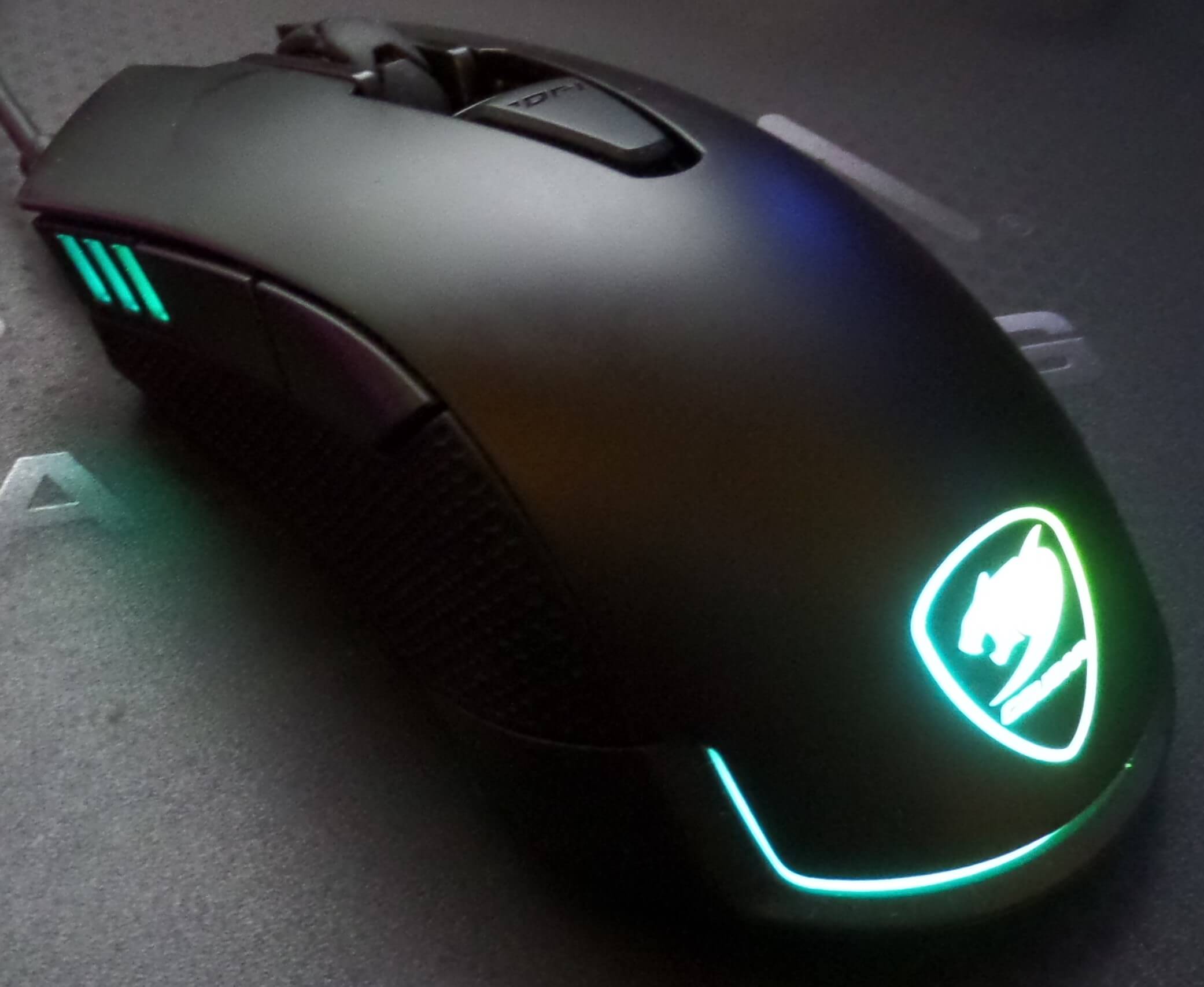 The upper left lights are the 3-Stage DPI LED Indicator and the bottom right hand corner is the Logo/Palm Rest section.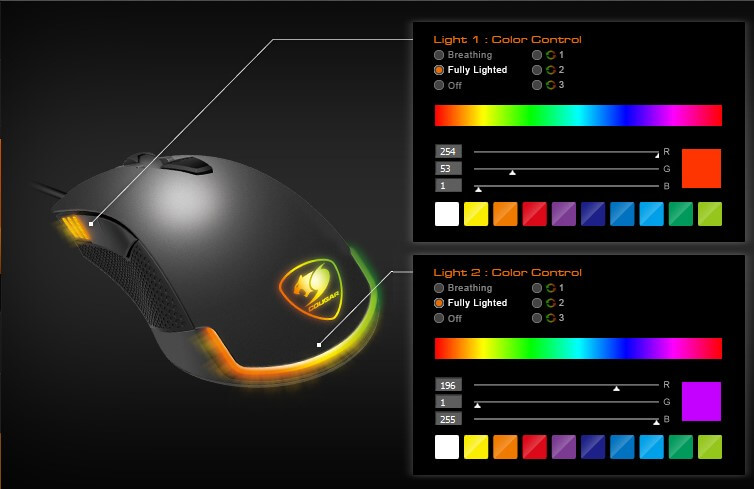 Here are changed the defaulted cycling lights the fully lighted selection and change the colors.  Here is how it looks like on the mouse itself.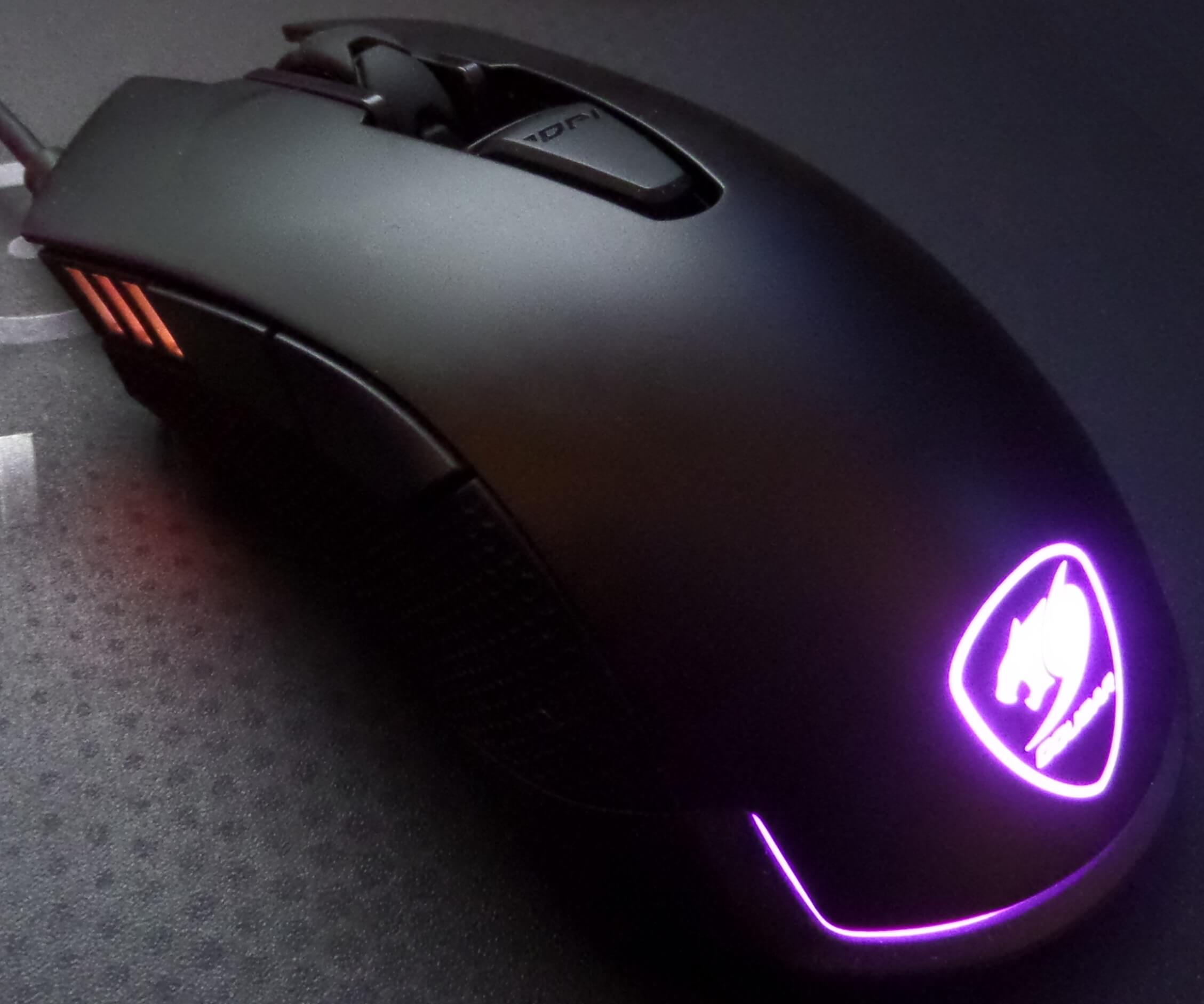 Notice how both lights are different colors.

On the left of the lighting color control, you can select the Breathing and Fully Lighted effects and if you don't like the lighting, you can turn it off.  On the right, you can select the cycling lights where it cycles through all of the colors.
Finally, the UIX software can be used for many of Cougar's products.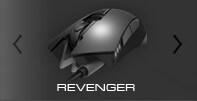 Since I have been doing the review on the Revenger, it shows the "Revenger" icon, but soon you will see my review of the Cougar Attack X3 RGB.  If you have a few devices that use this software, you can install it and control it from this one interface, just click on the left or right arrow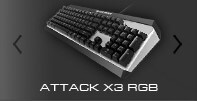 Clicking the left or right arrow, will cycle through the list of Cougar products.
I think though, talking about it is one thing, but seeing is believing, let me show you how it works.
Let's wrap it up and see if you agree with my Final Thought and Conclusion of the Cougar Revenger Gaming Mouse.