We all use feed readers to keep up with the steady flow of information and news from various sites .
While Internet Explorer and Mozilla Firefox have an default RSS reader built in , Google Chrome does not have one yet as google wants it's users to use Google Reader instead . Google Reader is good but yet it is not even close to the power of Feedly.
Feedly , in many ways is an excessively simple and beautifully constructed webapp that will sweep you off your feet . It is fast , shows posts from facebook  , twitter , youtube wonderfully.It syncs well with google reader also .
It is available for your iPhone , iPad  , Andriod , Chrome , Firefox .
It differs from the typical feed reader because , it needs an browser extension to be installed for it to work as it uses HTML5 heavily . The iOS apps for feedly are also breathtaking .
Design features :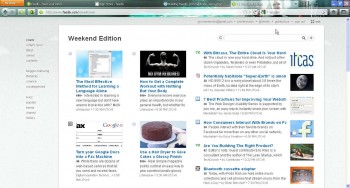 The image in the left (click to zoom ) is the home screen of feedly , it is beautfully designed and it shows all the new and unread posts .
On clicking a post , the post expands in feedly itself and instant sharing of the post to facebook , twitter , stumbleupon , gmail can all be done with a touch of a button
The sites from which you recieve the posts can also be categorised into different categories .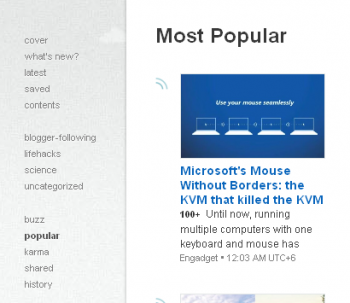 You can see the different stuff I have . The feedly extension for FireFox and Chrome adds an hovering button in each site to allow us to easily subscribe and share that post .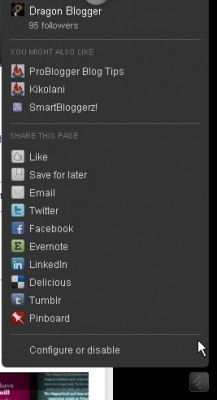 While reading a post , you can share it instantly to all the social networking sites .

Feedly for iPod , iPad and Andriod .
Give feedly a try and please comment here :)
Get it here : Feedly Feed your mind  ( The download links for all platforms are here )
A beautiful video explaining Feedly .
[vimeo]http://vimeo.com/23090931[/vimeo]