I was really impressed when I saw @DonnaFontenot send out a link to her Daily Twitter Newspaper on paper.li.  So impressed that I decided to check out the site and create my own online Newspaper.  Paper.li lets you take your twitter stream and create a customized news site that takes articles, information and content from your tweet stream and turns it into a blog like newspaper complete with links to the original articles in the tweets.
You can link to a whole users profile, a hashtag or even a Twitter list.  To test the program I decided to create a newspaper from my @dragonblogger/bloggers list and it created a custom news media style site that included articles, YouTube video's from peoples links and stories.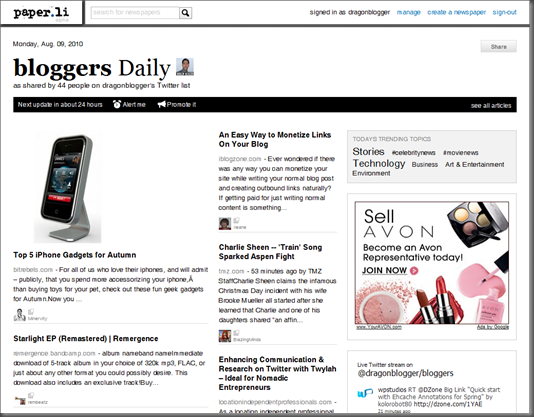 For those of you who don't like having to sort through your tweet stream to find articles and links this is a great method of having the content from the people you follow show up in a clear and customized magazine style interface. 
You can follow my bloggers daily news if you want to keep track of the people I keep track of on Twitter.
The one thing I don't like is that the program only updates the article every 24 hours, and we know that tweet streams are constant.  I would have liked to have a customized interval of maybe every 2 or 4 hours that you can come back and see what's new several times per day.
-Dragon Blogger