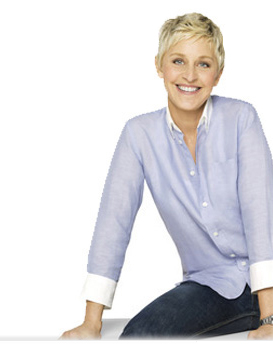 About
Ellen Degeneres' 12 Days of Giveaways are an annual tradition of hers where she showers amazing gifts upon hyperventilating audience members that attend a taping during the month of December.  Each of the days offer up different prizes from the last and can be anything from digital cameras, to game consoles, to fashionable handbags.  Last year she sprung the surprise of a bonus day…heaven knows what's in store for this year.  Read on to find out what she gave during the Day 1 episode of the 12 Days of Giveaways 2011!
Day 1 Highlights and Prizes
Highlights
Today Ellen sprung the 12 Days off yet again in another unexpected way.  In the opening monologue she of course gave a nudge at Cyber Monday shoppers and mentioned how many of her audience were just waiting their turn to get presents from her.  She didn't however blare the holiday music queuing the magic moment just yet though.
Those who follow Ellen's social networks around the clock probably already had found out that she was invited to join the U.S. envoy for Global AIDS Awareness by Hillary Clinton.  To commemorate this great honor she got in touch with Bono, the U2 band member also heavily involved in promoting AIDS outreach, via a satellite video call.  Bono beamed at the talk show queen and thanked her for the fabulous work she was doing.  He also made the funny admission of how he couldn't stand to hear himself sing because he thought he sounded like a girl.
Vince Vaughn and his mother Shea also came out to have a chat with Ellen.  Vaughn recalled the close relationship with his mother growing up and how she kept the house constantly immaculate.  He also brought up plans for a future summer movie called Neighborhood Watch.  Vaughn's mother proudly showed off her new book [easyazon-link asin="0757315933″]Breakthrough[/easyazon-link] as well as her unbelievably good yoga skills in a segment that followed the commercial break.
Finally the time arrived to dole out the holiday joy.  This time she sprung the surprising moment by staging a scene during a fake game segment where two friends battled over who would go first.  The two ladies tumbled to the ground in a fight and wouldn't you know it, Ellen had the sound people start blasting the music then.  Goodness, I was pretty convinced that we were legitimately going to see a Jerry Springeresque smack down!
[youtube width="420″ height="263″]http://www.youtube.com/watch?v=KrG_LbL68is[/youtube]
Prizes
[easyazon_image asin="B0047DVWLW" alt="Apple iPad 2 Tablet (16GB, Wifi,) NEWEST MODEL" src="http://ecx.images-amazon.com/images/I/312O7GZBacL._SL160_.jpg" align="right" width="160″ height="160″]Without further adieu here are the prizes that Ellen gave away during Day 1 of the 12 Days of Giveaways that would make some awesome stocking stuffers for your loved ones!  Stay tuned to Dragonblogger.com for an article covering all the ways you can win prizes like these from home.
[easyazon-link asin="B004I8WH6U"]iHome Dock[/easyazon-link]
[easyazon-link asin="B003CP12GQ"]Goodie Bag of RED Products[/easyazon-link]
(Proceeds go to AIDS research and outreach)
Ellen fans stick with us!  We're keeping tabs on all the ways you could get involved in this year's 12 Days.  Follow our Twitter account or like us on Facebook to be notified when Ellen might have a 12 Days surprise just for you.  We'll let you know the moment we find out.  Don't forget that we're also in the holiday spirit and hosting a giveaway of our very own.  Cheers all!
Mitra Faridian first joined the site in 2011 under the handle "Persian Poetess." Her gaming and entertainment taste is very eclectic and she's always open to a fun new virtual adverture. Email her at the following address: mitra [at] dragonblogger.com