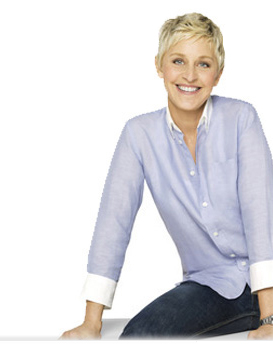 About
Ellen Degeneres' 12 Days of Giveaways are an annual tradition of hers where she showers amazing gifts upon hyperventilating audience members that attend a taping during the month of December.  Each of the days offer up different prizes from the last and can be anything from digital cameras, to game consoles, to fashionable handbags.  Last year she sprung the surprise of a bonus day…heaven knows what's in store for this year.  Read on to find out what she gave during the Day 2 episode of the 12 Days of Giveaways 2011!
Day 2 Highlights and Prizes
Highlights
Day 2 of Ellen's 12 Days of Giveaways was once again far from disappointing. Ellen opened up the show with a shoutout to her wife Portia in honor of their 7 year wedding anniversary…technically 3 year but Ellen found it proper to count the years they've spent together overall. Most were a buzz in anticipation for Hot Mess to come dancing out with the 12 Days presents and Ellen picked up on that. She gave a little mischeivous grin and asked if they were excited about something that rhymes with "Smelve Bays."
Russell Brand came sprinting out rather early in the show and was firing on all cylinders right out of the gate. Some may not appreciate his spaced-out and high octane humor ‒ speaking for myself ‒ I was in stitches! He was quick to dispell the baseless rumor that he and Katy Perry were no longer sweethearts. Without so much as the slightest delay, he spouted five rumors regarding Ellen, one of which included her ability for time travel.  Hint: Its not true.
The next celeb to pull up a seat next to Ellen was the talented singer-songwriter Sting. Now pushing over 60, the timeless musician simply appears immune to aging. Alright, alright maybe thats exaggerating but he's in pretty amazing shape. He shared with Ellen how indiscrete he was about how old he was turning at his birthday party and how he invited fellow musicians to put their spins on his classic songs.  After the commercial break he captivated the Ellen audience with a performance of the Arabesque tune [easyazon-link asin="B000W21FZU"]Desert Rose[/easyazon-link].
This show's 12 Day fakeout was a bit more on the obvious side this time. Ellen called out an acapella group decked out in Christmas red sweaters that appeared to be rather flustered and unrehearsed. The member toward the far right kept trying to indicate the right key in which to sing by blowing a whistle but to no avail. Finally after several useless attempts to get the group to synchronize, the jolly Hot Mess mascot and the rest of Ellen's elves came skipping on the scene to the sound of the audience's screams. I tell ya, that tangled mess of Christmas lights is really starting to charm me.
[youtube width="420″ height="263″]http://www.youtube.com/watch?v=f6qQZPuh118[/youtube]
Prizes
[easyazon_image asin="B0051VVOB2″ alt="Kindle Fire, Full Color 7″ Multi-touch Display, Wi-Fi" src="http://ecx.images-amazon.com/images/I/41Xx9W8gdRL._SL160_.jpg" align="right" width="160″ height="160″]Here are the prizes that Ellen gave away during Day 2 of the 12 Days of Giveaways that would make some awesome stocking stuffers for your loved ones!  Stay tuned to Dragonblogger.com for an article covering all the ways you can win prizes like these from home.
[easyazon-link asin="B0051VVOB2″]Kindle Fire[/easyazon-link]
[easyazon-link asin="B003ZHVBQM"]Magellan GPS[/easyazon-link]
Ellen's Book "[easyazon-link asin="0446585025″]Seriously…I'm Kidding[/easyazon-link]"
Tickets to Cirque du Soleil's "IRIS"
3 Day Getaway to La Costa Resort and Spa
Ellen fans stick with us!  We're keeping tabs on all the ways you could get involved in this year's 12 Days.  Follow our Twitter account or like us on Facebook to be notified when Ellen might have a 12 Days surprise just for you.  We'll let you know the moment we find out.  Don't forget that we're also in the holiday spirit and hosting a giveaway of our very own.
Cheers all!
Mitra Faridian first joined the site in 2011 under the handle "Persian Poetess." Her gaming and entertainment taste is very eclectic and she's always open to a fun new virtual adverture. Email her at the following address: mitra [at] dragonblogger.com