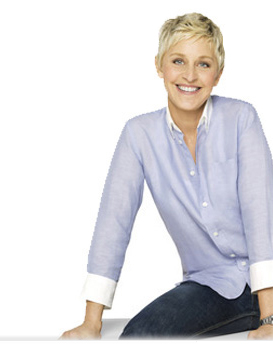 About
Ellen Degeneres' 12 Days of Giveaways are an annual tradition of hers where she showers amazing gifts upon hyperventilating audience members that attend a taping during the month of December.  Each of the days offer up different prizes from the last and can be anything from digital cameras, to game consoles, to fashionable handbags.  Last year she sprung the surprise of a bonus day…heaven knows what's in store for this year.  Read on to find out what she gave during the Day 3 episode of the 12 Days of Giveaways 2011!
Day 3 Highlights and Prizes
Highlights
Wowza! Ellen's 12 Days of Giveaways was certainly on steroids today. She opened the show with the comedy monologue taking a jab at the wild and windy weather in California. I can vouch for that folks, leaving my hair down means having to spend the day as Cousin It's twin. It did not take long until she brought out some poster size portraits for a segment she's been quite fond of lately called Hot Glam Girl. Picture people rocking epic size hair, gallons of liquid eyeliner, and "rad" 80s-90s fashion…I'll just leave it at that.
Josh Duhamel was the guest for this episode of the 12 Days of Giveaways. Apparently he and Ellen share a mutual Thai masseuse friend. The star sheepishly recalled his experience with her and how she paid him a rather odd compliment regarding ‒ how shall I say this ‒ his dairy aire. When Ellen finally recalled who the masseuse was, she reflected disappointingly how she never received the same compliment.
The real highlight of the show was when she pressured Duhamel into accepting a high stakes game of Charades. If Duhamel did not win a round he would have to indulge the camera with a shot of him sporting a festive holiday thong that Ellen bought him. Two enthusiastic audience members were called down to team up with the two. Ellen breezed through her easy Charade clues while Josh struggled through his more challenging clues.
Being that this is daytime television, right at cruchtime, as Duhamel was preparing to relunctantly strut his stuff ‒ the 12 Days of Giveaways music began playing and the actor was let off the hook. While this didn't really surprise me, the fakeout led to the groans of a few audience members. Of course these groans were soon drowned out in the excited screams of people feasting their eyes on the tables littered with tons of cool consoles and great gadgets.
[youtube width="420″ height="263″]http://www.youtube.com/watch?v=JBvxsJMKzGQ[/youtube]
Prizes
[easyazon_image asin="B005MR58MG" alt="Acer Aspire S3-951-6646 Ultrabook with 13.3-Inch HD Display" src="http://ecx.images-amazon.com/images/I/41JIkZ77DvL._SL160_.jpg" align="right" width="160″ height="105″]Here are the prizes that Ellen gave away during Day 3 of the 12 Days of Giveaways that would make some awesome stocking stuffers for your loved ones!  Want to find out how you can win these prizes from home?  Read our article covering the ways you can here.
[easyazon-link asin="B0050SYYEK"]Dance Central 2[/easyazon-link]
[easyazon-link asin="B0050SYZ2G"]Kinect Sports Season Two[/easyazon-link]
[easyazon-link asin="B0050SYYTK"]Kinect Disneyland Adventures[/easyazon-link]
[easyazon-link asin="B005MR58MG"]Windows 7 PC-Acer Aspire S3[/easyazon-link]
[easyazon-link asin="B00372567A"]Microsoft LifeCam HD 6000[/easyazon-link]
[easyazon-link asin="B0036Z0NZI"]Microsoft Office Home and Business 2010[/easyazon-link]
[easyazon-link asin="B006AZJB4K"]Windows Phone HTC Radar[/easyazon-link]

[easyazon-link asin="B005WY3TI4″]GoPro Camera HD HERO2[/easyazon-link]

[easyazon-link asin="B003CP12GQ"]Beats Headphones by Dr. Dre[/easyazon-link]

Ellen fans stick with us!  We're keeping tabs on all the ways you could get involved in this year's 12 Days.  Follow our Twitter account or like us on Facebook to be notified when Ellen might have a 12 Days surprise just for you.  We'll let you know the moment we find out.  Don't forget that we're also in the holiday spirit and hosting a giveaway of our very own.
Cheers all!
Mitra Faridian first joined the site in 2011 under the handle "Persian Poetess." Her gaming and entertainment taste is very eclectic and she's always open to a fun new virtual adverture. Email her at the following address: mitra [at] dragonblogger.com