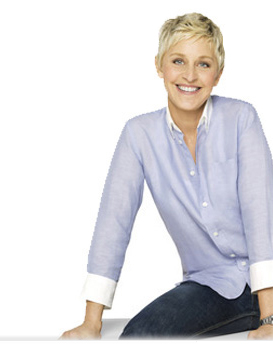 About
Ellen Degeneres' 12 Days of Giveaways are an annual tradition of hers where she showers amazing gifts upon hyperventilating audience members that attend a taping during the month of December.  Each of the days offer up different prizes from the last and can be anything from digital cameras, to game consoles, to fashionable handbags.  Last year she sprung the surprise of a bonus day…heaven knows what's in store for this year.  Read on to find out what she gave during the Day 4 episode of the 12 Days of Giveaways 2011!
Day 4 Highlights and Prizes
Highlights
Today was yet another lovely day of Ellen's 12 Days of Giveaways. She came out as jolly as ever and delivered a charming monologue. Was anyone else flabbergasted when she revealed that Americans are going to spend over $460 billion this year? I'm no financial expert but at least thats some refreshing news about our economy. Moving on…
Hillary Swank jiggied all the way up to the Ellen couch as they played her entrance music. Goodness, that girl really developed amazing core muscles thanks to her Million Dollar Baby strength training. Cirque du Soleil would be proud to see the kind of mid-air kicks she did while holding only on to the arms of her chair. Swank wasn't the only one working on her physique. Apparently Swank is quite fond of pet fish and was hoping to hook up her Siamese fighting fish with an agility course. Ellen caught wind of her search for one and cheerfully gifted a custom made course to her.
Before calling out her final guest Steve Jones, Ellen reminded the audience about a clip she had shown from the new TLC program Virgin Diaries. In the clip, one of the couples had never kissed before and embraced in what started as a lip-lock but turned into gnawing each others jaws off. One of the couples who were not the same as the ones filmed walked out and admitted how the kiss shown in the clip was pretty bizarre. Ellen goaded them into showing her how they kiss and they comically imitated the exact same style of kissing. Finally, the lyrics of the Most Wonderful Time began floating in the air and the prizes were doled out.
Ellen ended the program with a candid interview with X Factor host Steve Jones. Jones had a few tidbits of backstage gossip regarding the broadcast in which contestant Drew Brees was sent home. A few of his modeling shots from his past career were shown on the TV monitor, much to Jones' embarrassment. In the spirit of the holidays and in hopes of further encouraging people to tune into X Factor as well as her show, Ellen pulled out a t-shirt that sported a plunging v-neck. Jones indulged her and the audience and slipped into it.
After the last commercial break Ellen came out with the final prize and reminded everyone to be kind to one another.
[youtube width="420″ height="263″]http://www.youtube.com/watch?v=xKPtuOgkBrQ[/youtube]
Prizes
[easyazon_image asin="B004Z6NU70″ alt="Samsung Series 5 3G 12.1-Inch Chromebook (Titan Silver)" src="http://ecx.images-amazon.com/images/I/31oIrn1U2WL._SL160_.jpg" align="right" width="160″ height="91″]Here are the prizes that Ellen gave away during Day 4 of the 12 Days of Giveaways that would make some awesome stocking stuffers for your loved ones!  Want to find out how you can win these prizes from home?  Read our article covering the ways you can here.
[easyazon-link asin="B0053OMQIC"]Power Rangers Samurai[/easyazon-link]

[easyazon-link asin="B003LDKIUA"]Pac-Man Party[/easyazon-link]

[easyazon-link asin="B003LDKIQ4″]Go Vacation[/easyazon-link]
Ellen fans stick with us!  We're keeping tabs on all the ways you could get involved in this year's 12 Days.  Follow our Twitter account or like us on Facebook to be notified when Ellen might have a 12 Days surprise just for you.  We'll let you know the moment we find out.  Don't forget that we're also in the holiday spirit and hosting a giveaway of our very own.
Cheers all!