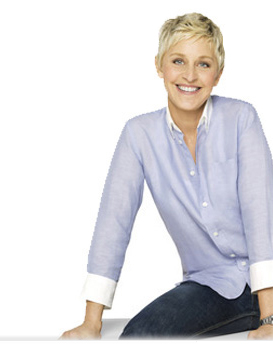 About
Ellen Degeneres' 12 Days of Giveaways are an annual tradition of hers where she showers amazing gifts upon hyperventilating audience members that attend a taping during the month of December.  Each of the days offer up different prizes from the last and can be anything from digital cameras, to game consoles, to fashionable handbags.  Last year she sprung the surprise of a bonus day…heaven knows what's in store for this year.  Read on to find out what she gave during the Day 5 episode of the 12 Days of Giveaways 2011!
Day 5 Highlights and Prizes
Highlights
Highlights for Day 5 of Ellen's 12 Days of Giveaways will go here once the show airs in California.  You can already find out what she gave way during the show below!
[youtube width="420″ height="263″]http://www.youtube.com/watch?v=c8seVlZAGbk[/youtube]
Prizes
[easyazon_image asin="B005CLPP84″ alt="Roku 2 XS 1080p Streaming Player" src="http://ecx.images-amazon.com/images/I/41RtV9KXtRL._SL160_.jpg" align="right" width="160″ height="119″]Here are the prizes that Ellen gave away during Day 5 of the 12 Days of Giveaways that would make some awesome stocking stuffers for your loved ones!  Want to find out how you can win these prizes from home?  Read our article covering the ways you can here.
[easyazon-link asin="B004MFDKZQ"]Toshiba 32″ LCD HDTV[/easyazon-link]

[easyazon-link asin="B005DII6DC"]Toshiba Blu-ray Disc Player[/easyazon-link]

[easyazon-link asin="B004J349OC"]Le Creuset Cookware[/easyazon-link]
[easyazon-link asin="B000TG8D6I"]P90X Workout Program[/easyazon-link]
Ellen fans stick with us!  We're keeping tabs on all the ways you could get involved in this year's 12 Days.  Follow our Twitter account or like us on Facebook to be notified when Ellen might have a 12 Days surprise just for you.  We'll let you know the moment we find out.  Don't forget that we're also in the holiday spirit and hosting a giveaway of our very own.
Cheers all!
Mitra Faridian first joined the site in 2011 under the handle "Persian Poetess." Her gaming and entertainment taste is very eclectic and she's always open to a fun new virtual adverture. Email her at the following address: mitra [at] dragonblogger.com