I am always looking to test out and try freeware and software that will help improve and optimize my Windows 7 Ultimate machine and recently I stumbled across Defraggler from Piriform which is a really nice and fast free disk defragmentation tool.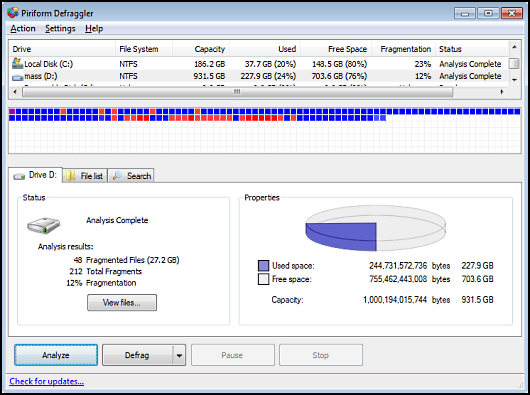 The program is very small and light weight and installs in seconds, and one of the things I liked about Defraggler is how fast it was able to analyze my hard disks. It analyzed my 1 TB hard disk and found 27gb of fragmented files in less than 2 minutes. It defragmented the entire 1 TB hard disk in just under fifteen minutes which is fairly fast.
The one thing the program lacks is threading and as a result you cannot analyze and defrag multiple drives at the same time, which you should be able to do to save time when doing it manually. It does however allow you to set custom defrag schedules for each drive and as a result you can make sure all your defragmentation work is being done after hours while you are not actively using your computer.
The program will also scan your disk and check for errors and I don't know how accurate it is as it didn't find any errors on my disks (I don't have damaged hard disks at the moment).
In Summary:
If you are looking for a free hard drive defrag tool for windows, Defraggler is one that should do the job and I enjoyed testing and running. If you use the program and enjoy it, I recommend you donate a buck or two to the company to show them support in providing such a decent program.
-Dragon Blogger