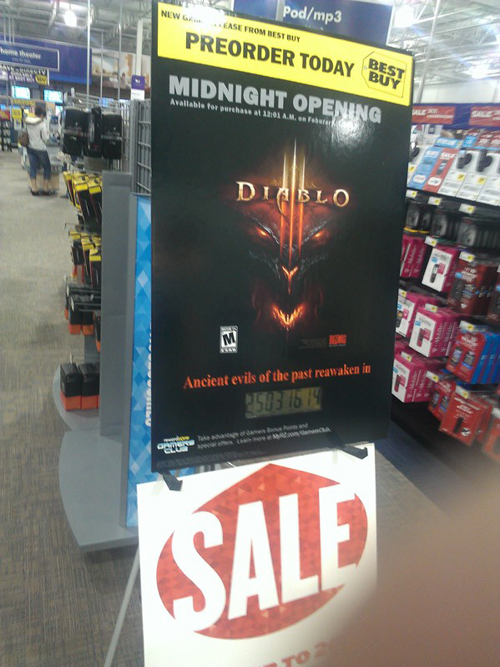 …or rather dreamed up by Best Buy.  Over the weekend Twitter users were fervently sharing a picture someone had snapped at a Rochester, Minnesota Best Buy that touted a February 1 release date for the third installment of the Diablo series.  Diablo 3 has been highly anticipated by the fans since the release of the second game back in June 2000.  Their thirst for the saga to be continued was somewhat satiated when Blizzard finally broke their silence and announced Diablo 3 in 2008.  Fast forward to 2012 and gamers are still left in the dark as to when this pinnacle of RPG gaming will see the light of day.
Apparently the game and electronic retailer Best Buy set to dispel some of the mystery and created a poster that proudly advertised the painstakingly close February release date.  An eagled eyed Shacknews poster "sasquatchxing" spotted this infamous poster and uploaded a picture of it to share with fellow forum visitors.  Eventually the picture was picked up by several Twitter accounts and the image spread like wildfire.  This immediately caught the attention of the video game news website Joystiq.com and the detective work began.
The first most apparent flaw was the fact that February was actually misspelled and that the poster was produced in house by Best Buy.  Joystiq decided to go a step further and phone up the Minnesota Best Buy in question.  After speaking with a store manager, they were told the following.
When we called the Rochester, Minnesota Best Buy this morning, a manager explained that the sign has been taken down as a directive from the store's "GM" (general manager), not because the manufacturer had asked but because the manufacturer has been "not very firm" in picking a launch date. – Ben Gilbert from Joystiq
Before you Diablo maniacs (Dragonblogger staff included) get all excited regarding this indicating even a faint possibility of a February release date, Blizzard community manager Micah "Bashiok" Whipple took to Twitter to set the record straight.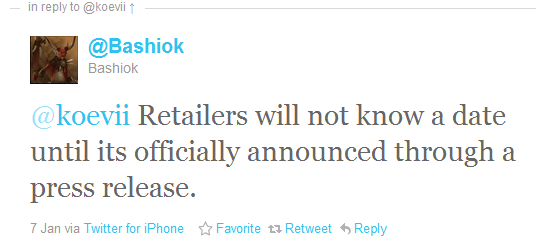 So there you have it folks.  Early 2012 is the firmest date we're going to get and Blizzard isn't willing to budge on that vague estimate.  All we can do now is wait for the beta to open its doors a tad wider and camp at our front doorsteps to catch the UPS man with our copy of Diablo 3.
Tell us readers.  What are you looking forward to the most in the upcoming Diablo release?
[easyazon_block asin="B00178630A" align="center"]
Mitra Faridian first joined the site in 2011 under the handle "Persian Poetess." Her gaming and entertainment taste is very eclectic and she's always open to a fun new virtual adverture. Email her at the following address: mitra [at] dragonblogger.com