As my readers may have already noticed, the commenting system on DragonBlogger.com changed on October 22nd 2012 from Livefyre to Disqus 2012.  DragonBlogger.com converted to Livefyre in October 2011 and at the time the system was a vast improvement over the default WordPress commenting system by both helping eliminate spam, comment moderation time and allowing more seamless integration with social media.
As I was waiting for Livefyre Comment System 3 to be released, I realized even with the commenting system upgrade it wouldn't have some of the features I am looking for to further increase my efficiency as an owner and administrator of 7 WordPress blogs and blogging as a part time hobby efficiency is essential.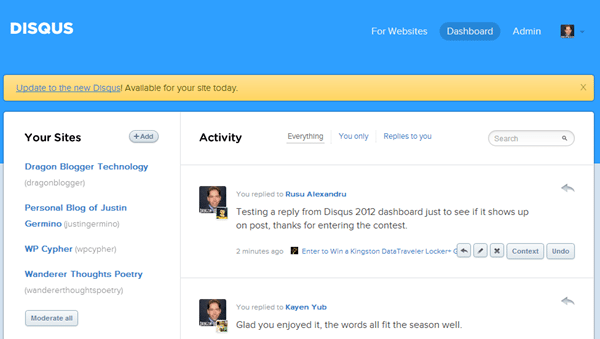 Many other bloggers including our own writer Victor Salazar known as @MetallmanX here use Disqus 2012 on their own blogs.  Here were my own reasons for deciding to test out the Disqus 2012 system on DragonBlogger.com after putting it in on my smaller blogs and letting it sit for just over two weeks now.
Rely to Comments By Email
Disqus 2012 lets you leverage email to reply to comments, Livefyre does not.  Plain and simple I get about 20-30 comments per day on some days and I am sometimes traveling in a car with an iPhone or iPad and it is inconvenient to have to open up each and every blog post to reply to comments.  Reply to Comments by Email works and works very well with Disqus 2012.  I tried it on several blogs and every time the comment reply gets perfectly inserted into the conversation thread on the blog.
Reply to Comments on Disqus Dashboard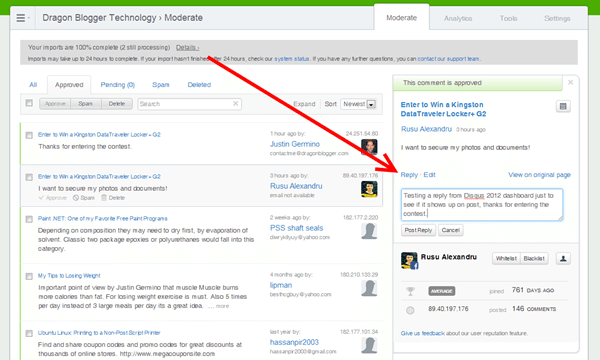 Again, another great features that Disqus 2012 has that Livefyre is lacking is that you can log into your Disqus dashboard and directly reply to comments from the dashboard.  These comments sync back to your blog, this means you can do moderation and replies for all of your blogs right from Disqus website in one centralized place.  This is simple and easy if you run 7 blogs as you can moderate and reply to all comments from 1 location.
Reply to Comments from WordPress Dashboard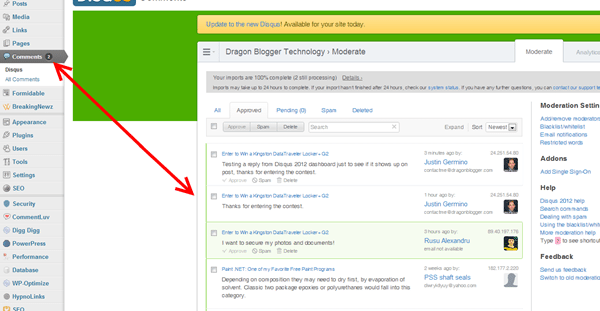 Disqus takes over the WordPress Commenting system a bit, when you click on the comments link in the WordPress dashboard it actually is framing in the Disqus dashboard for your blog.  So you can moderate and reply to comments right from your WordPress dashboard (really their dashboard loading in your WordPress dashboard) kind of like a commenting inception.
Still, you can't reply to comments from your WordPress wp-admin at all with Livefyre and this is another feature of Disqus that makes it easier to moderate and reply to comments via alternative methods than just going to the original article.
Better Conversation Tracking and Community Tracking
Livefyre has some capability to display most recent conversation on posts, but if you look at Livefyre it really is geared only for the site administrator.  Disqus is about the conversations and every single user can leverage the Disqus dashboard to keep track of what Disqus blogs they comment on and how often, as well as keep track of who replied to them across all of the blogs.  They can do all of this more easily from the Disqus dashboard and without having to subscribe to every email update on every conversation. When you go to comment on any Disqus blog you automatically see if there are replies outstanding waiting for you to check them out, from ANY Disqus blog that had a conversation started.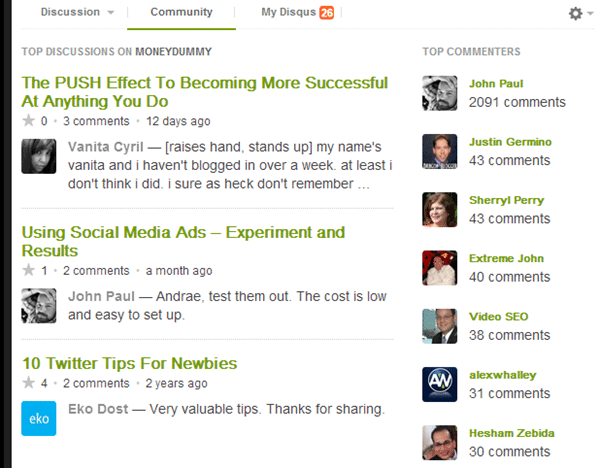 Disqus makes friending, following and tracking others in the community easier and still has a much larger community of users already due to it being around for a long time.  This means fewer people will have to sign up and this is always the hardest thing to convince readers to do.
Image Uploads
Livefyre Comments 3 does feature Image Upload but isn't generally available yet and I wanted to start leveraging this feature now.  Disqus 2012 already has the feature you can enable to where readers can upload images with their comments and I plan on leveraging this in creative ways in the near future.
Guest Comments
Livefyre does allow guest commenting, but it is still a process which involves a popup window opening and asking the user to input information, then the user has to deliberately choose not to sign up and post anonymously instead.  Disqus is a little easier on the guest commenter if you choose to allow it and makes it more user friendly.
More Mobile Friendly
I have had numerous users complain they had trouble signing into Livefyre on mobile devices which would often display white pages when it tried to connect via OATH to Twitter or Facebook or whatever reason.  While this was only a handful of complaints how many never bothered to complain and just never commented?  With almost 10% of my traffic coming from mobile browsers I needed a commenting system that was more stable on mobile platforms and Disqus 2012 seemed to be more stable and faster loading.
Earning Potential with Promoted Discovery
Disqus 2012 has a promoted discover feature which both offers you more traffic plus helps you monetize your site by showcasing other conversations from other blogs at the end of your comments section.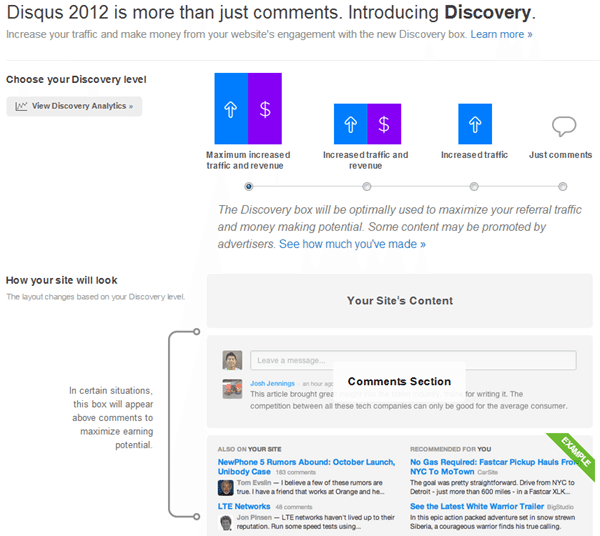 This system is in it's infancy and I wanted to test it and review it to see if it actually could make a little extra revenue or bring in more traffic.  One thing I noticed off the bat is that the recommended conversations don't seem to have any filter based on age, I have seen recommended articles that are years outdated and I think there should be an age limit on what it recommends.  It could do better keyword/category matching of the article to find recommended as well but it still has potential.
Spam Moderation
I have been told that Disqus has better SPAM filters and controls than even Livefyre, when I first started using Livefyre last year I had no spam at all with the commenting system, but over the months spammers have gotten creative and more manual, adopting accounts in the system so they can spam keywords or embed URL's in their comments which are dofollow.  It is at the point where I get nearly as many spam comments as I do regular comments now with Livefyre and this was my whole point in moving away from WordPress commenting with CommentLuv was to reduce the spam.  Sure Livefyre allowed for users to flag comments as spam/inappropriate and you can create custom flag rules to wipe them out, but you still have to rely on users to flag something or you have to do it manually.
So far I haven't seen any spam show up yet really, not in the same format.  I have it setup so any comments with a URL in them are automatically held for moderation before posting, but other comments post without moderation first.  From what I could tell you could not set that specific function in Livefyre to hold comments for moderation if it detected a URL.
Livefyre Still has Great Features
Now, Livefyre still has some features that are better in some ways or just lacking in Disqus 2012 as well, so I am making a trade off and here are some of the things that Livefyre does better than Disqus.
Reactions
Reactions are conversations on social media that are detected and brought into your blog post as part of the comments section.  Livefyre can read in reactions from Twitter and your Facebook fanpage.  Disqus 2012 can only see Twitter reactions there is no way to link a Facebook fanpage with Disqus 2012.
Share Comment to Social Media with 1 Click
I liked being able to type a comment and check mark share on Twitter/Facebook, then post the comment and have it blast out on Social Media.  In Disqus 2012 this is a multi step process, first you have to type your comment and post it, then you have to share on Twitter, then you have to share on Facebook.  Disqus should make this all part of the commenting step in the first place.
LinkedIn exists and has this same share capability in Livefyre Comments 3, Disqus 2012 doesn't even let you connect LinkedIn yet.  LinkedIn is still growing in popularity and does generate some traffic and Disqus 2012 should have the ability to connect the network and share comments on it.
Flag Rules
The Flag rules in Livefyre 3 where you can set default actions based on the number of "spam flags, inappropriate flags…etc" readers mark a comment as are better on Livefyre.  Livefyre allows for more flag types for comments, though I pretty much use only 2 (spam or trash).
Comment Moderators – Tie
There are a little more options for comment moderators with Livefyre than with Disqus 2012, they have the option to restrict emails to all conversations or only conversations they are moderators of.  In Disqus 2012 however all moderators get a special "MOD" mark next to their name when they comment or reply to comments, this will help my staff writers stand out more in the comments so readers know they are site moderators.
WordPress Comment Importing
Both offer WordPress comment importing, but with Livefyre I was able to import over 15k comments in less than 4 hours, with Disqus 2012 I am having a lot of trouble and delays importing comments with over 14 hours elapsing and all comments are not importing.  I think Livefyre definitely does the comment importing from WordPress into their system better from what I have seen so far, I am still waiting to see how the syncing works back to WordPress in the past I know Disqus was reported to have sync issues though there is always a manual sync option.
Here is a quick table of the feature run-down!
| | | |
| --- | --- | --- |
| Features | Livefyre | Disqus 2012 |
| Reply by Email | No | Yes |
| Reply on Dashboard | No | Yes |
| Reply on WordPress Admin | No | Yes |
| 1 Click Share to Social Media | Yes | No |
| Flag Rules | Yes | Yes, less |
| Multiple Comment Moderators | Yes | Yes |
| Guest Commenting | Yes | Yes, more friendly |
| Mobile Friendly | No | Yes |
| Earnings Program | No | Yes |
| Commenting Community | No | Yes |
| Image Upload to Comments | Yes, Livefyre Comments 3 only | Yes |
| Comment Formatting (Bold/Italics…etc) | Yes, Livefyre Comments 3 only | No, lets you format, then loses formatting when you post comment. |
So be sure to give the Disqus commenting system a try on DragonBlogger.com, let me know if you like it better or worse than Livefyre and how it works so far.