Just a little over a month a go a blogger by the handle The Infopreneur showed up on my twitter map and I read a few of his articles at first and rapidly became hooked to his dedication and goals to help share his information on how bloggers should be blogging.  He provides inspiration and motivational advice as well as SEO tips and shares his own tactics with his readers.
What I like about him is that he is original, bold and isn't afraid to tell you not to follow what the big bloggers say on certain things. I am amazed by his focus and ability to generate an amazing amount of articles, traffic and twitter followers in less than three months. The Infopreneur is around 100k Alexa rank in its first eight weeks, he managed to achieve what took me about a year to reach in just two months.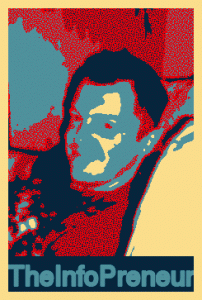 If you are a blogger, or want to be one, I encourage you to check him out and take what you can from his articles. Even if you don't agree with some articles or every point, you are bound to find some valuable information or inspiration from him somewhere.
Here is my interview with The Infopreneur:
Begin Interview
---
DragonBlogger: Who are you? Let our readers know a little bit about you.
The InfoPreneur: My Name is James Richmond 28 year old family guy from the UK. I left home and school at the age of 16, with no education and joined the military. I spent ten years serving all over the world as a physical training instructor. I set up TheInfoPreneur site because I am passionate about success and how to help others gain this success is what the site is all about.
DragonBlogger: When and why did you start blogging?
The InfoPreneur: I started my site 8 weeks ago 27th of October 2009, I started it because I was sick and tired of websites that were impersonal and most of all lied to thousands of readers. I don't see myself as an expert or an elite website dictator, I'm a public service, a servant to my readers. Without them I would be nothing. That is why I started the site, to deliver a message that honest and straight from the heart.
DragonBlogger: What makes your blogs different?
The InfoPreneur: TheInfoPreneur is different because it gives honest advice that motivates the hell out of you. So many people start up websites and business that fail. They fail for a number of reasons, but the main being lacking focus and encouragement. I write about how I am promoting the site. A lot of readers leave posts saying they are motivated by my work rate (60 posts a month are published to the site) and that is a great feeling. I work solidly on the site, posting new content, helping others (see my post, I'll help anyone) and leaving my mark everywhere I go.
DragonBlogger: Do you try to monetize your blogs? If so, what do you like using?
The InfoPreneur: I haven't monetized the site, not yet anyway. I have decided to hold off from this for two reasons; 1, I hate it when I see a site over crowded with ad's, to me it looks desperate and tells me the owner is more interested in the cash than the message. 2nd I will monetize the site in April, but it will be done properly with a membership site that won't detract from the message I provide.
DragonBlogger: Where do you see yourself and your blogs in 2 years?
The InfoPreneur: The authority. Plain and simple I want to be the highest ranking site in my market place. I will rank higher than problogger and copyblogger for sure. This may seem arrogant or deluded, but it really isn't. I have reached the top 1% (according to alexa-1 month average) in under 8 weeks. Another 8 weeks I'll rank higher than DragonBlogger. I also want to start motivational speaking at various events. People don't go for it because they feel scared. They feel like they can't make it. Listen if a dumb ass like me can do it in 8 weeks, anyone can!
DragonBlogger: What other social networks do you primarily use and why do you prefer those to countless others?
The InfoPreneur: I use Twitter (a lot) Facebook, problogger forum (mainly for networking) and any other websites that allow comments. Social networking for me doesn't just mean using the traditional social 'networks' it means leaving your cookie crumbs everywhere you go, comment on everything you read (as long as it adds value) and I mean EVERYTHING! I must comment on at least 20 sites a day, minimum!
DragonBlogger: Who are some of your inspirations professionally or personally?
The InfoPreneur: My inspiration comes in two forms. My family are my biggest motivator an inspiration because I don't want my family to go through what I went through which leads me to my second inspiration, my past. I'm not about to start bleating on about how hard my life has been, because in all honesty it was a breeze compared to some, but having nothing is a great motivator. Professionally speaking, I like David Risley, he's a good guy, makes a crazy amount of cash and clearly does it for his family, something i can relate too. I'm not a massive fan of the other probloggers, not because I don't like their content, just because I think they all send the same affiliate emails out and talk about the same sorts of things. I love the Allyn from BloggerIllustrated.net, unique close to the bone, but an awesome honest guy.
DragonBlogger: What are your goals for your blogs?
The InfoPreneur: My immediate goal is to get to the top of the rankings. My 7 day ranking with Alexa is floating around 60,000 after such a short space of time being online. I want to start public speaking in a motivational capacity, but more importantly than anything else is to gain more readers that are interested in working with me. I help a lot of people at the minute, which I love and is the reason my site was setup in the first place.
DragonBlogger: What advice can you give other people who are interesting in pursing a similar blogging path?
The InfoPreneur: Write and promote, write and promote! Write as much content as you can and tell everyone you can about it. If I thought I would get away with it, I would staple my domain name to peoples heads in the street! Never think you can't do it, I'm a dumb ass and I'm out there rocking it!
---
End of Interview
I would like to thank James the Infopreneur for the interview and I enjoyed showcasing him on DragonBlogger.com, I envy his dedication, focus and sheer confidence and I have no doubt that he will be a well known name in the blogging industry if he continues at this pace. If you haven't looked at The Infopreneur yet, you should because you can find some good information and something to take away that might help you in your own blogging adventures.
-Dragon Blogger