So my full review isn't completed of the Dragon Touch I8 Windows tablet yet, but we didn't want to wait to give readers a chance to win this tablet that is something unique and different from the standard Android tablets out there.  First of all this is the first Windows/Intel based tablet from Tablet Express who has primarily only offered budget Android tablets prior to this, so you are getting a new product that is a 1st of it's kind from them.   What makes this tablet amazing is you get full Windows 8.1 in a tablet that is only $99 on Amazon.com right now.  This tablet functions fairly well and is responsive provided you don't have too many applications open at the same time.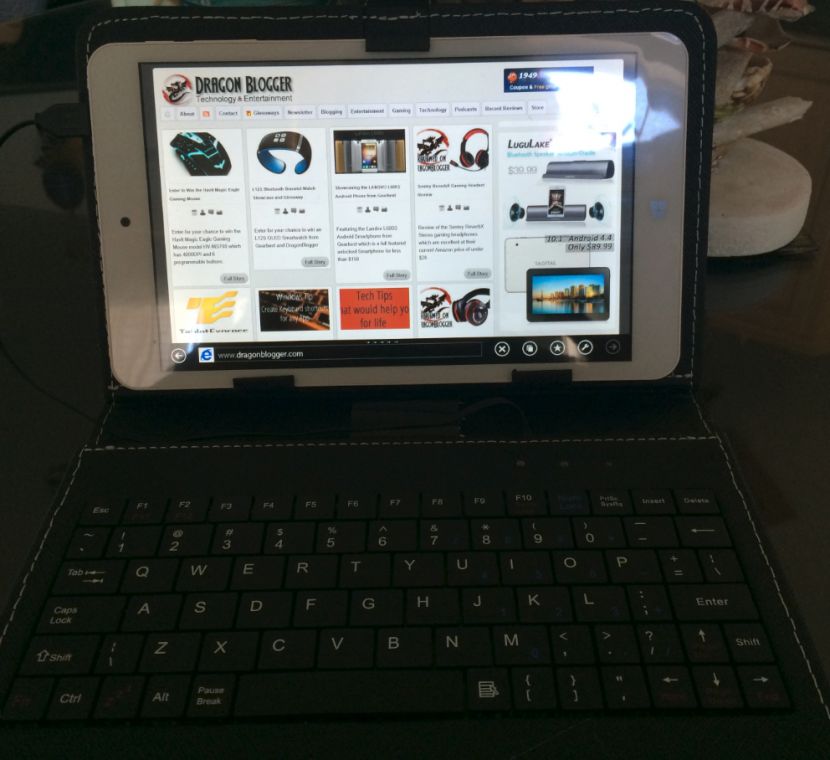 The beauty of this tablet is it syncs with your Onedrive and Windows Live account so you not only get the same desktop as on your computer, you have access to all of your Onedrive files immediately from your tablet.  It supports a TF Card expansion for storage and I find the Windows 8.1 Charm screen a really attractive GUI for mobile devices.  I will say the Windows App store is EXTREMELY limited compared to Android and iOS, so you get your standard great apps like Netflix, Facebook, Twitter…etc.  You can also get Office 365 which is free included for 1 year with your Tablet, but you don't get many of the great games that come out only for iOS or Android and this is something to consider when purchasing one.
If you love the Windows experience and need a tablet for day to day reading and light email/Internet with some TV watching, social media and just some casual gaming functionality then the Dragon Touch I8 is a very decent tablet and at the $99 price is worth considering for sure.  Here is your chance to win one, if you don't have the scratch to purchase one right now!
Win a Dragon Touch I8 Windows Tablet
Dragon Touch I8 Giveaway

Free shipping only provided to U.S. addresses, but if you can enter from anywhere and if International you can opt to pay for shipping (approx $40 to Canada, $75 to India).  Good luck to all who enter, and remember to Like/Follow Tablet Express and make sure to thank them for the Dragon Touch I8 giveaway.